...celebrating every swee​t pea their birth
| | |
| --- | --- |
| Posted on December 10, 2013 at 4:28 PM | |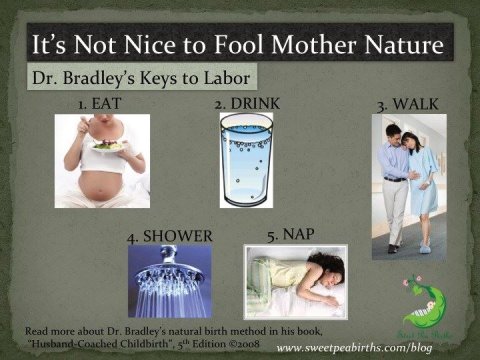 Here are Dr. Bradley's "Keys to Labor", as per his book, Husband-Coached Childbirth.  I love these simple steps – they could almost be considered a "recipe" for labor.  
If you follow these steps, you can figure out if you are in "real" labor.  If you are not, somewhere along these steps, your contractions will fizzle out.  And if they do, mama has eaten well, slept, and hopefully had a good nap so that you are rested for the next round of contractions when they begin again.  If you are in labor, you will go through these five steps and discover that despite the change in activity and positions, your contractions are progressing.  Now you can get excited because you will be meeting your baby sooner than later.  And then, settle down to "work", because labor is definitely an athletic event, albeit one of the most rewarding ones ever!
Eat
Mom should eat the kind of food she is hungry for: a meal, a snack, or a nibble, depending on where she has progressed in labor. 
A laboring mother should eat to her appetite.  Early in labor, she may be ready for a full meal.  We have students who go out to breakfast after they know they are in labor just to pass the time away.  If she is hungry, feed her accordingly.  As labor progresses and the body starts to divert bodily functions exclusively to labor and birth, you will see her appetite wane.  Later in labor, maybe she will want a bite of something – and definitely not the full meal she was requesting before.  If labor has been on the longer side and she is refusing food, or if she is being denied food and she is still hungry, you may consider clear broths for the dual purpose of an energy boost and hydration.
Drink
Mom needs to be drinking every hour.  Whether she wants a full glass, a few sips, or ice chips – keep her hydrated.
Dr. Bradley wrote in his book that a mother should "drink to thirst".  We now know that thirst is a late sign of dehydration.  It is best to keep mom hydrated by offering her a glass of water every hour in the early stages of labor.  Again, as labor progresses, she may not want that full glass of water.  You can offer her a sip of water after every contraction, or maybe ice chips will be better.  Some mothers may even prefer sucking on a damp cloth.
Walk
At a good pace to rock baby down and encourage labor to progress.
Walking is a great way to speed up labor.  It is always a great way to work yourself into exhaustion.  You need to gauge how it's working for your particular labor.  When you walk, are the contractions getting harder, longer and stronger?  If walking is not having that effect on your labor, then maybe you should just go for a 20-30 minute walk to labor baby down into the pelvis and exert some pressure on the cervix to encourage it to dialate, and then move on to the next step.  If walking is clearly making your labor progress, go for it.  You could walk until mom needs more help with relaxation besides reassuring words and counter-pressure.
Shower
Water has been called the "midwife's epidural". A warm shower or bath can do wonders to ease the intensity of labor.
Water has an incredibly relaxing effect.  It can literally wash the tension away.  Some mothers may like the full submersion and weightlessness in a birth tub.  Other mothers may prefer the soothing sound and the sensation of water flowing down her body.  If your birth place has the equipment, try both and see what works for her.  You may want to consider limiting your use of water to an hour at a time if mom is in the tub.  See

THIS

article from Penny Simkin for more information about how to use water in labor.
Nap
Now that Mom has fueled, hydrated, moved baby, and eased tension, do a relaxation exercise to ease her into a rest period.  An unmedicated mother *will not* sleep through the birth of her baby.
Mom has done everything she can to ensure a healthy, low-risk labor. She has nourished and hydrated her body as it prepares for the athletic event of birth.  She has walked to move baby and help dilate the cervix.  She has used water to dissipate any tension she may have been holding onto.  Now it's time to encourage her into a side relaxation position, or which ever other position is comfortable enough for her to enter a state of deep relaxation.  Optimally, you want the mother to get a good sleep.  If it's nighttime, then maybe she can sleep through the night, or until her contractions wake her up again.  If it's during the day, hopefully she can get a decent nap.

You can definitely follow this labor pattern over and over, until the mother is unable to sleep anymore because she is going through transition, and/or having the urge to push.  It is definitely a way to manage labor without additional pain relief.  The love and support of an invested coach, replenishing energy, and rest can go a long way for a family to have a natural birth.

If you liked the way you labored, what was your recipe for success?

Disclaimer:  
The material included on this site is for informational purposes only.
It is not intended nor implied to be a substitute for professional medical advice. The reader should always consult her or his healthcare provider to determine the appropriateness of the information for their own situation.  Krystyna and Bruss Bowman and Bowman House, LLC accept no liability for the content of this site, or for the consequences of any actions taken on the basis of the information provided.  This blog contains information about our classes available in Chandler, AZ and Payson, AZ and is not the official website of The Bradley Method®. The views contained on this blog do not necessarily reflect those of The Bradley Method® or the American Academy of Husband-Coached Childbirth®.


Categories: Birth Mantra, Birth place options, Birth plans, Birth Story, Bradley Method®, Bradley® Coaches, Drinking during labor, Eating during labor, Information Center, Labor Augmentation, Labor Induction, Labor Marathon, Labor Sprint
/