...celebrating every swee​t pea their birth
| | |
| --- | --- |
| Posted on January 14, 2014 at 4:07 PM | |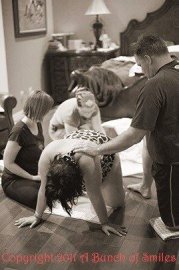 We just had our class on Second Stage last Friday.  One of the coaches made the observation that all the birth videos we are watching show women pushing on their backs...right!?!
Therein lies the quandary of being an instructor within the parameters of our current video library.  We keep trying to convince our students to film their births, especially those that push in non-traditional positions, and then share them with us so that we can use them for class instruction.  We have yet to have one student take us up on the request.
<< (Here is a picture from the pushing phase from our homebirth...our video will never be seen outside our home!)
The optimal pushing position is a squat.  It is still used as the "elimination" position in many cultures, for childbirth and otherwise.  It opens the outlet of the pelvis.  It shortens the birth canal.  If the mother feels like this is productive and the baby is doing well in this position, what's not to love? 
Many care providers do not care for it because a true squat on the floor or on a bed with the assistance of a squat bar does not allow for them "to see" what is happening as the baby is being born.  With the advent of anesthesia, women couldn't get into this position and/or hold this position for any length of time…so the supine position became "the" birthing position.
You can imitate a squat on a bed by getting into what is considered "the classic" position – with assistance, mama can pull her knees up towards her shoulder.  The challenge with the classic pushing position is that although it imitates a squat by opening and shortening to some degree, it does not allow for gravity to work with the baby to move them down.  In addition, depending on the angle of the mother, the weight of the baby pushing down could stretch the perineum enough to tear it.
Here are some other positions for you to consider in which you can still imitate a squat and allow the care provider to see the baby being born:
Side lying position
Kneeling
Hands & knees
All three of these allow for a mother to imitate a squat during the pushing through a contraction, and for a restful position between contractions.  You can see them illustrated with explanations
HERE
If you had a vaginal birth, which position did you use?  Did you like your pushing position?  Why or why not?
Categories: Birth plans, Bradley Method®, Second Stage Labor, Sweet Pea Births
/