...celebrating every swee​t pea their birth
| | |
| --- | --- |
| Posted on January 20, 2014 at 7:37 PM | |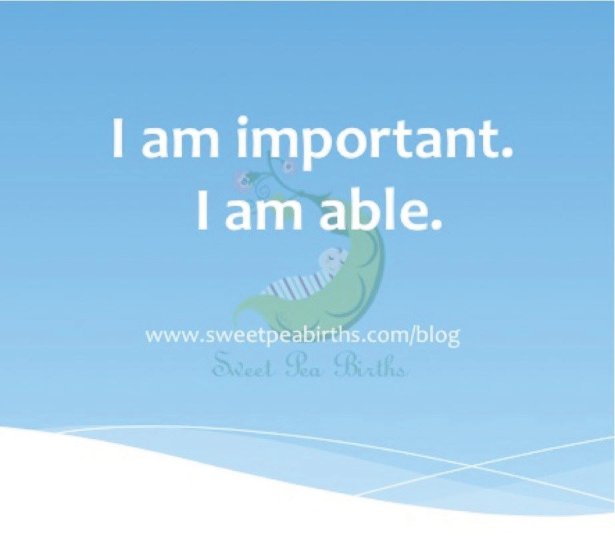 We have one family in our Fall 2013 series left to hear from...so far nine Bradley babies have arrived safely earthside!
I saw this thought today and thought of them, and all the other mamas out there that read our blog.  It is so crucial that you remember that your labor is going to lead to your child's Birth-Day.  You have every right to expect to be treated with dignity throughout your pregnancy, labor and birth.
You Are Important
You have been chosen to carry life - two souls, two hearts, two brains...in one body.
You alone can carry this person safely to term (for them).
You are the only woman who can speak on behalf for your child.  And you will...you are willing to face down lions for them before, during and after their Birth-Day.
You alone can decide to labor for them, and how you will labor for your Sweet Pea's best birth.
You Are Able
You are not alone - you are embarking on the work that countless, amazing women have done before you.
You are a legacy - you have the strength of generations of women before you in your family line that birthed before medicine got involved - otherwise your family line would have ended long ago.
You are willing - you chose to see the pregnancy through to this date - you can see it through to the Birth-Day.
You are not alone - you have a loving Coach and/or a Doula who are ready to be your voice when your voice is turned inward towards your child.
You have every right to
informed consent
, and you have every right to dignity in birth because
You Are Important
and
You Are Able
to give your Sweet Pea every opportunity for their best possible birth.
Own it - Think it - Be it - you can totally rock your birth!!

Was there a mantra or principle that helped you rock your birth? 
Please leave us a comment - it will be moderated and posted. 
Disclaimer: 
The material included on this site is for informational purposes only.
It is not intended nor implied to be a substitute for professional medical advice. The reader should always consult her or his healthcare provider to determine the appropriateness of the information for their own situation.  Krystyna and Bruss Bowman and Bowman House, LLC accept no liability for the content of this site, or for the consequences of any actions taken on the basis of the information provided.  This blog contains information about our classes available in Chandler, AZ and Payson, AZ and is not the official website of The Bradley Method®. The views contained on this blog do not necessarily reflect those of The Bradley Method® or the American Academy of Husband-Coached Childbirth®.


Categories: Birth Mantra, Bradley Method®, Bradley Method® outcome
/