Shopping Cart
Your Cart is Empty
There was an error with PayPal
Click here to try again
Thank you for your business!
You should be receiving an order confirmation from Paypal shortly.
Exit Shopping Cart
...celebrating every swee​t pea their birth
| | |
| --- | --- |
| Posted on February 6, 2014 at 8:06 PM | |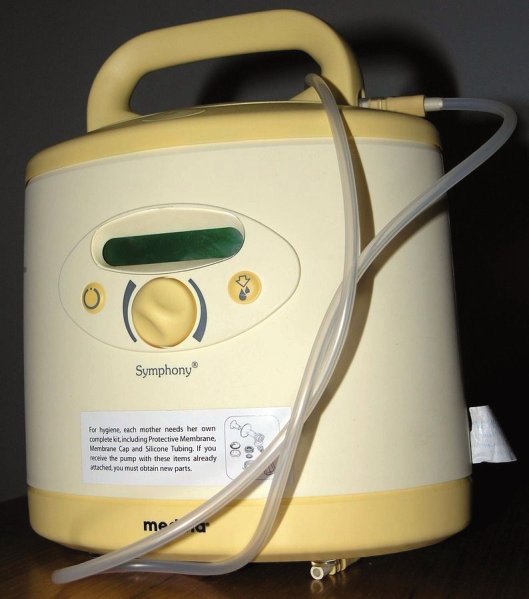 All insurance companies were mandated to provide nursing mothers with breastfeeding equipment and counseling as per the
Affordable Care Act
.  
HERE
is another look at the services provided to pregnant and lactating women from the American Academy of Pediatrics.
In an effort to meet the demand, breastfeeding equipment companies have ramped up production.  It has come to our attention that there may be a quality control issue with some of these pumps.  Our friends at Modern Mommy report seeing at least one insurance pump a week since the beginning of the year, mostly the Ameda branded product, for troubleshooting.  This week they saw at least one every day….it seems like there is definitely something going on.  The suspicion is that there is something happening in the manufacturing process as companies rise to meet the demand.  
The problem they are seeing with the Ameda pump is what they describe as "vapor locking", and they are finding it has nothing to do with the parts. If you lift the lid to break the suction it will work again. The problem is most of the time, it is going to keep malfunctioning this way.
If you have a pump that does not seem to be working well, turn it off and call your authorized breast pump retailer for a test appointment.  Here in East Valley of Phoenix, AZ, we know that
Modern Mommy Boutique
will be able to help you troubleshoot your pump.  Take it right into the store for them to test your machine.  They can check it to see if it is a machine problem or a part problem.
Another thing to keep in mind: Expressing milk from a pump, whether manually or electrically, should not hurt or cause injury.  In addition, a breast pump should also express a decent amount of milk.  That will vary according to the mother, how accustomed she is to pumping, and also according to the kind of pump she are using.  Over time, you might expect to build up to being able to express a fair amount of milk.  
For example: When I got "good" at pumping, I was able to pump 8-ounces at a time, up from a dismal and depressing ½ ounce the first time I ever tried to express milk using the breast pump.
If it hurts to pump, if you are seeing damage to your breast tissue or your nipple, and/or if you are not getting the amount of milk that you think you should, know that it's not you. 
A few things to know about breast pumps:
We are not created equal – there are different size flanges for different size nipples.  If something doesn't feel right about the way you are pumping, make an appointment with an IBCLC* to have a "pump fitting".  They can help you determine what size of a flange you should have, and teach you best pumping practices so that you can pump safely and efficiently for your baby.
Pumps are not created equal – the law does not state what kind of pump they have to cover, just that they have to cover them or provide them.  If you are getting the "free" one from your insurance carrier, they can pay for anything from an inexpensive hand-pump to a top of the line $3000 machine used in hospitals that is designed for multiple users.
Read up on the kind of pump you are getting.  If it doesn't sound like the right pump for your needs, start advocating for something different in pregnancy before you need it to do the work.
They are not the most effective device to empty the breast – your baby is.  The suction from a pump is different from the suction your baby creates.  It may get most of the milk, definitely not all of it.  Do not believe that the amount you can pump is the amount you are making and delivering to your baby – it is hardly an accurate measure, in part because…
You have to learn to let-down to the pump – it becomes a trained response.  Do not be discouraged if you sit down to pump and you can barely reach the 1-ounce line the first few times.  It is plastic, hard, mechanical and loud to pump.  Much, much different than snuggling your Sweet Pea into your skin and smelling their soft skin – your baby and pheromones actually help you let down! They are not there with the pump, so until you get used to it, it will be a learning curve to fill up those bags or bottles. You can aid let-down by looking at a picture of your baby, playing music that relaxes you and/or reminds you of baby, doing deep breathing for relaxation, bring an item your baby wore the day before to "breathe them in" as you pump, use self-talk - there are definitely ways to remind your body of your baby to let down and pump more milk.
Your insurance company will probably have a policy in place that you may, or may not, be able to negotiate around.  As per the AAP document, this is what they are required to do:
"The ACA requires non-grandfathered health insurance plans to cover the cost of breast pump rental and purchase at low or no cost to consumers." 
As I mentioned above, there is not a type of pump specified in the law.  If your first pump isn't working, you are generally recommended to call the manufacturer to send replacement parts or a new machine.  Note: You would have a stronger argument for a new machine if you take it into an authorized retailer for testing, and the new parts installed as per manufacturer specifications yielded the same kind of error you are getting at home.
If your replacement parts/machine are still not working as expected, consider calling your insurance carrier.  Here are some ideas:
Request a different product.
Ask for them to cover the rental cost of a pump that works while you wait for your parts to arrive.
Ask for them to cover the rental cost of a pump instead of providing the equipment.
Ask for them to send you the cost of the pump they provide so you can apply it towards the purchase of the pump that does the job that you need it to do.
Get a note from your care provider that specifies the kind of pump that you need and send it in with a request to your insurance company.
A big consideration in advocating for yourself is ensuring that your insurance company provides the kind of product that you need for your breastfeeding relationship.  If they won't provide that, ask if they will send you the amount equivalent to the cost of the product they cover so you can purchase the right pump for the job you and your baby need it to do. Depending on how your insurance company interprets the law, you may or may not be able to have this happen. 
About "getting the right pump for the job":
If you are an occasional user, pumping enough for a night out or an occasional day away from your baby, you may just need a simple hand-pump with less parts to clean and nothing electrical to keep track of.  
If you are going back to work, you want the kind of machine that will maintain your supply, and you may want a dual-machine so that you can pump quickly and get back to your obligations at your workplace. 
If you are creating and building a supply, you need a top-of-the line pump designed to mimic a baby's suction (see the Symphony pictured above).  You might be in this category if you are building a supply to feed an adopted child, if you have a preemie and/or a baby in NICU or PICU, or if you are exclusively pumping for a child with physical impediments to breastfeeding that you may eventually switch over to breastfeeding (or not) and you want to exclusively pump for an extended period of time.
You are well within your right to be an informed consumer.  If you suspect something is wrong, it probably is.  Do not take an "expert" word for it – you are the only expert on your body.  Keep advocating until you get the kind of equipment and support that you need and are entitled to under the health care law.

Have you gotten a "free" breast pump from your insurance company? What has your experience been?
Please leave us a comment - it will be moderated and posted. 

*Under the law, breastfeeding counseling is also covered – the gold standard in lactation care is an International Board-Certified Lactation Counselor (IBCLC), who holds the equivalent of a college-degree in breastfeeding support.
From the AAP fact sheet: "…breastfeeding benefits for non-grandfathered health insurance plans include pre- and postnatal counseling by a trained provider in conjunction with each child. Women may access comprehensive lactation support and counseling from trained providers. The benefits are available at no cost share to consumers."
Most IBCLC's charge by the minute.  It only takes ten minutes to do a complete tour of your pump, get fitted, and learn how to use your pump.  It's about the cost of a new set of flanges ($13)...totally worth it since your nipple size doesn't change with each child.  
Disclaimer:
The material included on this site is for informational purposes only.
It is not intended nor implied to be a substitute for professional medical advice. The reader should always consult her or his healthcare provider to determine the appropriateness of the information for their own situation.  Krystyna and Bruss Bowman and Bowman House, LLC accept no liability for the content of this site, or for the consequences of any actions taken on the basis of the information provided.  This blog contains information about our classes available in Chandler, AZ and Payson, AZ and is not the official website of The Bradley Method®. The views contained on this blog do not necessarily reflect those of The Bradley Method® or the American Academy of Husband-Coached Childbirth®.
Categories: Breast Pumps, Breastfeeding, Breastfeeding 101, Breastfeeding Challenges, Breastfeeding support
/