...celebrating every swee​t pea their birth
| | |
| --- | --- |
| Posted on February 24, 2014 at 7:26 PM | |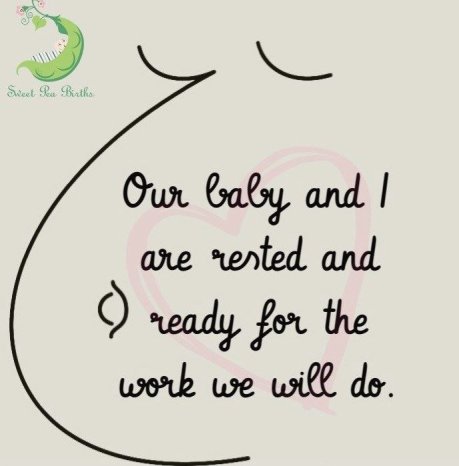 We just completed our winter series...now patiently waiting for the newest Sweet Peas - first EDDs are at the beginning of March :)
As you approach your Sweet Pea's Birth-Day, this mantra encourages you to remember two things: 
ONE: You have done everything right - you've read, you've eaten well, you've exercised, you have prepared.  Let the distractions go and focus on the positive outcome that you have prepared for.  Keep practicing your relaxation techniques and read over your options for labor positions so that when labor starts, you can tune into Mom's needs and labor together for your best birth given your particular set of circumstances.
TWO: Rest, rest, and rest some more.  You are about to engage in some of life's most amazing work...and once your Sweet Pea arrives, you will never sleep again...just kidding...I should say probably hardly ever sleep in the first few days.  The excitement, the newness, the adjustment for all of you results in a few sleepless days...sometimes weeks.  Sleep or rest now, and if you feel sleepy in labor - surrender.  You will not get a gold medal for staying awake for 24+ hours.  The true reward is being as rested as you need to be to have the stamina for the Birth-Day - whether you starting pushing after a two-hour labor or a two-day labor, or anything in between. Getting to 10 centimeters is when the actual work begins...until then, it's all preparation to get to the pushing phase so you can finally hold your Sweet Pea.
Find peace in the fact that you are ready, and take the time to rest - you can totally rock your birth!
What is your favorite pregnancy or labor mantra?
Disclaimer: 
The material included on this site is for informational purposes only.
It is not intended nor implied to be a substitute for professional medical advice. The reader should always consult her or his healthcare provider to determine the appropriateness of the information for their own situation.  Krystyna and Bruss Bowman and Bowman House, LLC accept no liability for the content of this site, or for the consequences of any actions taken on the basis of the information provided.  This blog contains information about our classes available in Chandler, AZ and Payson, AZ and is not the official website of The Bradley Method®. The views contained on this blog do not necessarily reflect those of The Bradley Method® or the American Academy of Husband-Coached Childbirth®.
Categories: Affirmation, Labor Marathon, Labor Sprint
/