...celebrating every swee​t pea their birth
| | |
| --- | --- |
| Posted on March 3, 2014 at 5:12 PM | |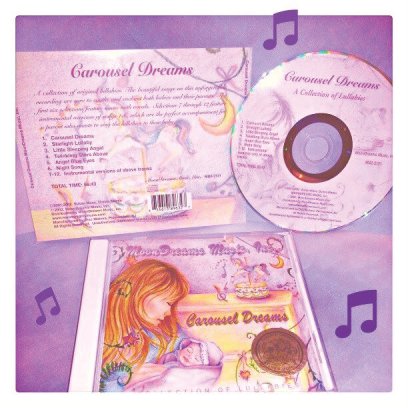 One of the beautiful things about the internet is making connections with other individuals who love supporting families.  I had the pleasure of meeting Susan Moss through LinkedIn.  I am so honored to bring you our virtual interview and to share her amazing music with our Sweet Pea students and readers through our blog and our newsletter.  I hope you will be as touched by her music as I have been! 

Tell us a little about your company.
MoonDreams Music Recording Group is an independent Record Label specializing in lullaby music for babies and their parents.  Each song has an instrumental version to sing along to.  Some of our lullaby music is interwoven with the soothing sounds of the night and the ocean.  Our multi award winning lullaby cd, "Carousel Dreams" has helped many babies fall asleep, and parents relax. 
How did you know that music was your calling?
I knew that music was my calling at around age 5 or 6.  I would always sing to songs on the radio, tape myself singing as a kid, and always knew I wanted to be a singer.  I started writing poems at age 11, and songs in my late teens.

What ages do you have in mind when you create music?
The lullabies we wrote are perfect for babies and toddlers, and also relaxing for parents to listen to.  The instrumental versions of our songs are great to sing along to as well.  We are currently working on new projects, which include a children's holiday song, summer themes, and relaxation music for all ages.
What advice do you have for parents that want to share the love of music with their children?
My advice to parents is to start always playing soft music when babies are in the womb, and then always introduce different kinds of music as babies and toddlers.  Of course, our lullabies are very soothing for bedtime. 
What inspired Carousel Dreams?
Carousel Dreams was created by a friend, and myself and we were both inspired by our children.  My friend had some lyrics she wrote for her daughter, that she asked me to put music to.  We then had a repertoire of songs, including lyrics she wrote, and songs I had wrote, and it turned into, Carousel Dreams - a Collection of Lullabies
What is your dream for the families that listen to your music?
My dream for the families that listen to my music is to create a relaxing and soothing atmosphere for bedtime, naptime, and a loving family experience.
Do you have a favorite song from that album?
It's hard to pick a favorite song from that album, but some of my favorites are Night Song, Angel Blue Eyes and Little Sleeping Angel.
Rumor has it that you are in the studio again...do you have an "EDD" for your new album?
Yes, we have started recording new music, including a holiday-themed children's song, summer themed lullabies, and relaxation music for everyone.  It has been a long time in the making, and we will be releasing YouTube videos of the making of it, and updates as we go along.
We have already produced some YouTube Videos of our lullabies.  To hear our current music and to get the latest news, you can subscribe to our
YouTube Channel
.
In addition to our cd, we also offer a Product Line of MoonDreams Music Merchandise, including collections of t-shirts, baby gifts, fashion accessories, etc. with our original designs, logos, and Carousel Dreams cd cover art.  These products are available
HERE
and
HERE
.
Thank you for getting to know Susan Moss with me...Best wishes as she continues to write and record for her next album.  Enjoy this music collaboration with artist Laurie Shanholtzer, set to the music of "Night Song":
Where to find MoonDreams Music Recording Group, LLC
Disclaimer: 
The material included on this site is for informational purposes only.
It is not intended nor implied to be a substitute for professional medical advice. The reader should always consult her or his healthcare provider to determine the appropriateness of the information for their own situation.  Krystyna and Bruss Bowman and Bowman House, LLC accept no liability for the content of this site, or for the consequences of any actions taken on the basis of the information provided.  This blog contains information about our classes available in Chandler, AZ and Payson, AZ and is not the official website of The Bradley Method®. The views contained on this blog do not necessarily reflect those of The Bradley Method® or the American Academy of Husband-Coached Childbirth®.
Categories: Babymoon, Bedtime Routine, Information Center, Inside Look, Planning for Baby, Relaxation, Relaxation practice
/