...celebrating every swee​t pea their birth
| | |
| --- | --- |
| Posted on April 3, 2015 at 3:42 PM | |
Last year I wrote an article on evidence-based practice for The Clarion, the newsletter published by ICAN and sent to it's subscribers (Spring 2014).  I read A LOT of documents and studies in preparation for that! 
Since it is Cesarean Awareness Month, I thought it fitting to share those with you.  The information shared below is accessible to all care providers who care for women in their childbearing years.  
If you would like a Trial of Labor with a subsequent pregnancy after a cesarean birth, then inform yourself about what the professionals are saying.  Examine your expectations, and find a care provider that supports your intentions for your next birth journey.
I have provided a brief summary, excerpt, and link to the complete document so that you can read that are meaningful to you in full.
This document from ACOG sets new goals for the obstetrical practice as a whole to re-evaluate their standard practices and make necessary changes to reduce the primary cesarean rate:
Safe Prevention of the Primary Cesarean Delivery
Excerpt:
Abstract: In 2011, one in three women who gave birth in the United States did so by cesarean delivery. Cesarean birth can be life-saving for the fetus, the mother, or both in certain cases. However, the rapid increase in cesarean birth rates from 1996 to 2011 without clear evidence of concomitant decreases in maternal or neonatal morbidity or mortality raises significant concern that cesarean delivery is overused. Variation in the rates of nulliparous, term, singleton, vertex cesarean births also indicates that clinical practice patterns affect the number of cesarean births performed. The most common indications for primary cesarean delivery include, in order of frequency, labor dystocia, abnormal or indeterminate (formerly, nonreassuring) fetal heart rate tracing, fetal malpresentation, multiple gestation, and suspected fetal macrosomia. Safe reduction of the rate of primary cesarean deliveries will require different approaches for each of these, as well as other, indications. For example, it may be necessary to revisit the definition of labor dystocia because recent data show that contemporary labor progresses at a rate substantially slower than what was historically taught. Additionally, improved and standardized fetal heart rate interpretation and management may have an effect. Increasing women's access to nonmedical interventions during labor, such as continuous labor and delivery support, also has been shown to reduce cesarean birth rates. External cephalic version for breech presentation and a trial of labor for women with twin gestations when the first twin is in cephalic presentation are other of several examples of interventions that can contribute to the safe lowering of the primary cesarean delivery rate.



ACOG 
http://bit.ly/1e5A2TW
 

This document from ACOG outlines the benefits and risks of a trial of labor after a cesarean (TOLAC), and help a doctor and a patient determine whether or not they are a candidate for TOLAC:
Vaginal Birth After Previous Cesarean Delivery
Excerpt:

Trial of labor after previous cesarean delivery (TOLAC)* provides women who desire a vaginal delivery with the possibility of achieving that goal—a vaginal birth after cesarean delivery (VBAC)†. In addition to fulfilling a patient's preference for vaginal delivery, at an individual level VBAC is associated with decreased maternal morbidity and a decreased risk of complications in future pregnancies. At a population level, VBAC also is associated with a decrease in the overall cesarean delivery rate (1, 2). Although TOLAC is appropriate for many women with a history of a cesarean delivery, several factors increase the likelihood of a failed trial of labor, which compared with VBAC, is associated with increased maternal and perinatal morbidity (3–5). Assessment of individual risks and the likelihood of VBAC is, therefore, important in determining who are appropriate candidates for TOLAC. The purpose of this document is to review the risks and benefits of TOLAC in various clinical situations and provide practical guidelines for managing and counseling patients who will give birth after a previous cesarean delivery. 



This article outlines some of the different changes that might be made in the way labor is managed – definitely talking points for ANY family to discuss with their care provider to ensure they are receiving evidence-based care:
Safe Prevention of the Primary Cesarean Delivery: ACOG and SMFM Change the Game
Excerpt:
The alarming and sustained increase in the cesarean rate in the United States has not improved either maternal or neonatal outcomes. In fact, data suggest that there is increased maternal mortality and morbidity associated with cesarean delivery. This statement describes the myriad of complications associated with cesarean and the increased risks associated with cesarean for mother and baby. The authors suggest that potentially modifiable factors, such as patient preferences and practice variation among hospitals, systems, and health care providers are likely to contribute to the escalating cesarean rates. There is a need to prevent overuse of cesarean, particularly the primary cesarean.
Prepared with the intention, "To provide health care providers, patients, and the general public with a responsible assessment of currently available data on vaginal birth after cesarean (VBAC)."
NIH Vaginal Birth After Cesarean (VBAC) Conference - Panel Statement
Excerpt:
Given the available evidence, trial of labor is a reasonable option for many pregnant women with one prior low transverse uterine incision. The data reviewed in this report show that both trial of labor and elective repeat cesarean delivery for a pregnant woman with one prior transverse uterine incision have important risks and benefits and that these risks and benefits differ for the woman and her fetus. This poses a profound ethical dilemma for the woman as well as her caregivers, because benefit for the woman may come at the price of increased risk for the fetus and vice versa. This conundrum is worsened by the general paucity of high-level evidence about both medical and nonmedical factors, which prevents the precise quantification of risks and benefits that might help to make an informed decision about trial of labor compared with elective repeat cesarean delivery. We are mindful of these clinical and ethical uncertainties in making the following conclusions and recommendations.

 


One of our major goals is to support pregnant women with one prior transverse uterine incision to make informed decisions about trial of labor compared with elective repeat cesarean delivery. We recommend clinicians and other maternity care providers use the responses to the six questions, especially questions 3 and 4, to incorporate an evidence-based approach into the decision-making process. Information, including risk assessment, should be shared with the woman at a level and pace that she can understand. When trial of labor and elective repeat cesarean delivery are medically equivalent options, a shared decision-making process should be adopted and, whenever possible, the woman's preference should be honored.

 


We are concerned about the barriers that women face in gaining access to clinicians and facilities that are able and willing to offer trial of labor. Given the low level of evidence for the requirement for "immediately available" surgical and anesthesia personnel in current guidelines, we recommend that the American College of Obstetricians and Gynecologists and the American Society of Anesthesiologists reassess this requirement with specific reference to other obstetric complications of comparable risk, risk stratification, and in light of limited physician and nursing resources. Health care organizations, physicians, and other clinicians should consider making public their trial of labor policies and VBAC rates, as well as their plans for responding to obstetric emergencies. We recommend that hospitals, maternity care providers, health care and professional liability insurers, consumers, and policymakers collaborate on the development of integrated services that could mitigate or even eliminate current barriers to trial of labor.

 


We are concerned that medical-legal considerations add to, and in many instances exacerbate, these barriers to trial of labor. Policymakers, providers, and other stakeholders must collaborate in developing and implementating appropriate strategies to mitigate the chilling effect the medical-legal environment has on access to care.

 


High-quality research is needed in many areas. We have identified areas that need attention in response to question 6. Research in these areas should be given appropriate priority and should be adequately funded – especially studies that would help to characterize more precisely the short-term and long-term maternal, fetal, and neonatal outcomes of trial of labor and elective repeat cesarean delivery.
Perspective and summary of the revised recommendations issued by online news source, Medscape:
ACOG Issues Less Restrictive Guidelines for VBAC
Excerpt:
Trial of labor after previous cesarean delivery (TOLAC) is safe and appropriate for most women with previous cesarean delivery, including some women with 2 previous cesarean deliveries, according to less restrictive guidelines issued by the American College of Obstetricians and Gynecologists (ACOG). The revised recommendations for attempting vaginal birth after cesarean delivery (VBAC) are reported in a practice bulletin published in the August issue of Obstetrics & Gynecology.


A look at what evidence-based practice is – great place to empower you as a consumer and demand evidence-based care, and help evaluate the choice to change providers if you are not getting evidence-based care:
Introduction to Evidence-Based Practice
Excerpt:
The most common definition of Evidence-Based Practice (EBP) is from Dr. David Sackett. EBP is "the conscientious, explicit and judicious use of current best evidence in making decisions about the care of the individual patient. It means integrating individual clinical expertise with the best available external clinical evidence from systematic research." (Sackett D, 1996)




EBP is the integration of clinical expertise, patient values, and the best research evidence into the decision making process for patient care. Clinical expertise refers to the clinician's cumulated experience, education and clinical skills. The patient brings to the encounter his or her own personal preferences and unique concerns, expectations, and values. The best research evidence is usually found in clinically relevant research that has been conducted using sound methodology. (Sackett D, 2002)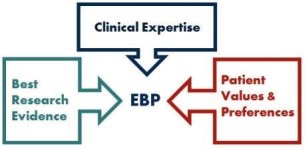 The evidence, by itself, does not make the decision, but it can help support the patient care process. The full integration of these three components into clinical decisions enhances the opportunity for optimal clinical outcomes and quality of life. The practice of EBP is usually triggered by patient encounters which generate questions about the effects of therapy, the utility of diagnostic tests, the prognosis of diseases, and/or the etiology of disorders.




Evidence-Based Practice requires new skills of the clinician, including efficient literature searching, and the application of formal rules of evidence in evaluating the clinical literature.
The jury is still out as to how this will affect mothers who birthed by cesarean who want a Trial of Labor with subsequent pregnancies.  Theoritically, it should allow for more time before a mother is considered "past due" and a care provider talks about induction.
Ob-Gyns Redefine Meaning of "Term Pregnancy"
Excerpt: 

Washington, DC -- The nation's ob-gyns have redefined 'term pregnancy' to improve newborn outcomes and expand efforts to prevent nonmedically indicated deliveries before 39 weeks of gestation. In a joint Committee Opinion, The American College of Obstetricians and Gynecologists (The College) and the Society for Maternal-Fetal Medicine (SMFM) are discouraging use of the general label 'term pregnancy' and replacing it with a series of more specific labels: 'early term,' 'full term,' 'late term,' and 'postterm.'  

 


The following represent the four new definitions of 'term' deliveries:
Early Term:  Between 37 weeks 0 days and 38 weeks 6 days
Full Term:    Between 39 weeks 0 days and 40 weeks 6 days
Late Term:   Between 41 weeks 0 days and 41 weeks 6 days
Postterm:     Between 42 weeks 0 days and beyond



"This terminology change makes it clear to both patients and doctors that newborn outcomes are not uniform even after 37 weeks," said Jeffrey L. Ecker, MD, chair of The College's Committee on Obstetric Practice. "Each week of gestation up to 39 weeks is important for a fetus to fully develop before delivery and have a healthy start."
Any thoughts on cesareans or VBAC?
Please leave a comment – it will be moderated and posted.
Disclaimer: 
The material included on this site is for informational purposes only.
It is not intended nor implied to be a substitute for professional medical advice. The reader should always consult her or his healthcare provider to determine the appropriateness of the information for their own situation.  Krystyna and Bruss Bowman and Bowman House, LLC accept no liability for the content of this site, or for the consequences of any actions taken on the basis of the information provided.  This blog contains information about our classes available in Chandler, AZ and Payson, AZ and is not the official website of The Bradley Method®. The views contained on this blog do not necessarily reflect those of The Bradley Method® or the American Academy of Husband-Coached Childbirth®.
Bradley Method® natural childbirth classes offered in Arizona: Chandler, Tempe, Ahwatukee, Gilbert, Mesa, Scottsdale, Payson
Categories: Cesarean Birth, Cesarean Surgery, Vaginal Birth After Cesarean, Vaginal Birth After Multiple Cesareans, Variations and Complications, VBAC
/