Shopping Cart
Your Cart is Empty
There was an error with PayPal
Click here to try again
Thank you for your business!
You should be receiving an order confirmation from Paypal shortly.
Exit Shopping Cart
...celebrating every swee​t pea their birth
| | |
| --- | --- |
| Posted on April 11, 2014 at 10:10 AM | |
Annika and Danial were students in our Spring 2013 class.  As with all of our students, they prepared using The Bradley Method in order to have a natural childbirth.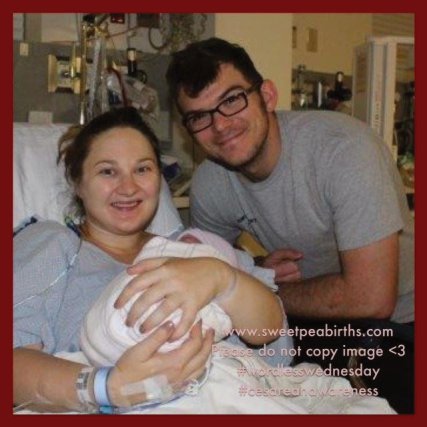 Through the course of the class, we have a session on cesarean birth in the event that a student's path of labor has to follow that for a Healthy Mom, Healthy Baby outcome.  As part of the process to avoid an "unnecesarean" we teach many communication tools throughout the twelve weeks for a couple to use for
true informed consent
.  We don't perceive a cesarean as a "failure" - we absolutely see that as a successful Healthy Mom, Healthy Baby outcome because we know our students used their positive communication techniques to make the best decision for their family.
What are the circumstances that led to your cesarean birth?
Danial and I were made aware that our son was breech at our 39 week check up with our midwife. We were then advised that we needed to go see an OBGYN at St Joe's to see if an external eversion was an option for us as the chances of Landan turning on his own that late in the pregnancy was very very slim. After being seen by the OBGYN and getting an ultrasound, the decision was made that it would be safe for the Landan and I to undergo an attempt for an external eversion to try and flip Landan head down. We were then admitted to St. Joe's and Dr. Medchill attempted multiple times (at my insistence) to turn Landan externally. After the 5th eversion attempt Dr. Medchill advised us that Landan was not going to flip and that we needed to decide what we wanted to do. At that point in his professional opinion, the chances of Landan flipping naturally were less then 2% as I was 39 1/2 weeks along and there wasn't much room left for him to move. He gave us the option to schedule the C section later that night or we could come back in a week and have a c section. 
 
Were there any questions that you asked of your care provider to inform your decision to have a cesarean birth?
Danial and I were very insistent on knowing the odds of Landan turning on his own and the different risks associated with doing an external eversion. Since we had been planning on having Landan in a birthing center the option of possibly having a c-section really had not entered our minds until then. We were lucky enough to know at what point do we really start to consider the option of having a c section as viable. After attempting an external cephalic version (ECV) 5 times, the focused shifted from really trying to obtain our natural birth to what is going to be the best option for myself and for Landan as well. That's when Danial and I really decided that a c-section was going to be the best and safest option for myself and for Landan as we would not want to deliver Landan naturally as a breech. 
 
What did your intuition tell you about your decision?
My intuition at that point was that after going through the amount of pain that I was going through by doing the versions (ECV), all I wanted was to see and hold my baby and make sure that he was ok. I couldn't imagine what it would have been like for him to have four people trying to rearrange you in such a tiny space. 
 
What stands out about your birth - was there anything you remember clearly about the experience?
 I remember clearly feeling oddly at peace however I don't really think I understood clearly what exactly was going on as I was on such overload from all the eversions. Having a c section is a very odd and very sterile experience but when you are laying there all you can think about is hearing your baby cry and seeing your baby that you don't really notice the other things around you. I will say though my Dr was absolutely wonderful and treated us with such respect in that he really was delicate about the entire experience and he knew that this was not our first choice for a birth. 
Which personal strengths did you bring to the experience?
 
What were your partner's strengths that he brought to the experience?
Danial was very calm and collected about the entire experience which definitely helped me. I feed off his energy and having him there telling me that everything was going to be ok and holding my hand was all the strength I needed to get through the versions (ECV) and then through the c-section. 
 
What would you tell someone who was going to have a cesarean about a cesarean birth? How about the postpartum period?
 C-Sections are scary. Theres no getting around that fact. It is major abdominal surgery and anyone that tells you that it isn't a big deal is LYING straight through their teeth. However, if you do have a c section it isn't the end of the world and your fate for your preceding births isn't sealed. 
You are going to need help during the postpartum period. There is a lot of pain and your movement is very restrictive due to you having stitches so TAKE IT EASY. If your spouse can take a couple more days off work then DO IT. You are absolutely going have to take it easy. Oh and DO NOT FORGET THE STOOL SOFTENERS!!!!!!! 

Do you have any advice to share with current SPB students? If so, what would it be?
The best advice I can give to current students is really listen to the doctors, but also know what questions to ask. If the writing in on the wall that a c-section is the only safe option for both mom and baby then feel confident in your decision. You have to protect the well being of your child and at the same time you help to protect your well being as well. There absolutely is nothing shameful in that. 
A huge thank you to Annika for taking the time to share her cesarean story for our students and readers!
What words of wisdom would you share with a pregnant mama about your cesarean experience?
Disclaimer:  The material included on this site is for informational purposes only.
It is not intended nor implied to be a substitute for professional medical advice. The reader should always consult her or his healthcare provider to determine the appropriateness of the information for their own situation.  Krystyna and Bruss Bowman and Bowman House, LLC accept no liability for the content of this site, or for the consequences of any actions taken on the basis of the information provided.  This blog contains information about our classes available in Chandler, AZ and Payson, AZ and is not the official website of The Bradley Method®. The views contained on this blog do not necessarily reflect those of The Bradley Method® or the American Academy of Husband-Coached Childbirth®.




Categories: Birth plans, Birth Story, Cesarean Birth, Cesarean Surgery, ECV

0

/