...celebrating every swee​t pea their birth
| | |
| --- | --- |
| Posted on April 15, 2014 at 11:06 AM | |
The main topic of our Bradley Method® class on Friday night was the first stage of labor.  Through the course of class and discussing labor techniques, one of our students asked if we had used a birth tub, and was it a wonderful as they have heard.  I had to answer honestly, "I don't know!"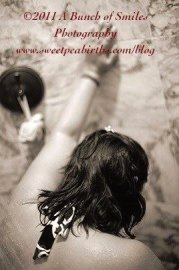 What we do know and teach as part of the Bradley Method® curriculum is that water IS an effective labor tool for pain relief.  It is one of several comfort measures we discuss.  (Side note: It has many applications besides labor – think of the whole philosophy and practice of hydrotherapy.)  Personally, this is one we used effectively in all four of our labors. 
According to Penny Simkin, founder of DONA International and doula extraordinaire, "A warm shower anytime during labor is a marvelous soother and pain reliever, especially if you can sit on a stool and direct a hand-held shower head just where you want it (on your front or back).
The warmth and skin stimulation reduce your awareness of the pain.
" [1]
(emphasis mine)
As far as using a birth tub: Laboring in a birth tub turned out not to be an option for us – in our first two labors, we weren't educated enough to know that you could take a bath in labor even if your bag of waters had ruptured.  If you like baths – yes, you can!  As Henci Goer points out in her book, "The Thinking Woman's Guide to a Better Birth", there is research that shows you will not increase your risk of infection. [2]
I think of it this way: Do you remember that experiment in science class when you put a tissue inside a glass, turned the glass upside down, and then put that glass in a bowl of water?  What happened if you pulled the glass straight up?  The tissue was dry!  Your vagina works in a similar way – there is air in the vagina that prevents things from going upstream unless they are forced (i.e, risk of infection from a vaginal exam).

By our third labor, we knew better and were thinking of using our tub at home before we went to the hospital.  However, I fell down hard in early labor so we went to the hospital to check on the baby.  Because my bag of waters had already broken, we were admitted.  Our local hospital did not have the option of birth tubs at the time.
When it came time for our fourth labor and planned homebirth, we considered laboring in a tub since by that time, I had heard so many positive stories about laboring and birthing in a tub.  The deal-breaker for me was finding out that we would need a fish net to scoop out any "particles" – no thank you!! I am pretty squeamish when it comes to things floating in water.  I will say that a great majority of the birth stories I hear from women who plan to labor and/or birth in water are positive ones, they enjoy the overall experience, and they would do it again.
My amazing husband/coach did his part by holding the shower head over my lower back and waving it back and forth in active labor – all four times.  I remember our homebirth best: as we got into active labor, we used a birth ball covered with a towel in the shower so I could rock through the contractions and have the water on my back.  As labor intensified, I made a nest with towels and did tailor sitting, and eventually lay down in a side relaxation position so that Bruss could focus the water on my hard-working uterus.  We labored that way until it was time to push.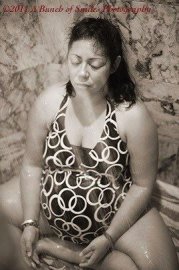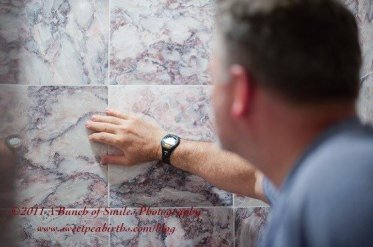 I included some links below to explore if you want to learn more about using water as a pain management tool, and also a link to Waterbirth International if you are exploring water birth.
Did you use water as a comfort measure? What worked for you?
REFERENCES
[1] https://www.childbirthconnection.org/pdfs/comfort-in-labor-simkin.pdf
[2] http://www.hencigoer.com/betterbirth/sample/

LINKS
More from Penny Simkin, DONA
http://www.birthlore.com/class/wp-content/uploads/2011/01/Showers-in-Labor.pdf
Barbara Harpber – Waterbirth International
http://www.waterbirth.org/research-documents
Disclaimer: 
The material included on this site is for informational purposes only.
It is not intended nor implied to be a substitute for professional medical advice. The reader should always consult her or his healthcare provider to determine the appropriateness of the information for their own situation.  Krystyna and Bruss Bowman and Bowman House, LLC accept no liability for the content of this site, or for the consequences of any actions taken on the basis of the information provided.  This blog contains information about our classes available in Chandler, AZ and Payson, AZ and is not the official website of The Bradley Method®. The views contained on this blog do not necessarily reflect those of The Bradley Method® or the American Academy of Husband-Coached Childbirth®.
Categories: Birth plans, Comfort Measures, Homebirth, Hospital Birth, Natural birth, natural labor coping mechanisms, Natural labor coping techniques
/