...celebrating every swee​t pea their birth
| | |
| --- | --- |
| Posted on April 18, 2014 at 7:04 PM | |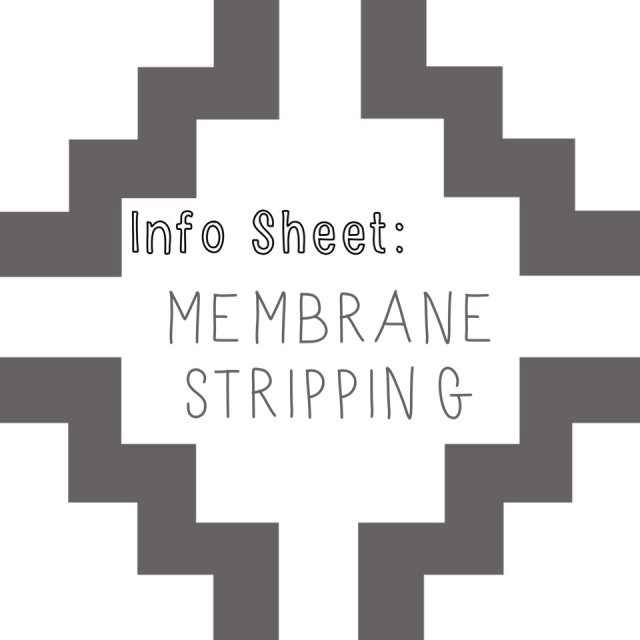 The information below is paraphrased and/or quoted from the listed sources.
*Definition of the procedure
Stripping Membranes
Stripping membranes, sometimes called "sweeping of the membranes" or "membrane sweeping", is a method used to try to start labor. The health care provider puts her or his finger into the cervix – the mouth of the uterus – and uses the finger to separate the bag of waters from the side of the uterus near the cervix. This releases local prostaglandins/hormones that can trigger contractions. It can be done in your doctor or midwife's office.

 


The National Institute for Health and Clinical Excellence (NICE) notes that for the purpose of it's guideline, membrane sweeping is regarded as an adjunct to induction of labor rather than an actual method of induction.
Sources: 
*History
Sweeping (or stripping) the membranes (sometimes referred to as a 'strip and stretch') is an old method of induction that was first documented in the year 1810.




The available evidence suggests that sweeping the membranes promotes the onset of labor. For women thought to require induction of labor, a reduction in the use of more formal methods of induction could be expected. For women near term (37 to 40 weeks of gestation) in an uncomplicated pregnancy there seems to be little justification for performing routine sweeping of membranes. Sweeping of the membranes is probably safe, provided that the intervention is avoided in pregnancies complicated by placenta praevia or when contraindications for labor and/or vaginal delivery are present. There is no evidence that sweeping the membranes increases the risk of maternal and neonatal infection, or of premature rupture of the membranes. However, women's discomfort during the procedure and other side-effects must be balanced with the expected benefits before submitting women to sweeping of the membranes.

 


According to the American College of Obstetricians and Gynecologists (ACOG), stripping membranes increases the likelihood of spontaneous labor within 48 hours and reduces the incidence of induction with other methods.
Sources: 
*PROS
It is a drug free…method of stimulating labor
It may mean you avoid further intervention
You can have it performed at home or in your health care providers office
Spontaneous delivery is more likely
Has been found to reduce the risk of post term gestation, or pregnancy continuing past 41 weeks.
Sources:
In a randomized trial of 274 women, the women who underwent membrane sweeping had:
Higher spontaneous vaginal delivery rate (69% vs 56%, P=.041)
Shorter induction-to-delivery interval (mean 14 vs 19 hours, P=.003)
Fewer requirements for oxytocin (46% vs 59%, P=.037)
Shorter duration of oxytocin infuson (mean 2.6 vs 4.3 hours, P=.001)
Greater satisfaction with the birth process
*CONS
Possible discomfort during procedure
Possible discomfort after procedure
Possible abdominal cramping after procedure
Possible spotting after procedure
The cramping that may occur in the 24 hours after your membranes are stripped can make it hard to rest or sleep; this means that you might lose some sleep before actually going into labor. 


Some people worry that membrane stripping may cause the bag of water to break or cause mothers or babies to become sick. Studies have found that membrane stripping does not make them more likely.
Possible risk of spreading infection for mothers that are GBS positive
*Links with other options to explore
Was this intervention part of your birth story? What is your insight? 
Please leave us a comment - it will be moderated and posted. 
Disclaimer:  
The material included on this site is for informational purposes only.
It is not intended nor implied to be a substitute for professional medical advice. The reader should always consult her or his healthcare provider to determine the appropriateness of the information for their own situation.  Krystyna and Bruss Bowman and Bowman House, LLC accept no liability for the content of this site, or for the consequences of any actions taken on the basis of the information provided.  This blog contains information about our classes available in Chandler, AZ and Payson, AZ and is not the official website of The Bradley Method®. The views contained on this blog do not necessarily reflect those of The Bradley Method® or the American Academy of Husband-Coached Childbirth®.
Categories: Augmentation, Induction, Info Sheet, Information Center, Information Sheet, Membranes, Stripping Membranes, Sweeping Membranes
/