...celebrating every swee​t pea their birth
| | |
| --- | --- |
| Posted on May 1, 2015 at 12:33 AM | |
Here is our final post for Cesarean {Birth} Awareness Month. (I missed by a day when I was planning posts :/ Oops!)  
Today I am sharing two cesarean birth stories from SPB alumni families.  Both beautifully illustrate the gift of a cesarean when they are medically necessary.  
The Mangieri family welcomed their son via cesarean in March 2012, and went on to have a VBAC with their second child, a daughter, in December 2013.
The Schlueter family welcomed their son via cesarean in July 2013.


And to round off the stories, here is the Bland Family story.  They were classmates with the Schlueter family, and joined us as part of their journey as they prepared for a Trial of Labor After Cesarean (TOLAC).  They were able to have a VBAC - here is how it happened for them:
My C-section and VBAC journey
by Tanya Bland
With my first pregnancy I planned an all natural birth. I went to midwives, took baby classes, the whole nine yards. 40 weeks came and went. 
When I hit 41 weeks the ultrasound showed that my daughter was measuring very large. They said she was weighing about 9 lbs, 15 oz. I was told all the concerns with a large baby and being "overdue". 
Unfortunately in hind sight I feel I didn't have enough knowledge or the confidence to ask more questions. I became scared by the "big baby" issues and decided to schedule an induction. 
We decided to go with a round of prostaglandin gels. My husband and I checked in to the hospital around 2pm and had to lay down in the bed for 6hrs then I went home. Nothing happened the next day. 
The following day I went back to the hospital for another round of gels. They admitted me and proceeded with more inductions. I went back and forth between prostaglandin gels and cervadil for 4 days. 
When I finally got to 3cm they started pitocin. The contractions started to intensify for a few hours but then I fell asleep. I slept for about 3 hrs and when I woke up all my progress had come to a halt. 
At that point my midwife told me about the risks if I were to continue of possible
shoulder dystocia
. Not knowing the stats or real risks of shoulder dystocia my husband and I became very scared. We decided to go with the option for a c-section. Even during the c-section they had to use a vacuum to get Taylor out. I feel that she truly wasn't ready to come despite how big she was. She was born at 10 lbs, 5 oz.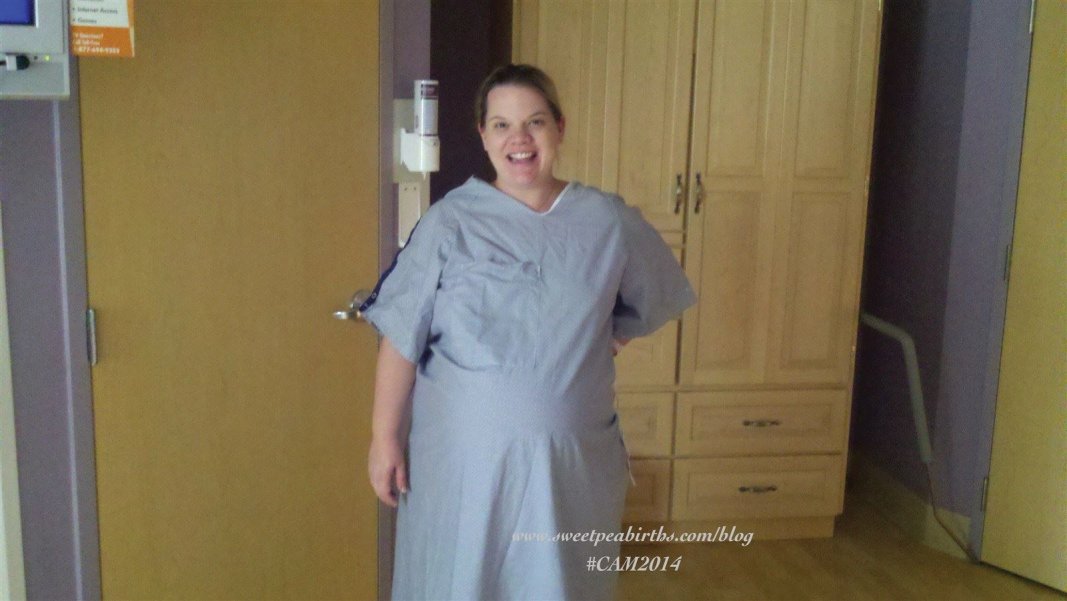 Cesarean to VBAC Journey
Getting induced with Taylor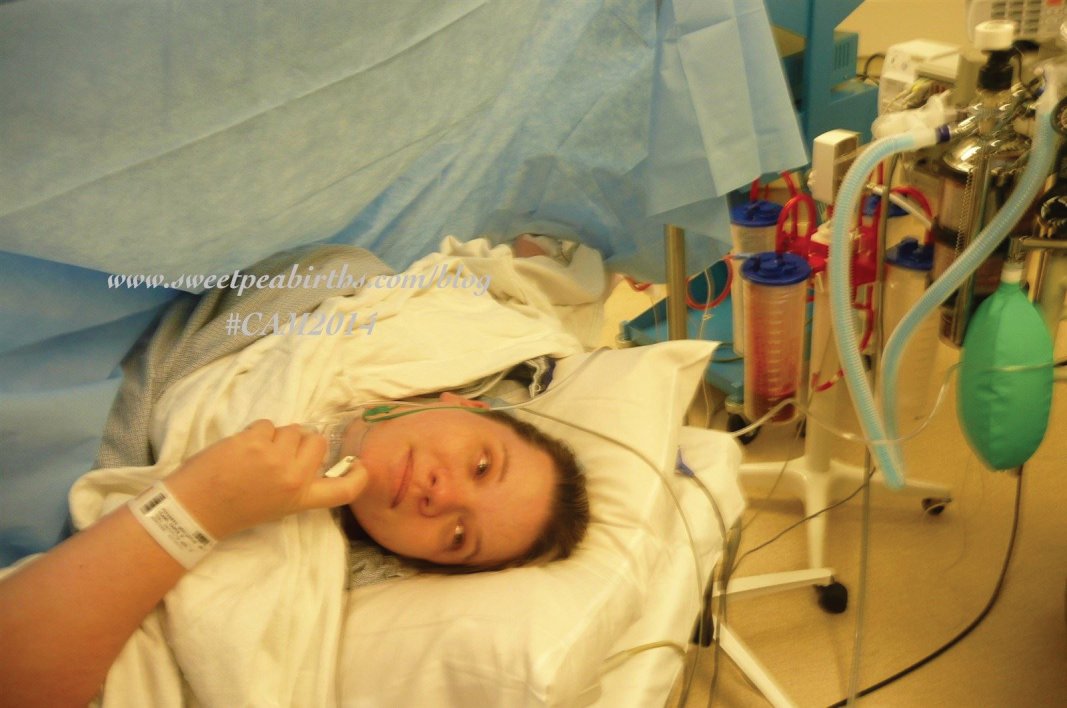 Cesarean to VBAC Journey
Trying to see Taylor after my cesarean section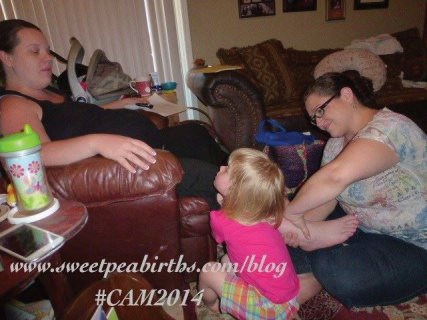 Cesarean to VBAC Journey
My doula and Taylor helping me with by breathing during contractions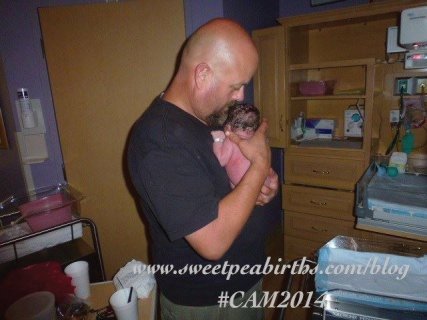 Cesarean to VBAC Journey
Scott holding Kaylee after catching her and cutting the cord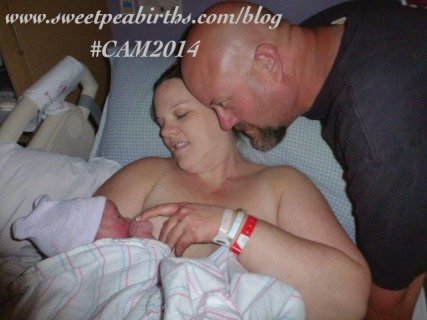 Cesarean to VBAC Journey
Skin-to-skin after VBAC
Although many people commented how lucky I must feel that I didn't have to birth that big of a baby, I felt very defeated after and it took a long time to recover...not only physically, but emotionally. I suffered big time postpartum depression and had to seek counseling for a little while. I worked through grieving the loss of the birthing experience I had wanted.  Though it felt silly at first since I had a perfect, healthy, beautiful little baby...it was very healing to grieve the loss of what I had wanted. 
I attended some ICAN meetings and did more research and by the time I was pregnant again I was determined for a VBAC. With my second child I decided to attend Bradley™ classes to gain even more knowledge, along with hiring a doula. I believe that having Krystyna and Bruss, along with my doula in my corner to ask questions whenever I was unsure of things, not only made me feel more at ease but also helped with my successful VBAC. 
I made a plan ahead of time and knew that I would be "overdue". At 41 weeks the doctors wanted me to have a repeat c-section. Thankfully, with the knowledge I had learned I knew that as long as I was healthy and my baby was healthy that I could continue to wait until baby was ready to come. 
My midwives were very wonderful in supporting me with waiting and dealt with the doctors for me. The day before I hit 42 weeks I went in for my check up. My midwife said she supported me completely but needed to express the risks for continuing to wait. She offered to start an induction using the
Foley Bulb
. 
This time I felt more prepared. I called Krystyna and my doula, Diane Acuna and was able to research the positives and negatives. I made the choice to continue to wait because I was healthy and so was baby. I felt at peace with whatever was going to happen, whether it be VBAC or repeat C-section because I felt like I had done all I could and research all I could. 
Thankfully Kaylee decided to make her grand entrance at exactly 42 weeks and I got to have my completely natural VBAC. If anyone is open to advice, this is what I would tell them: take the Bradley™ classes and hire a doula! What a difference having all that knowledge and extra support in my corner did for my peace of mind and outlook.
Disclaimer: 
The material included on this site is for informational purposes only.
It is not intended nor implied to be a substitute for professional medical advice. The reader should always consult her or his healthcare provider to determine the appropriateness of the information for their own situation.  Krystyna and Bruss Bowman and Bowman House, LLC accept no liability for the content of this site, or for the consequences of any actions taken on the basis of the information provided.  This blog contains information about our classes available in Chandler, AZ and Payson, AZ and is not the official website of The Bradley Method®. The views contained on this blog do not necessarily reflect those of The Bradley Method® or the American Academy of Husband-Coached Childbirth®.
Categories: Cesarean Birth, Cesarean Support Group, Cesarean Surgery, Vaginal Birth After Cesarean, VBAC
/