...celebrating every swee​t pea their birth
| | |
| --- | --- |
| Posted on May 12, 2014 at 1:50 PM | |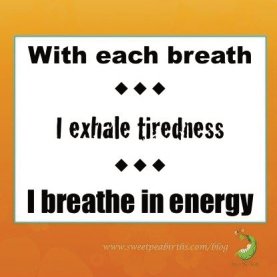 Here is an affirmation to remember and use in many labor situation: whether you have a sprint where your brain is running to catch up to your body, or a marathon where energy conservation is key, or anything in between.  There comes a point in most labors where the mother needs to focus on gathering energy so she can get past the tiredness and have energy to finish the labor and push in the second stage of labor.
In my mind, energy was vortex-shaped and I needed to center that vortex on our birth.  However it plays out in your mind, envision any tiredness in your body being exhaled out.  As you inhale, breathe in the energy around you - maybe it will help to imagine it as a bright yellow or white light filling your body and squeezing out all the tiredness.
This is how I start this affirmation:
Inhale "With each breath"
Exhale "I exhale tiredness"
Inhale "I breathe in energy"
then
Exhale " I exhale tiredness" and push your breath out to the bottom of your belly
Inhale "I breathe in energy" and fill your abdomen and lungs with light and breath
and repeat until you are in a deep relaxation and/or it stops working.  You can start over with this one, or maybe it's time to try a new affirmation to center your intentions.  The whole goal of these affirmations is to build positive energy as you work through labor to have the birth you need for a Healthy Mom, Healthy Baby outcome.
Since it works in reverse of how we think of breathing (inhale-exhale) every time I start this centering process, I start with the first phrase to get on rhythm with the exhale-inhale pattern of the affirmation.
What are phrases that help you find energy when you need it?
Disclaimer:
The material included on this site is for informational purposes only.
It is not intended nor implied to be a substitute for professional medical advice. The reader should always consult her or his healthcare provider to determine the appropriateness of the information for their own situation.  Krystyna and Bruss Bowman and Bowman House, LLC accept no liability for the content of this site, or for the consequences of any actions taken on the basis of the information provided.  This blog contains information about our classes available in Chandler, AZ and Payson, AZ and is not the official website of The Bradley Method®. The views contained on this blog do not necessarily reflect those of The Bradley Method® or the American Academy of Husband-Coached Childbirth®.
Categories: Affirmation, Managing or coping with natural labor, Natural birth, natural labor coping mechanisms, Natural labor coping techniques
/