...celebrating every swee​t pea their birth
| | |
| --- | --- |
| Posted on May 27, 2014 at 12:38 PM | |
I say it every session – it's hard to believe we are coming down to our last week in our Bradley Method® class.  This Friday is the last class for our Spring 2014 class series!!
One of the questions that came up in Class 11 was about comfort, or lack thereof, after meals.  To answer this question, let's look at what happens to the pregnant body: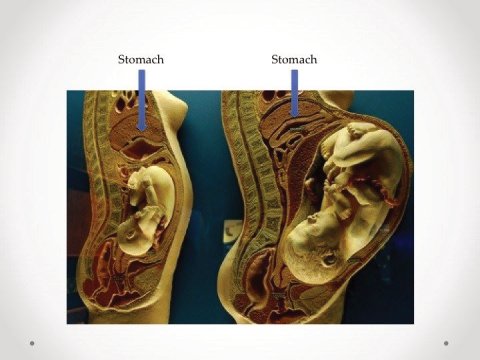 Color image via flickr: Papier Mache Models of Pregnant Woman 
At the Boston Science Museum, in Boston, MA
Do you see the difference in the stomach between the two images?  As your pregnancy progresses, your internal organs are pushed out of the way to make room for baby.  This means that it's a pretty safe bet you will not be comfortable after a big meal in your third trimester.
Instead of trying to eat the way you did early in pregnancy, you may have to plan smaller, more frequent meals.  You still want to meet your pregnancy nutrition goals, so try to work in protein every time you nosh. 
HERE are some ideas for protein-rich snacks.
HERE are ideas for high-fiber (so you feel full) and high-protein meals that you can make and are great on the reheat.
It may be overwhelming to think of preparing six meals a day.  One option is to make snacking fun!  You may want to use a muffin tin to serve yourself a handful of your favorite bites between meals.
Bonus: the muffin tins will come in handy to feed toddlers.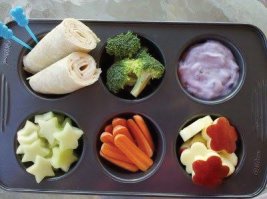 This tin is designed to interest a toddler - not sure a pregnant mama will go through the trouble to cut out food in shapes - lol. Picked this image because it has all the food groups: grain, protein, greens, calcium, vegetables and fruit. Note: lunch meats are not recommended in pregnancy due the concern about listeria contamination. If a student loves sandwiches, we ask them to consider cooking the meat and then thinly slicing it to sandwich size. You can freeze it in single serving size portions to pull out and use as needed.)
If you are going out to eat, remove the temptation to clear your plate by asking for a take-out box when your server brings your meal.   Split your meal in half and store it right away – out of sight, out of mind as far as your stomach is concerned.  
Bonus: you have a yummy, ready to heat & eat meal when you are hungry again later in the day.
With a little creativity, it is completely possible to feed you and your Sweet Pea with nutritious food throughout the day, meet your nutrition goals, and still be as comfortable as you can be with your growing belly!
What is your favorite pregnancy snack? 
Disclaimer: 
The material included on this site is for informational purposes only.vvIt is not intended nor implied to be a substitute for professional medical advice. The reader should always consult her or his healthcare provider to determine the appropriateness of the information for their own situation.  Krystyna and Bruss Bowman and Bowman House, LLC accept no liability for the content of this site, or for the consequences of any actions taken on the basis of the information provided.  This blog contains information about our classes available in Chandler, AZ and Payson, AZ and is not the official website of The Bradley Method®. The views contained on this blog do not necessarily reflect those of The Bradley Method® or the American Academy of Husband-Coached Childbirth®.
Categories: Bradley Method®, Comfort Measures, Information Center, Nutrition, Pregnancy, Third Trimester
/