...celebrating every swee​t pea their birth
| | |
| --- | --- |
| Posted on June 2, 2014 at 5:27 AM | |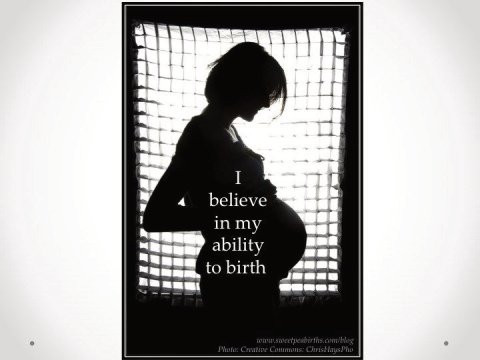 The female form is beautifully made to grow a baby and birth a baby.  Birthing wisdom tells us that, in general, Sweet Peas will not grow bigger than the outlet the vessel carrying them can provide.
Another idea that is brought to mind is the analogy that our bodies know how to maintain our heart beat, breathe, digest, and do all the other autonomic functions that keep us alive.  All this, without any instruction or direction from us!  Why, then, would these miraculous bodies fail us when it comes to childbirth? Believe!!
A tenet of The Bradley Method® is for parents to attend classes and then read, read, and then read some more to be be informed and confident consumers.  This confidence begets the abtility to birth without fear of the process, possible interventions, variations or complications.  
Prepared parents can believe in the ability of the mother to birth.  This allows them to approach their labor and birth with the best intentions for an unmedicated, vaginal birth, and then see that birth through in spite of any variations or decision points they may face.
The mother has the confidence in the process and her ability to birth.  The Coach has the confidence and the motivation to be at her side and meet her needs for support and encouragement.  
NOW COMES THE BIG *HOWEVER*...
I have to admit, this affirmation gave me pause as I was preparing it. We have had students in the past who have worked so hard and so beautifully to have a vaginal birth, and it just did not go that way for them.  
So I put this out today with a caveat...believe in your ability to birth for a Healthy Mom, Healthy Baby outcome.  Sometimes, the focus may need to switch to "I will give this baby the birth that (s)he needs," which gives us the space to change from our expected path to the birth that needs to happen for a Healthy Mom, Healthy Baby outcome.
If that is the case, please talk to someone who understands that a mother can grieve her birth experience while still appreciating the fact that she has a healthy baby.  
THIS
article by Milli Hill articulates so beautifully the feelings a mom may have with the knowledge that she has a healthy baby AND a variation from the birth experience she may have wanted.
Here is a picture from our last birth - still the look of surprise and the "I did it!", even though it was our fourth birth!! Never cease to be amazed by the miracle of life that you grew within you...no matter how you birth, take heart from the fact that the new human being you are holding in your arms was grown within you and by you with loving intention.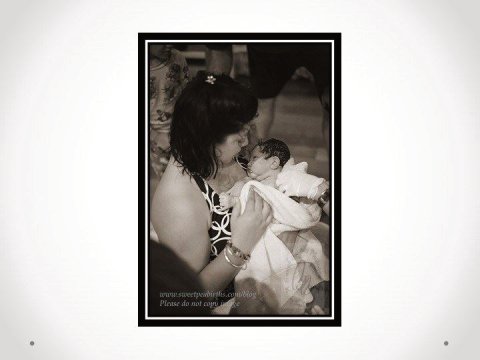 Image: ©2011 A Bunch of Smiles Photography
All rights reserved - we are not models - please do not copy image - thank you!
What is a birth mantra or affirmation that helped you or inspires you?
Please leave a comment - it will be moderated and posted.
Disclaimer: 
The material included on this site is for informational purposes only.
It is not intended nor implied to be a substitute for professional medical advice. The reader should always consult her or his healthcare provider to determine the appropriateness of the information for their own situation.  Krystyna and Bruss Bowman and Bowman House, LLC accept no liability for the content of this site, or for the consequences of any actions taken on the basis of the information provided.  This blog contains information about our classes available in Chandler, AZ and Payson, AZ and is not the official website of The Bradley Method®. The views contained on this blog do not necessarily reflect those of The Bradley Method® or the American Academy of Husband-Coached Childbirth®.
Categories: Affirmation, Birth, Birth Mantra, Labor Augmentation, Labor Induction, Labor Marathon, Labor Sprint
/