...celebrating every swee​t pea their birth
| | |
| --- | --- |
| Posted on June 9, 2014 at 6:01 PM | |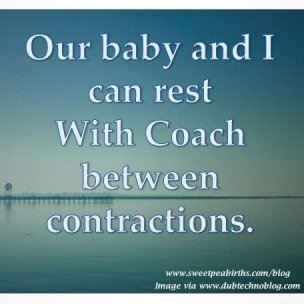 When I tell people that they are going to be able to rest in labor as it intensifies, they look at me like I am crazy. How can a mama in labor possibly rest when contractions are coming two to three minutes apart??
 I think if you can wrap your mind around the idea of resting between contractions, it becomes a more realistic possibility.  If you can actually go to sleep, great! If not, a deep and complete relaxation can be hugely beneficial to help the mother conserve energy.
So how does it work in real life??  Here is an image of a screen shot I took during a student's labor where I served as a doula: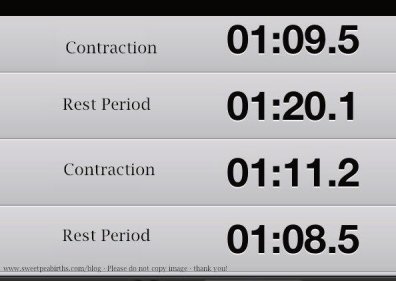 Can you see how between each contraction there was an opportunity for a good minute of rest?  During each of those rest periods her Coach was offering her encouraging words in her ear, and both of us were stroking her to move any tension out and away as she rested so that she would be completely relaxed between contractions.
Mama had the faith to completely let go between contractions because as soon as my timer crossed the minute mark, in a low voice I would let her know how much time had passed and that another one was likely to start again soon.  This constant communication allowed Mama to work with her labor when she needed to (which consisted of working at keeping everything loose, limp and relaxed when her body wanted to tense with the contraction), and completely let go when it was over and fall back into a deep relaxation.
Although you may not necessarily sleep, rest and complete relaxation will allow the mother to conserve energy so she can be at her best when the second stage of labor begins.  When second stage is at hand, she will need all that energy to work with her body and welcome her little one into the world.
What do you think - can you picture yourself completely letting go and using that as a tool in labor?  What do you think will work for you?
Categories: Affirmation, Birth, Birth Mantra
/