...celebrating every swee​t pea their birth
| | |
| --- | --- |
| Posted on June 17, 2014 at 8:54 PM | |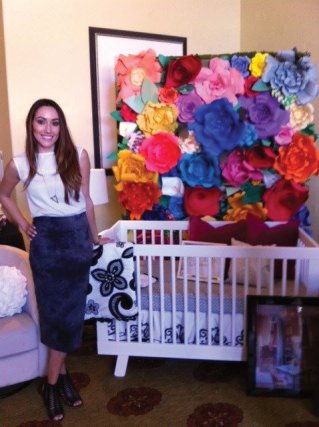 Club MomMe Report:
One of the contacts I made at the Club MomMe Spring Family Fest was Stephanie Avila ("SA"), designer and co-founder of Rockabye Mommy.  What stopped me in my tracks was this stunning flower wall.  It is a Tonia Fischer creation, and it is a design element they have used in some of their nurseries (not the whole wall - usually only a few flowers per room).  I'm glad I stopped for a chat – she is a great resource if you are a SoCal mama and can enlist her services.  If you are not in SoCal, you can take advantage of her design sensibility by following her on Pinterest or connecting with her on Facebook or Twitter. 
About Rockabye Mommy:
If you're an expecting mommy or already have a little bundle of joy, you've just hit the jackpot because Rockabye Mommy specializes in creating chic spaces for pampered babies! Nurseries, kids rooms and playrooms can be as basic or elaborate as your budget allows. While you'll want to create a warm, welcoming space for your baby or child, safety is the most important consideration when designing a child's room. As an expert in children's room interiors, Stephanie will create an imaginative, whimsical and safe environment for your child to play, sleep and grow. After launching Rockabye in 2012, she knew immediately that this special niche was going to be such an incredibly fun experience. With service offerings that include: interior design, baby shower planning, maternity styling and mommy-VIP retreat packages, the team at RM will have you ready for baby before you know it!




Rockabye has been featured in publications such as: InTouch Weekly Magazine, OK! Magazine UK, 

People.com

, California Homes Magazine, Riviera Magazine, The Orange County Register and 

Projectnursery.com

.
Be sure to scroll down to the end of the post to see the special offer available to SoCal families.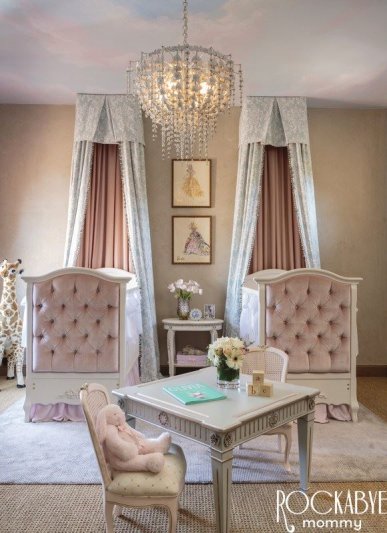 Nursery for Twin Girls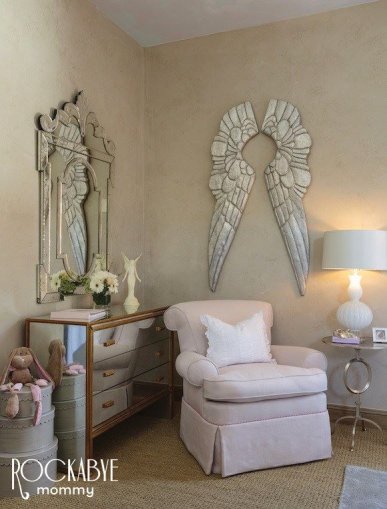 Nursery for Twin Girls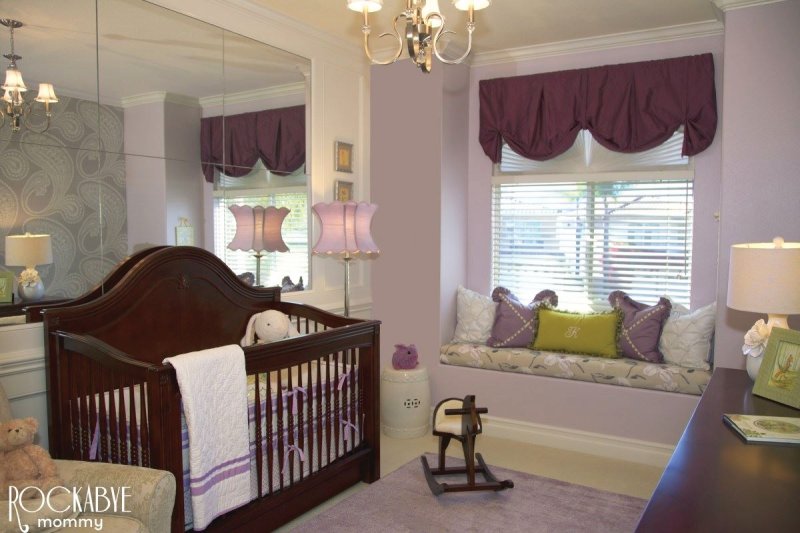 Purple & Sage Nursery
Purple & Sage Nursery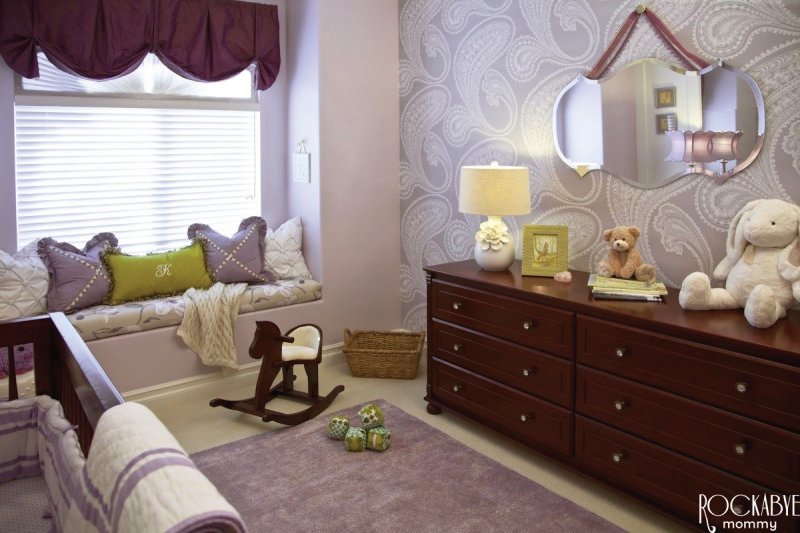 Purple & Sage Nursery
SPB: What motivated you to start Rockabye Mommy?
SA: I have over 10 years experience in Residential and Model Home interior design. So when a friend of mine approached me with the idea of starting a business catering to expectant mothers I knew immediately that this niche would be such a fun experience and would allow me to expand my design expertise in a new way.
SPB: Where do you draw your design inspiration? 
SA:I find inspiration in anything unique and beautiful. It can be nature, a piece of furniture or a fashion magazine. The great thing about designing children's rooms is that inspiration can come from anything that brings a smile to your face because the end result should be a happy, magical space for a child.
SPB: Are there common denominators across the different nurseries you design? What are those elements? 
SA: Yes and it's funny because I try to start every new project with a clean slate but it's my natural design sensibility to keep an element of sophistication in each room I design. It always ends up working its way back into the design in some way! The fabrics I choose have a more modern aesthetic than the typical novelty prints you usually see in a child's room. That's where the element of sophistication comes in. I rarely use themed juvenile prints or storybook characters. I feel that a whimsical space can be achieved without looking childish by selecting children's motifs in a sophisticated color palette or by using a bright palette in a modern style.
SPB: Do you have a favorite place(s) to shop with new mommies? Which ones and why?
SA: Yes, my go-to locations are The Land of Nod, AFK Furniture and Restoration Hardware Baby & Child. This is my dynamic trio! The Land of Nod offers a modern selection with bold colors and graphic patterns while RH Baby & Child offers a more neutral, soft sophisticated color palette and transitional furnishings. AFK Furniture manufactures beautiful French-inspired furnishings. The level of detail in their custom woodwork and hand painted motifs is absolutely stunning and what puts them in the higher price point category.
SPB: When is the best time for a mommy to start working together with you to create their Sweet Pea's space? 
SA: I have started projects at many different times during a mommy's pregnancy but it's ideal to begin during their second trimester because it's a more enjoyable time for mommy. The nausea has usually passed and she is generally in a good state of well-being which makes it easier to get through all of the design decisions. It also leaves us plenty of time to get any items on order, schedule any contractors and have the room completed before baby arrives. My goal is to have the room ready at least three weeks before baby is due so that mommy can relax and be worry free knowing that the nursery is complete.
SPB: What sets your concierge service apart from other designers? 
SA: I think what sets any designer apart from the other is their personal design sensibility. I love creating whimsical spaces for children with a sophisticated feel. The other thing that sets us apart is that, not only will you get a well designed room, we also offer personal styling and design packages with entry to the exclusive ACCESS lounge at South Coast Plaza. Our goal is to provide a VIP experience for our clients during this special time in her life. As members of the exclusive South Coast Plaza personal stylist program, Our VIP Mommy Treatment is an experience like no other for the mommy to be! This package includes a two hour design shopping trip throughout the plaza where we'll help you pull your room concept together and suggest our favorite items that work with your scheme. A two hour personal styling session in the ACCESS lounge and a personalized Tiffany & Co. gift. We also offer three additional packages and have created them especially for mommy, knowing that she deserves to be pampered!  

Where to connect with Rockabye Mommy
How about you...what was the inspiration piece or color for your nursery?
Please leave us a comment - it will be moderated and posted. 
Special Offer for SoCal Families:
Disclaimer: 
The material included on this site is for informational purposes only.
It is not intended nor implied to be a substitute for professional medical advice. The reader should always consult her or his healthcare provider to determine the appropriateness of the information for their own situation.  Krystyna and Bruss Bowman and Bowman House, LLC accept no liability for the content of this site, or for the consequences of any actions taken on the basis of the information provided.  This blog contains information about our classes available in Chandler, AZ and Payson, AZ and is not the official website of The Bradley Method®. The views contained on this blog do not necessarily reflect those of The Bradley Method® or the American Academy of Husband-Coached Childbirth®.
Categories: Baby Concierge, Family Fest, Newborn Care, Nursery, Planning for Baby
/