...celebrating every swee​t pea their birth
| | |
| --- | --- |
| Posted on June 20, 2014 at 9:57 AM | |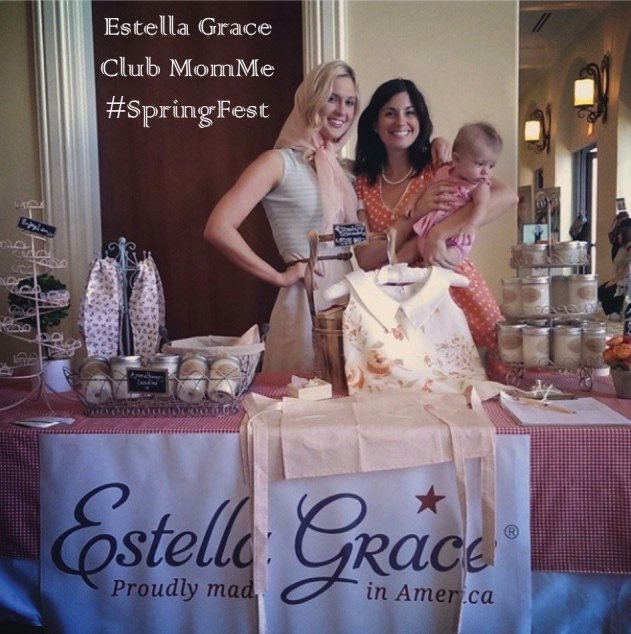 One of the treasures I brought home for the kiddos from the amazing Club MomMe Spring Family Fest was a homemade, hand-crafted lotion bar from the Estella Grace display.  I got to visit with Amy's assistant, Jenelle, at the event; Amy was chatting with another customer when I stopped by.  Amy was kind enough to do a virtual interview with me and share these beautiful images of her products, all of them hand-crafted and made with love in the USA.
SPB readers will want to consider using her handmade lotion bars as part of, "avoiding harmful substances" during pregnancy, or maybe the aromatherapy candles for use during relaxation practice, labor, or the postpartum period to add a little lift to your days.  If you are lucky enough to have a little girl in your life, the mommy-daughter items are definitely in your future!!  We look forward to filling our home with more Estella Grace items now that I don't have to worry about trying to bring them all home in one carry-on bag :)
About Amy: Amy Passantino is the founder of Estella Grace. She is an interior designer, food blogger, and author. Amy was born and raised in Wayne, New Jersey and received her Bachelor Degree in interior design back in 2002. She went on to work for renowned firms specializing in high-end residential design, which eventually led her to work on Brad Pitt's 'Make it Right' Project in New Orleans. She helped thousands of people across the country with their homes while managing a national program, Color Makeover, for Benjamin Moore. She worked closely with consumers and spoke at events for House Beautiful Magazine. In 2012, she opened AEP Interior Design in Los Angeles where she designed coastal homes and used her knowledge of feng shui and color psychology to re-design healthcare facilities. Her biggest venture yet is Estella Grace - a vintage inspired brand that will help people get back to the heart of the home through an American Pie experience.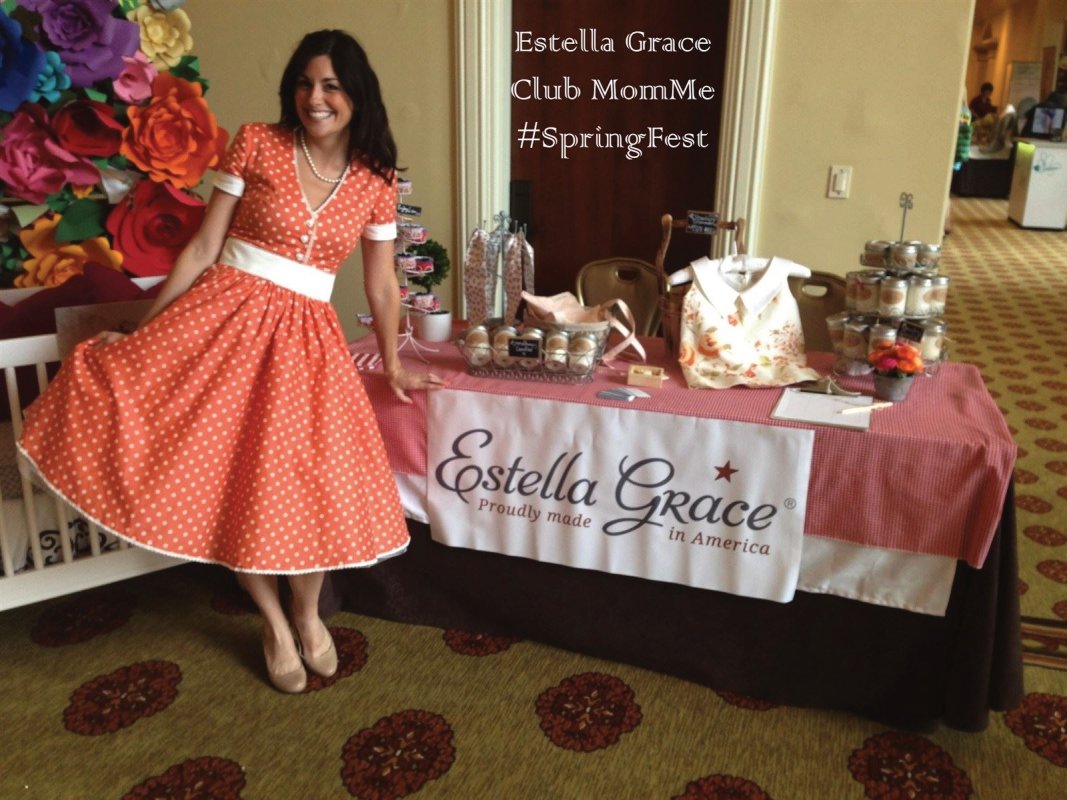 SPB: How did you get started with handmade candle and lotion bar crafting?
AP: I began developing this vintage-inspired brand about 2 years ago. I knew exactly the look, the smell, and how I wanted my products to make people feel. Originally I was just going to buy candles from local craft people and sell them, until one day I was talking to a friend of mine about buying some candles as gift. She turned to me and said "Why don't you just make them yourself? "  I had never thought about that before. From there I began researching candle recipes and developing my technique. Candle making is definitely not for everyone, but for me, it was a way to create some of my first products. Once I mastered the candles, I moved on to my homemade lotion bars. From my experience in working with candles I was able to know what scents would be perfect for my lotion bars.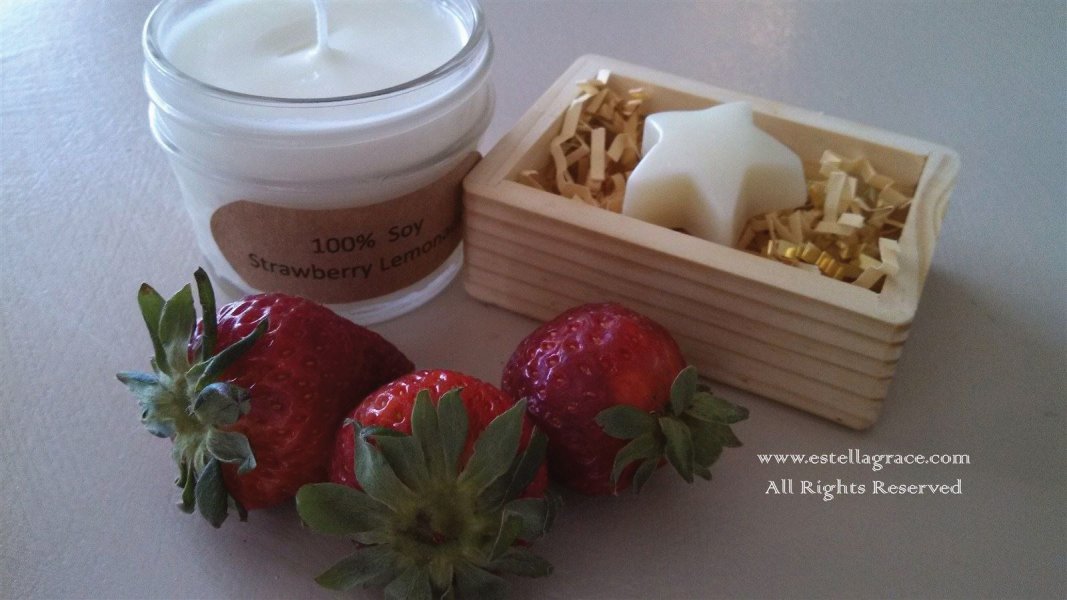 SPB: What motivated you to start Estella Grace?
AP: I was raised in a generation where everything was sold in a store without any real understanding of where it came from. I remember the first time I made homemade preserves. I couldn't believe how easy it was and how much better it tasted. I felt like I had been missing out on fresh foods for most of my life. My passion for homemaking grew from there. I began making my own apple butter, breads, and pies. Every time I got in the kitchen it was a new challenge on what I could create from scratch and I eventually began blogging and tailoring the recipes toward beginner cooks like myself. I believe there is something special about the act of sharing recipes and teaching that makes a home special. When I came up with the name Estella Grace I pictured this 1940's house wife as someone who would take us back in time to a simpler life. Estella means Star. She is 'The Star of Grace' empowering women and reminding us of our homemaking roots. She will teach us how to make things from scratch and have a new appreciation for items which are sometimes taken for granted. My hope is to inspire a new generation to focus on creating a home with meaning and purpose.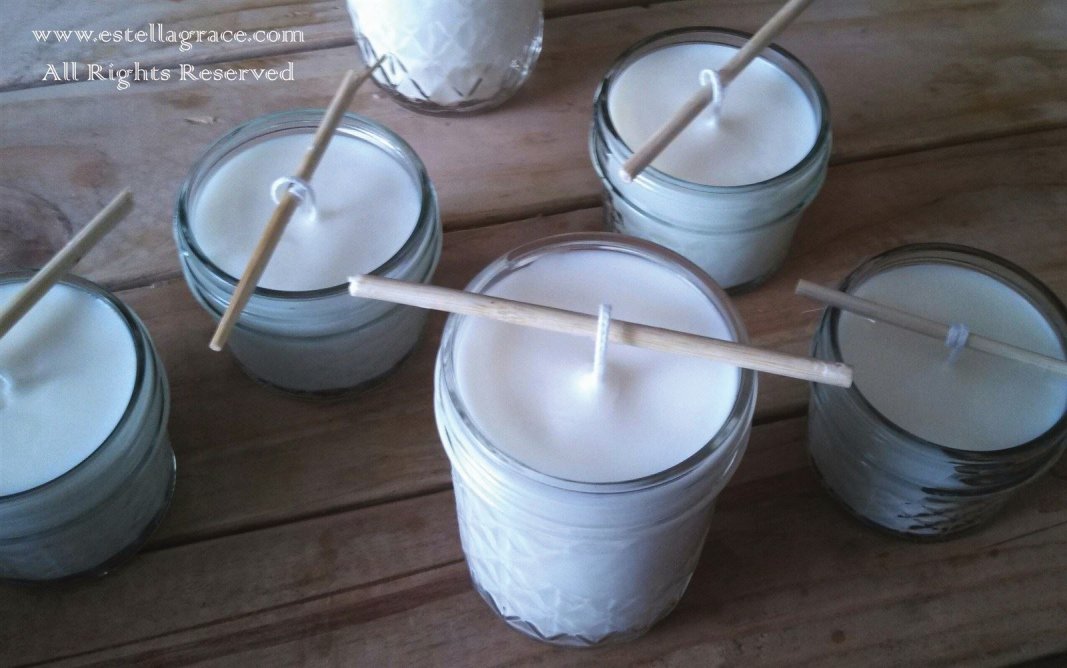 SPB: Where do you draw your inspiration for the candle fragrances and the lotions?
AP: Part of the Estella Grace experience is nostalgia and having those special scents that take you back in time. I drew inspiration for my fragrance candles and lotion bars with scents from my childhood like blueberry pie and banana bread. I also love the simplicity of the South and the down home scents that are yummy and delicious! Some of my recent favorites are peaches n' cream and strawberry lemonade. In addition to my fragrance candles I have created an Aromatherapy candle line which uses essential oils. Depending on the properties of the oils they can either relax you after a stressful day (Rosemary Lavender) or revive you if you have been feeling run down and need a boost of energy (Peppermint Fir.) They are a different type of candle that makes you feel good and all of the candles are 100% soy.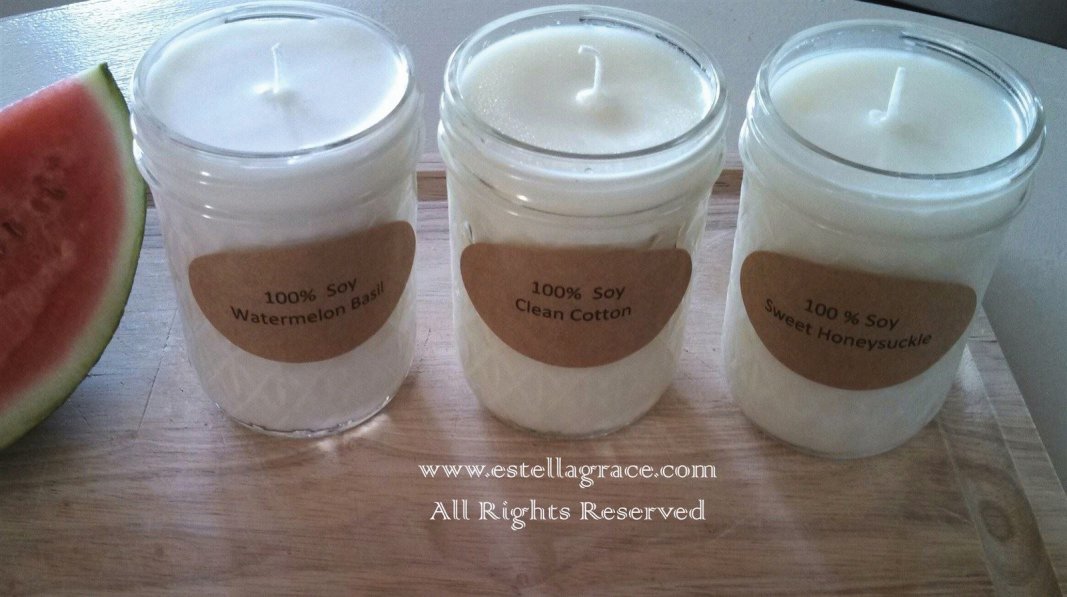 SPB: What spurred the expansion into mommy-daughter items? 
AP: Every girl remembers their time in the kitchen with their mother. That is why I created the 'Mommy and Me Aprons.'  Little girls love to be like their mother and these aprons will make them feel extra special! That is what it is all about, being in the kitchen and sharing memories. I want to continue creating mother-daughter products because they are the younger generation and it's important for them to learn and be apart of this teaching brand.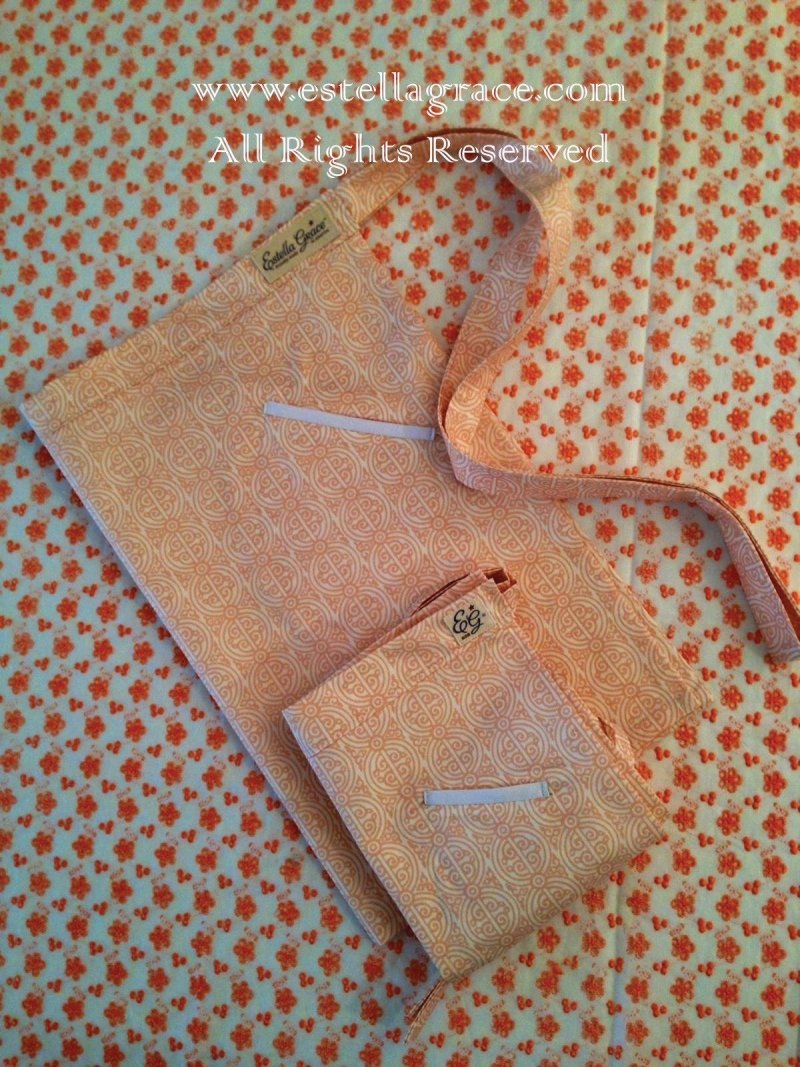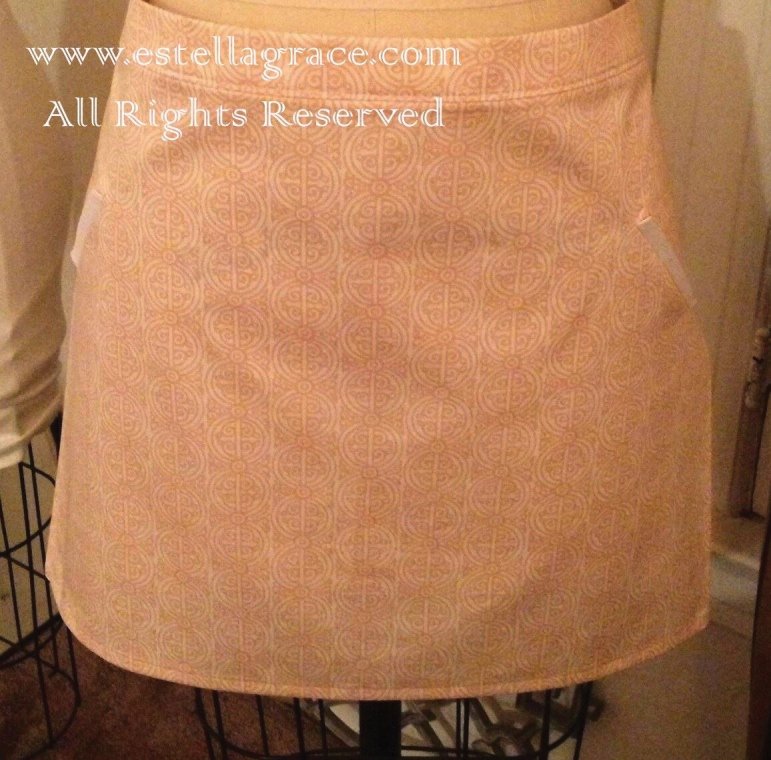 SPB: I understand you are expanding into a clothing line - what is the inspiration for the clothing design? Will those items also be handmade?
AP: I just designed my first Estella Grace dress. There will be 4 dress lines in total, each designed after an iconic woman from the 1940s-1950s.  The next step will be to create a line of organic fabrics perfect for homemaking. All of my products will be handmade in the USA. I think a consumer can feel the difference between an item that is handmade versus factory-made, and I intend to keep that human contact so my products are of the highest quality and always made with love.
SPB: Do you have a favorite item in your shop? Which one is it, and why?
AP: All of my products are my favorite. I envisioned each and every one of them before it was created and there is something so special about that process when you finally see it come to life. From the material selection, to the construction, and the packaging, I put my heart and soul into the final product you see. They all have a story to tell and I love that!
SPB: What sets your shop apart from other Etsy shops?
AP:I love all Etsy shops and what they stand for. There is something to be said for artists who are creating and inspiring people with their products. All of Estella Grace products are handmade in the USA and are made of the highest quality materials. I want customers to have that trust in my brand knowing we will always deliver on that promise.

SPB: Is there anything else you would like to share with our readers?
AP: I look at Estella Grace as not just a brand, but a movement that will shift you into a mindset of quality versus quantity. I would like to get back to a community-oriented lifestyle offering baking, sewing, and gardening classes in our first country store. We can't wait to finally open the doors and give people the opportunity to have the Estella Grace experience.
Organic fabrics sewn into beautiful garments...a community-based vision...this is a woman with an eye to the future.  We wish Amy and her team all the best as they work to bring this vision and store experience to fruition.  Estella Grace is an amazing place to shop on-line or at Los Angeles events if you are lucky enough to live in the area and shop directly from Amy.  We expect it will soon be "the place" to visit and grow when she opens her country store.  Many blessings to you, Amy!
How to connect with Amy and the Estella Grace experience:
Do you have a favorite Estella Grace product? Tell us about it!
Feel free to leave a comment - it will be moderated and posted.
Disclaimer: 
The material included on this site is for informational purposes only.
It is not intended nor implied to be a substitute for professional medical advice. The reader should always consult her or his healthcare provider to determine the appropriateness of the information for their own situation.  Krystyna and Bruss Bowman and Bowman House, LLC accept no liability for the content of this site, or for the consequences of any actions taken on the basis of the information provided.  This blog contains information about our classes available in Chandler, AZ and Payson, AZ and is not the official website of The Bradley Method®. The views contained on this blog do not necessarily reflect those of The Bradley Method® or the American Academy of Husband-Coached Childbirth®.
Categories: Family Fest, Family Fun, Green Nursery, Inside Look
/