...celebrating every swee​t pea their birth
| | |
| --- | --- |
| Posted on July 2, 2014 at 6:34 AM | |
Continuing on with the treasure-trove of naturally-minded companies we had the opportunity to experience at the Club MomMe Spring Family Fest, here is an Inside Look at the Mama Mio skin care lines.   Mio co-founder Tanya Mackay Kazeminy ("MM") was kind enough to give us the inside scoop on their amazing company and products.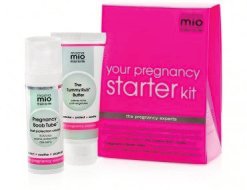 SPB: What is the motivation behind the Mama Mio Pregnancy and Postpartum skin care lines?
MM: Mama Mio was created out of our own selfish need. When we were pregnant, there wasn't anything on the market that we actually wanted to use - skincare that actually worked, that wasn't full of nasty chemicals, and products that made us feel good whilst using them. We knew from our own experiences that pregnancy is the first major skin challenge most women face. To grow and shrink your tummy by up to 30 inches in a 40-week period is not for the faint-hearted or the weak skinned. We wanted to create a line that that really understood the needs of pregnant women and new mamas, one that helped them achieve fit skin for life.
SPB: What are the products you would recommend for a mama during pregnancy?
MM:
From all the women we've met on our Mama Mio journey, the number one concern we hear about is stretch marks. We are so proud of
The Tummy Butter
. Chock full of Omegas 3, 6 and 9, it works super hard to elasticize and protect growing tummies from stretch marks. Boob maintenance is also a top priority. Pregnant and new mama boobs can be tender and swollen.
Pregnancy Boob Tube
helps cool and soothe those boobs as well as strengthen and nourish the skin to protect them from future sagging. And for hormonal breakouts, our
Gorgeous Glow
balancing facial wash, or our new
Swipes
are just the thing to keep misbehaving skin in check.
SPB: What are the products you would recommend for a mama in the postpartum period?
MM:
If you didn't know about Mama Mio when you were pregnant,
Goodbye Stretch Marks
will help reduce the appearance and texture of stretch marks you may have developed.
Megamama super-rich Omega body lotion
is such a wonderful treat for tired, dry skin that has been give, give, giving in every way. During pregnancy, our own store of Omegas is so very depleted (your baby is using yours to make it's own healthy brain and eyes), at a time when you need them most to keep skin strong. Megamama will help nourish and replenish new mama skin. For sore nipples,
Keep Calm nipple balm
is just genius. I use it for little scrapes, cuts and burns – it is so very soothing and healing.
SPB: Do you have a favorite item in your skin care line? Which one is it, and why?
MM:
I have many favorites! Sometimes it depends on the season. Since it's summer, I am doubling up on
Mio Double Buff dual action exfoliator
, which gives me wickedly soft skin in seconds, followed by
The Activist firming active body oil
.  I love, love, love oils and we do them really well at Mio (if I do say so myself!). Living in London, summer is all about getting your legs out and these two products make me want to do just that. 
SPB: Are there any risks for use during pregnancy or postpartum?
MM:
At Mama Mio, we maintain a strict
No Nasties
policy. All of our products are safe to use throughout pregnancy and nursing. There are certain ingredients that should be avoided during pregnancy and postpartum. We do all of that research for you so none of these Nasties ever make it into our products. 
SPB: What sets your skin care line apart from others on the market?
MM: At both Mio, our skincare range for active women, and Mama Mio, our pregnancy line, we go beyond skin deep to give practical tips and information about nutrition, exercise and life style to help women achieve fit skin for life. We are all about movement and energy, not just the cream in the jar. But about that cream - we take such pride in our formulations! We use the best, cleanest ingredients and their maximum levels, so our products really, really work. Aside from giving women fit skin, we want women to feel good in their skin, so we always speak with a positive voice.
Thank you, Tanya, for your time in answering these questions; and to Kelsey from the Mama Mio marketing team who organized this virtual interview.  We are thrilled to feature a honest company as an option for mamas.  You can work that glow from the first stages of pregnancy through the postpartum period - so much to love!
Disclaimer:  
The material included on this site is for informational purposes only.
It is not intended nor implied to be a substitute for professional medical advice. The reader should always consult her or his healthcare provider to determine the appropriateness of the information for their own situation.  Krystyna and Bruss Bowman and Bowman House, LLC accept no liability for the content of this site, or for the consequences of any actions taken on the basis of the information provided.  This blog contains information about our classes available in Chandler, AZ and Payson, AZ and is not the official website of The Bradley Method®. The views contained on this blog do not necessarily reflect those of The Bradley Method® or the American Academy of Husband-Coached Childbirth®.
Categories: Family Fest, Inside Look, Postpartum, Pregnancy
/