...celebrating every swee​t pea their birth
| | |
| --- | --- |
| Posted on July 4, 2014 at 1:09 PM | |
Since this is the season of sun and surf, I want to share a couple of finds that have served us well to keep our Sweet Peas from getting sun burned.  Nothing makes me feel less adequate as a mother than the indictment of burnt pink skin on my Sweet Pea.  The worst is a burn that happens on a cloudy day!  Keep in mind that the clouds only block out the light from the sun – the ultraviolet rays that cause sun burn can still travel through the cloud cover.  I hope this info can help you avoid that feeling of utter and complete Mom Fail.
First, let's cover why it is recommended that infants under six months of age avoid sunscreen altogether.  I was asked recently why babies are supposed to avoid sunscreen.  Although I have "known" this since our first Sweet Pea, I had never given much thought as to why that would be necessary, other than to avoid putting anything remotely chemical or toxic on their super-sweet and sensitive baby skin.  Anything applied to the skin goes directly into the bloodstream, so my first thought was because a baby's skin is so thin that transfer happens much more quickly.  My other thought was that you wouldn't want your baby exposed to the ingredients sunscreens.  I did some research, and here is a "scientific" answer:
 

"Babies' skin is less mature compared to adults, and infants have a higher surface-area to body-weight ratio compared to older children and adults." explains [Hari Cheryl Sachs, M.D., a pediatrician at the Food and Drug Administration (FDA)]. "Both these factors mean that an infant's exposure to the chemicals in sunscreens may be much greater, increasing the risk of side effects from the sunscreen."

-Excerpt from Consumer Guide: Should You Put Sunscreen on Infants? Not Usually
The article goes on to make recommendations about how to protect your Sweet Pea without sunscreen.  Read the whole consumer guide 
HERE
.  This infographic sums up the information: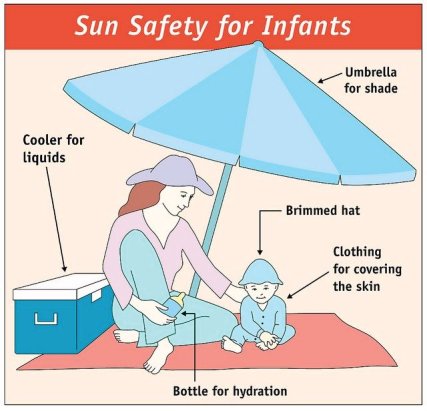 FDA graphic by Michael J. Ermarth
Note on the infographic: exclusively breastfed ("EBF") infants 
*do not* need a bottle for hydration...
here is the pertinent info from KellyMom.com:
Breastfed babies do not 

need

 water – keep in mind that breastmilk is 88% water. Even in the first few days after birth, before mom's milk has "come in", 

colostrum

 is all that is needed to keep baby well hydrated (assuming baby is nursing effectively). Per the 

American Academy of Pediatrics

, "Supplements (water, glucose water, formula, and other fluids) should not be given to breastfeeding newborn infants unless ordered by a physician when a medical indication exists… During the first 6 months of age, even in hot climates, water and juice are unnecessary for breastfed infants and may introduce contaminants or allergens."




In addition, breastfed babies do not require water when it is very hot outside, assuming baby is allowed to nurse as needed. Baby can get all the liquids needed via breastmilk. A number of studies have determined that an exclusively breastfed baby does not need extra water – these studies have been done in various locations (both humid and dry) at temperatures ranging from 22-41°C (71.6-105.8°F) and 9-96% relative humidity [see references below].




Read the whole article

HERE
So if you are going to avoid sunscreens due to your Sweet Pea's age, here is our favorite brand in the  SPF-protective clothing market.  Click 
HERE
 to see the adorable design and bright fabrics that Solumbra by Sun Precautions offers to protect your Sweet Pea's delicate skin.  Our sons and daughters lived in the 
Toddler Swimsuit
for years.  One suit typically lasted through 2-3 kiddos.  Well worth the price, and then some!
If your Sweet Pea is old enough to use sunscreen, I would direct you to this website to help you find the safest sunscreens for your Sweet Pea's sensitive skin.  If you have known me long, you know I often reference the Environmental Working Group.  They have a fantastic resource for sunscreens.  Click 
HERE
 to see how your sunscreen measures up.  If you haven't purchased a product yet, reference their list of top sunscreens before you do your shopping.
Another sun safety tip:  If you are going to be out in the sun, avoid direct sunlight between 10:00 am and 4:00 pm when the suns rays are the brightest.  Invest in a travel canopy that you can assemble and still permits you to enjoy the outdoors without exposing skin to the sun's rays.
Whether it's a long holiday weekend or a day in the sun, take care to protect you and your Sweet Pea by staying hydrated, staying shaded, and choosing the safest products for your family. 
What is your favorite sun-safety tip?
Please leave us a comment - it will be moderated and posted. 
Disclaimer:  
The material included on this site is for informational purposes only.
It is not intended nor implied to be a substitute for professional medical advice. The reader should always consult her or his healthcare provider to determine the appropriateness of the information for their own situation.  Krystyna and Bruss Bowman and Bowman House, LLC accept no liability for the content of this site, or for the consequences of any actions taken on the basis of the information provided.  This blog contains information about our classes available in Chandler, AZ and Payson, AZ and is not the official website of The Bradley Method®. The views contained on this blog do not necessarily reflect those of The Bradley Method® or the American Academy of Husband-Coached Childbirth®.
Categories: Baby, Childcare, Family Fun, Planning for Baby
/