...celebrating every swee​t pea their birth
| | |
| --- | --- |
| Posted on July 14, 2014 at 6:27 PM | |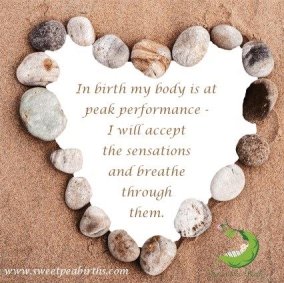 Dr. Bradley's natural birth principles are centered around supporting the laboring mother without interrupting her labor.  He describes the six needs of a laboring mother in his book, Husband-Coached Childbirth (you can find a brief synopsis
HERE
).  
I always enjoy reading other authors who promote the same philosophy from their unique experience and perspective.  One of the books that was part of our re-certification a couple of years ago (that I now get to share with students through our lending library) is Gentle Birth, Gentle Mothering, written by Sarah J. Buckley, MD.
Today's mantra was inspired by some of her writing on undisturbed birth from that book.  If you can't find it in your book store or local library, you can enjoy most of the book via
Google books
.
Here is the excerpt that struck a chord with me today:
"Undisturbed birth does not imply that birth will be pain-free.  The stress hormones released in birth are equivalent to those of an endurance athlete, which reflects the magnitude of this event, and explains some of the sensations of birth.  And like a marathon runner, a woman's task in birth is not so much to avoid the pain - which usually makes it worse, but to realize that birth is a peak bodily performance for which our bodies are superbly designed.  Undisturbed birth gives us the space to find our own rhythm in an atmosphere of support and trust, which will also help to optimize our birth hormones, aiding us further in transmuting pain."



~Page 98, ©2009
These words were especially poignant today since we had a class reunion with our Winter 2013-14 class last evening.  We always learn something new from all the birth stories that are shared.  Some moms reported pain, others called it intense, others did not mention it at all - what ever it was for them, it was their birth and they will remember the details for a long time.  
Help the mama in your life embrace her birth peak performance while holding the space for her to have the amazing experience of an undisturbed birth.
Categories: Birth, Managing or coping with natural labor, Mantra
/