...celebrating every swee​t pea their birth
| | |
| --- | --- |
| Posted on September 5, 2014 at 10:32 AM | |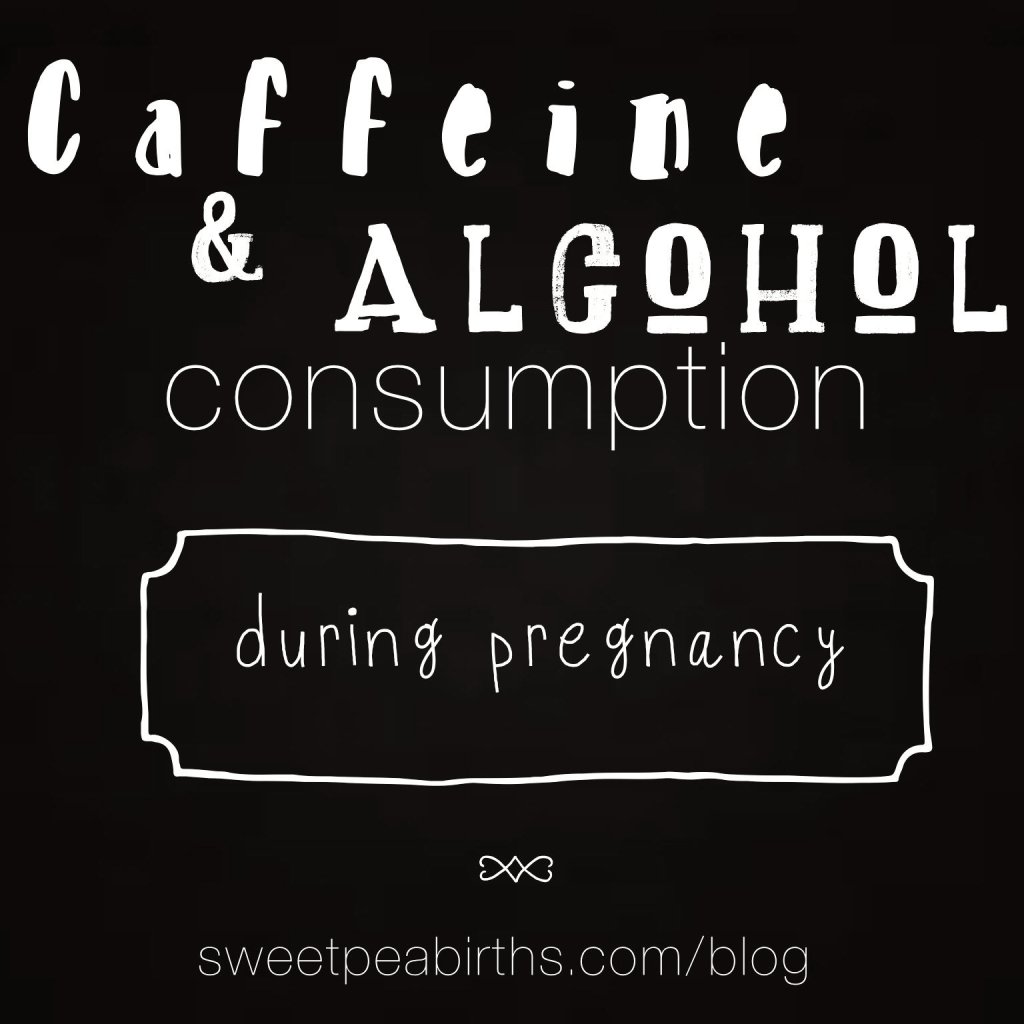 Today we look at two of the substances many of us are concerned about using during pre-conception and pregnancy:  Alcohol and Caffeine.
If you are having a hard time giving up your caffeine, read more about consumption levels
HERE
Consuming Alcohol during Pregnancy
ACOG (American College of Obstetricians & Gynecologists) & the CDC's (Center for Disease Control) position on alcohol is:
"There is no known safe amount of alcohol use during pregnancy or while trying to get pregnant. There is also no safe time during pregnancy to drink. All types of alcohol are equally harmful, including all wines and beer. When a pregnant woman drinks alcohol, so does her baby."
Sources: 
Consuming Caffeine during Pregnancy
"Moderate caffeine consumption (less than 200 mg per day) does not appear to be a major contributing factor in miscarriage or preterm birth. The relationship of caffeine to growth restriction remains undetermined. A final conclusion cannot be made at this time as to whether there is a correlation between high caffeine intake and miscarriage."
Source: ACOG 
*HISTORY
Alcohol:
According to ACOG, federal government warnings about the need to abstain from alcohol use in pregnancy were first issued in 1984. ACOG has recommended screening for alcohol early in pregnancy since 1977. Drinking or smoking during pregnancy increases the risk of SIDS; also, infants exposed to secondhand smoke are at greater risk for SIDS.
8
According to national data collected in 1999 by the Behavioral Risk Factor Surveillance System (BRFSS), a telephone survey of the noninstitutionalized U.S. population, 12.8 percent of pregnant women consumed at least one alcoholic drink during the past month, a decrease from 16.3 percent reported in 1995 (Centers for Disease Control and Prevention [CDC] 2002a).
An intervention for women who drank heavily during their first pregnancy with the intention to reduce the women's drinking during their next pregnancies findings indicate that the brief intervention protected the next pregnancy by reducing alcohol consumption and improving infant outcomes.
Sources: 
http://www.acog.org/About_ACOG/News_Room/News_Releases/2008/All_Patients_Should_be_Asked_About_Alcohol_and_Drug_Abuse
Caffeine:
Excerpt from ACOG Publication:
"Because caffeine crosses the placenta (1) and increases maternal catecholamine levels, concerns have been raised about a potential relationship between caffeine exposure and the incidence of spontaneous miscarriage. Studies also have investigated whether caffeine contributes to intrauterine growth restriction (IUGR).
Two large studies have [also] been performed to assess the relationship between caffeine intake and preterm birth. A randomized double-blind controlled trial of caffeine reduction in 1,207 women evaluated birth data for 1,153 singleton live births (6). An average intake of 182 mg per day of caffeine did not affect length of gestation. Additionally, a prospective, population-based cohort study conducted by Clausson et al evaluated the effect of caffeine consumption on gestational age at delivery in 873 singleton births (7). Again, no association was found between caffeine and preterm birth. Consequently, it does not appear that moderate caffeine intake is a contributor to preterm birth."
Source:
*PROS and CONS
Alcohol
PROS of avoiding alcohol during pregnancy
Because of the unknowns the the CDC, the U.S. Surgeon General, the American College of Obstetricians and Gynecologists, and the American Academy of Pediatrics advise pregnant women not to drink alcohol at all.
The potential effects of small amounts of alcohol on a developing baby are not well understood.
When a pregnant woman drinks alcohol it quickly reaches the fetus through the placenta. In an adult, the liver breaks down the alcohol. A baby's liver is not fully developed and is not able to break down alcohol.
Alcohol can put your child at risk of:
Fetal Alcohol Spectrum Disorders including but not limited to:

Abnormal facial features, such as a smooth ridge between the nose and upper lip (this ridge is called the philtrum)
Small head size
Shorter-than-average height
Low body weight
Poor coordination
Hyperactive behavior
Difficulty with attention
Poor memory
Difficulty in school (especially with math)
Learning disabilities
Speech and language delays
Intellectual disability or low IQ
Poor reasoning and judgment skills
Sleep and sucking problems as a baby
Vision or hearing problems
Problems with the heart, kidney, or bones

An increased chance of Sudden Infant Death Syndrome
Sources: 
CONS of avoiding alcohol during pregnancy
Social implications
Desire to relax or de-stress similar to before becoming pregnant
Alcohol withdrawal symptoms may be present in women consuming multiple drinks per day. Alcohol withdrawal may be associated with adverse maternal and neonatal outcomes; therefore, medical withdrawal of alcohol-dependent pregnant women needs to be conducted in an inpatient setting (Center for Substance Abuse Treatment, 1993):
Source: 
Caffeine
PROS of avoiding caffeine during pregnancy
Changes in fetal heart rate and breathing patterns have been noticed even when maternal intake of caffeine is moderate and when it has no apparent effects on the mother.
Caffeine and its metabolites are known to cross the blood-brain barrier readily in adults and fetuses alike.
Intake of caffeine during pregnancy or the early postnatal period would be expected to have similar or more profound cardiovascular and neurobehavioral effects on fetuses and infants than on the caffeine-consuming mothers [because] of caffeine's ready passage through the placenta, its presence in breast milk, and its increasing half-life during pregnancy (up to 11 hours late in pregnancy) and in infants (up to 100 hours), the smaller body mass of fetuses and infants, and the inability of the fetus and neonate to detoxify caffeine. 
The relationship of caffeine to growth restriction remains undetermined.
It is difficult to measure caffeine exposure accurately.
Sources: 
The New England Journal of MedicineNovember 25 1999;341:1639-1644, 1688-1689.
https://www.acog.org/Resources_And_Publications/Committee_Opinions/Committee_on_Obstetric_Practice/Moderate_Caffeine_Consumption_During_Pregnancy
CONS of avoiding caffeine during pregnancy
May not be necessary, the subject has long been contentious, with conflicting studies, fuzzy data and various recommendations given over the years.
Quitting caffeine can cause a number of unpleasant symptoms, including headache, fatigue and an inability to concentrate.
*Links for more reading
Alcohol
Caffeine
What are your thoughts about caffeine or alcohol use in pregnancy?
Please leave us a comment - it will be moderated and posted. 
Disclaimer:
The material included on this site is for informational purposes only.
It is not intended nor implied to be a substitute for professional medical advice. The reader should always consult her or his healthcare provider to determine the appropriateness of the information for their own situation.  Krystyna and Bruss Bowman and Bowman House, LLC accept no liability for the content of this site, or for the consequences of any actions taken on the basis of the information provided.  This blog contains information about our classes available in Chandler, AZ and Payson, AZ and is not the official website of The Bradley Method®. The views contained on this blog do not necessarily reflect those of The Bradley Method® or the American Academy of Husband-Coached Childbirth®.
Categories: Avoiding harmful substances, Info Sheet, Information Center, Information Sheet
/