...celebrating every swee​t pea their birth
| | |
| --- | --- |
| Posted on January 16, 2015 at 9:29 AM | |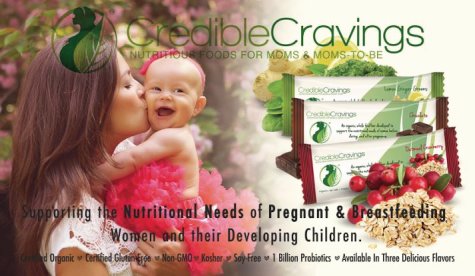 I got to sample CredibleCravings at the Club MomMe event I attended in June 2014.  I wish these had been around when I was growing Sweet Peas - green, clean *and* yummy!!

While we try to eat whole food as much as possible, life happens! When you need a snack on the run, these may be just the thing you are looking for.  These are great for the diaper bag, and for hungry siblings who are always looking for a snack!
Here are some of the things that Stephanie Baker, Founder of CredibleCravings, shared with me so that I could offer some information about her delicious products to our students and readers:
CredibleCravings
 is the first certified organic whole food bar developed to support the nutritional needs of women before, during and after pregnancy. At CredibleCravings, we believe that proper perinatal nutrition is foundational to lifelong health.  Each and every ingredient in our line of bars was selected for a specific nutritional benefit during the perinatal period, providing moms and moms-to-be with perfect sustenance through wholesome ingredients in a convenient package:
Certified Organic; Certified Gluten-Free; Non-GMO; Kosher; Soy-Free
No fillers, artificial preservatives or sweeteners
1 billion probiotics to support digestive health and immune function
Healthy omega-3 and monounsaturated fats to support cardiovascular health, sustained energy levels, and cognitive and visual development of baby
High in fiber to support digestive health and satisfy hunger
Credible Cravings bars are available in three delicious flavors: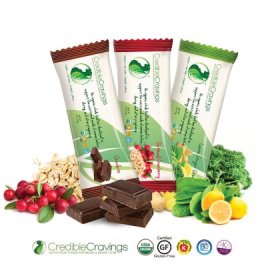 What was the inspiration behind the flavor profiles for CredibleCravings?
A: Each Ingredient. On purpose. That's the CredibleCravings way. All three flavors—Lemon Ginger Greens, Cacao and Cranberry Oatmeal—contain ingredients that were intentionally selected with the health of mom and baby in mind. Here is a breakdown of each flavor. We hope you enjoy!
Lemon Ginger Greens—In addition to helping ease morning sickness, lemons are full of vitamins and minerals, and are a particularly excellent source of vitamin C. Ginger has long been held as the go-to ingredient for alleviating nausea and upset stomach caused by morning sickness. Spinach is loaded with important nutrients including vitamin A, C, and K as well as folate. Kale is one of the healthiest vegetables on the planet. Kale is chock-full of vitamins that are essential to the health of both mom and baby. Per calorie, Kale has more iron than beef, more calcium than milk, and more Vitamin C than spinach. Kale is also high in protective antioxidants and folate to help reduce risk of neural tube defects.

Cacao—Cacao is a natural source of antioxidants and contains important B vitamins and minerals such as calcium, zinc and iron. Not to mention that it is one of the most craved flavors in the world!

Cranberry Oatmeal—Oats are an excellent pregnancy food. They are full of fiber to help regulate digestion, B vitamins, iron, and potassium. Pregnancy brings about a number of changes in mom, including an increases risk for urinary tract infections (UTIs). Cranberries have long been held as the go-to ingredient for naturally reducing the occurrence UTIs. Additionally, cranberries are a good source of vitamin C and offer a deliciously refreshing, tart flavor!  
What drove you?
I founded CredibleCravings on a desire to improve the health of our next generation by inspiring proper nutrition during the time it matters most – before, during and after pregnancy.
Why the perinatal period?  Quite simply, because there is no other time period where proper nutrition has such a significant impact on our lifelong health. Every body system in the fetus develops under the nutritional environment provided by mom, and how fetal organs develop impacts the health of baby for life.  Yes, women have cravings during this time period; but it's the worst time to be introducing junk food to the body.  We developed a bar to satisfy cravings, while also supporting mom's health and the healthy development of her baby.   
Why now?  With so many options and so many products on shelves today, honest healthy snacks are hard to find and more important than ever.  For women who keep busy schedules with multiple social and work obligations, the modern world of synthetic convenience foods can beset even the purest of nutritious intentions.  CredibleCravings is about making the nutritious choice an effortless choice for moms and moms-to-be.
How did you design your product?
Our team was determined to develop a bar especially for the perinatal period with integrity: clean, purposeful, and comprised of the highest quality ingredients.  We started by ensuring every single ingredient that went into our bars had a purpose.  We were unwavering in our mission.  We leveraged diverse ingredients.  We included the best probiotics. We kept all artificial sweeteners, preservatives and fillers out.  We like to think of our wholesome snacks as nature's gift to Mom, and Mom's gift to her growing little one!
Partner Profile:
CredibleCravings was founded on one intention: To promote mindful nourishment before, during and after pregnancy.
The best nutrition is pure and simple…but in modern society, it's not easy.  It's not easy to put first: amidst the hectic juggling of work, family and social obligations.  It's not easy to understand: adrift aisles of synthetic convenience foods and confusing health claims.  It's not easy to promote: in a society that normalizes unhealthy and unmindful eating.
However, proper nutrition is the most critical element of lifelong health and directly influences your energy, your vitality, and your physical well-being.  Our hope is that every person would personally experience the benefits of a properly nourished body and to know the beauty, the vitality, and the prosperity that permeates every aspect of a nutrition-centered life.
CredibleCravings, the first truly nutrition-centered bar focuses on nutritional needs at the time it matters most: the beginning. A mother's nutritional status during the perinatal period has a significant impact not only on her own health, but leaves lifelong footprints on the health of her child: through both nature and nurture. 
Through collaboration with nutritionists, midwives, and obstetricians, CredibleCravings identified the essential vitamin and mineral needs and ideal energy sources for the perinatal period then went to the field to find natural, fresh ingredients to meet those needs.  The intent is that consumers not only feel asssured that they are supporting their very vital nutrient needs every time they open a CredibleCravings wrapper; but also that they know exactly what is in the bar and why it is in there. 
What is your favorite on-the-go snack?
Please leave us a comment - it will be moderated and posted.
Disclaimer: 
The material included on this site is for informational purposes only.  It is not intended nor implied to be a substitute for professional medical advice. The reader should always consult her or his healthcare provider to determine the appropriateness of the information for their own situation.  Krystyna and Bruss Bowman and Bowman House, LLC accept no liability for the content of this site, or for the consequences of any actions taken on the basis of the information provided.  This blog contains information about our classes available in Chandler, AZ and Payson, AZ and is not the official website of The Bradley Method®. The views contained on this blog do not necessarily reflect those of The Bradley Method® or the American Academy of Husband-Coached Childbirth®.
Categories: Breastfeeding, Information Center, Inside Look, Nutrition, Planning for Baby, Postpartum, Postpartum Plan, Pregnancy
/