...celebrating every swee​t pea their birth
| | |
| --- | --- |
| Posted on January 19, 2015 at 5:58 PM | |
If you follow us on social media, you probably know that Cassandra, our guest blogger and social media maven, is expecting her second Sweet Pea any day now.  As a matter of fact, she is 41 weeks today.
When we were corresponding last week, she sent a plea that most pregnant women in their last weeks of pregnancy send:
"I need something; grounding, reassurance; I'm not sure!"
I sent her some ideas to help pass the time until it's "real McCoy" labor…she will be writing a post about that later in the week (maybe!).
I also sent her some words that she turned into a beautiful image for the lock screen on her phone: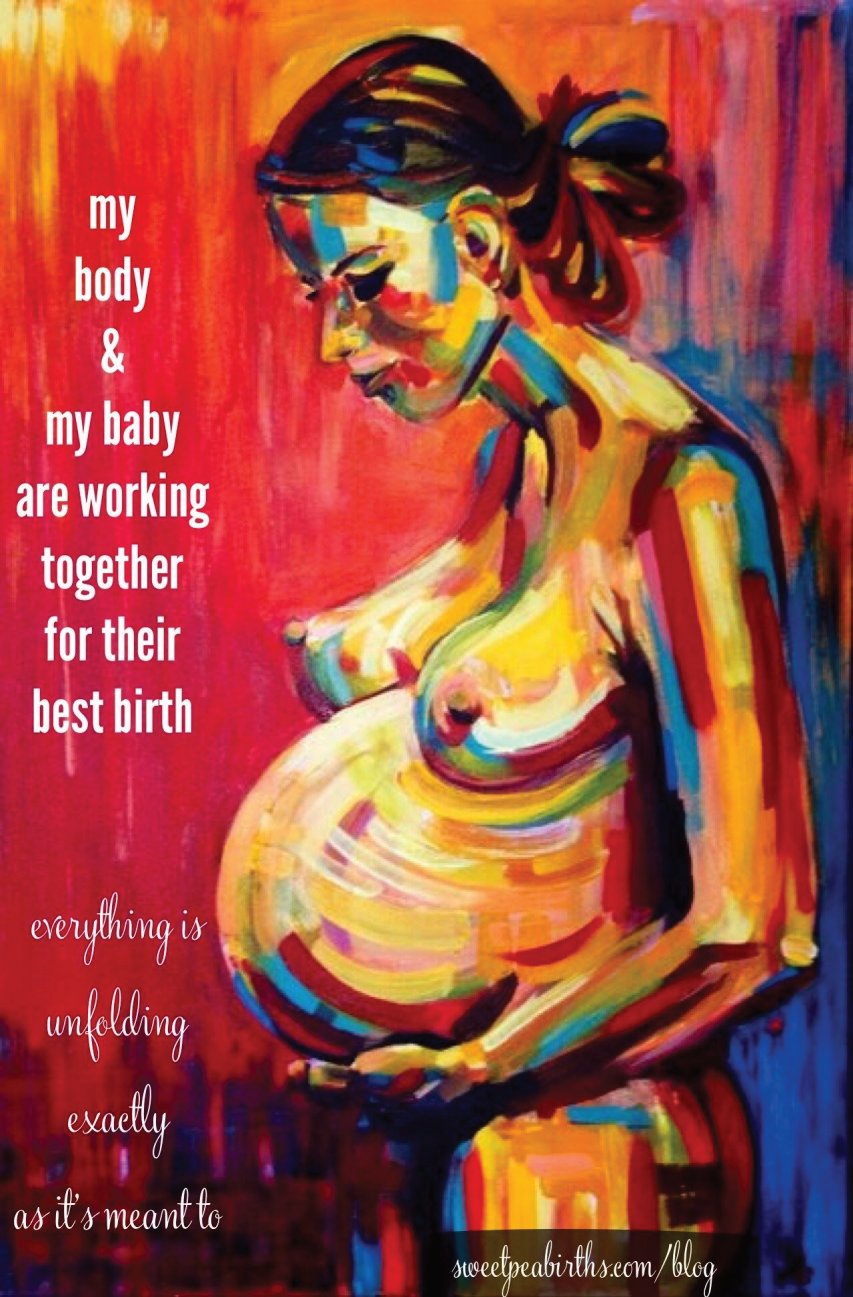 Art Piece by Alisha Vernon
Image credit: Cassandra Okamoto
While I hope they offer her (and anyone else they speak to) some reassurance, energy and courage, I offer them with love and caution.
After taking the first part of a training offered by Birthing From Within, I am painfully aware of the power of the words we use, especially around the topic of birth.  As Pam England calls them, these "bumper stickers" of the birthing world can be incredibly damaging.
These bumper stickers are ideas like, "Trust Birth", "Empowered Birth", "Birth Works" – you catch my drift.  If they hold true, they have the potential to encourage the mother throughout labor and motherhood.  On the other hand, say the birth has unforeseen or outcomes the mother/family did not prepare for or expect…then the woman might be left feeling powerless, helpless, something like a failure.
So when you read the mantra and absorb the message, hear all of what I am trying to convey:
Your body and your baby are functioning within a cycle of birth that is timeless. There is sacredness and beauty in the process of pregnancy, labor and birth. 

 


The reality is that even with the best preparation, birth is unique, fluid and unpredictable. I feel like the words I sent Cassandra give any birthing family the "permission" to embrace even an "imperfect" birth, for *that* journey was what *that* body and *that* baby needed for a Healthy Mom, Healthy Baby outcome.

 


I encourage you to adjust your lens: instead of focusing on the outcome, embrace the journey.  What are you meant to learn from this journey through pregnancy, labor and birthing?  By maintaining a realistic outlook that sometimes interventions are necessary and desirable for a Healthy Mom, Healthy Baby outcome, you can mentally prepare for the outliers and then celebrate the baby instead of the process.
So please embrace all of it – whatever happens, your body and your baby know what kind of birth they need for both of you to be well after the journey.  Sometimes Mother Nature needs no help at all, or sometimes a little encouragement.  At the other extreme, sometimes it takes all of the available medical technology to have a Healthy Mom, Healthy Baby outcome.  Embrace it, accept it, own it, learn from it.  It is your unique birth journey into motherhood, waiting just for you to uncover all the lessons and treasures hidden as unexpected forks in the road.
Do you have a favorite affirmation? What encouraged you?
Please leave us a comment - it will be moderated and posted. 
Disclaimer: 
The material included on this site is for informational purposes only.
It is not intended nor implied to be a substitute for professional medical advice. The reader should always consult her or his healthcare provider to determine the appropriateness of the information for their own situation.  Krystyna and Bruss Bowman and Bowman House, LLC accept no liability for the content of this site, or for the consequences of any actions taken on the basis of the information provided.  This blog contains information about our classes available in Chandler, AZ and Payson, AZ and is not the official website of The Bradley Method®. The views contained on this blog do not necessarily reflect those of The Bradley Method® or the American Academy of Husband-Coached Childbirth®.
Categories: Affirmation, Birth, Birth Mantra, Variations and Complications
/