...celebrating every swee​t pea their birth
| | |
| --- | --- |
| Posted on January 23, 2015 at 9:45 AM | |
Christine & BJ Bollier 
Bradley Method© Birth Story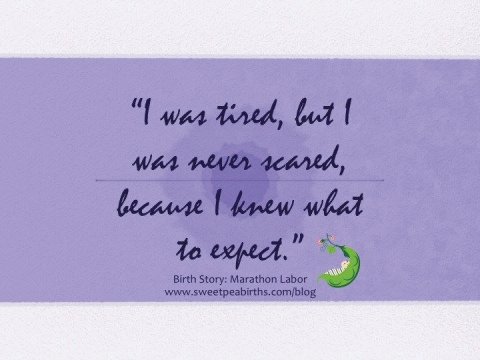 Our goal is to prepare families to have a natural birth by teaching a mom and her loving coach to labor together.  The reality is that even with the best preparation, birth is unique, fluid and unpredictable.  Our experience as natural childbirth educators is that even if your birth does not go according to your plan, a comprehensive education like The Bradley Method® will pave the way for you to have your best possible birth with a Healthy Mom, Healthy Baby outcome.
This story is a great example of making your wishes known, persevering through a long labor that stalled (
The Bradley Method® calls "the stall", aka "failure to progress", a "Natural Alignment Plateau" or "NAP"
), and making decisions as the labor progressed for a Healthy Mom, Healthy Baby birth experience.  Even with an intervention they did not initially want or anticipate, they were able to have the vaginal, unmedicated birth they had prepared for.
One of my favorite quotes from the video is Christine's statement, "I was tired, but I was never scared, because I knew what to expect."
 Link to video: http://youtu.be/PmlPITHsFio
Here is a quick summary of their labor:  She started with contractions around 15 minutes apart on a Thursday morning.  They went to their doctor's appointment that afternoon and decided to go home and let their labor progress. On Friday, they were timing contractions throughout the day.  When they got to five minutes apart, they decided to go to the hospital because of the impending blizzard (they live in Payson, AZ).  By the time they were all checked into their room, it was 2:30 am on Saturday.  By Saturday evening at 6:00 pm, they hit a NAP at around 8 cm dilation.  They made the decision to accept an amniotomy (breaking the bag of waters) at 10:00 pm.  Their son was born on Sunday morning at 3:30 am.
When the Bollier's time their labor, they call it 36 hours from the contractions that were 6 minute apart  on Friday afternoon to the time when he was born on Sunday morning.  They both stayed awake for the whole of that time, save a few cat naps that happened between contractions when they were both exhausted.  It is good to note that they did sleep on Thursday night when contractions were still in the "putsy-putsy" stage.
I am so glad she talks about how she experienced contractions – that's a big question mark for first-time moms.  Christine says she felt them as rhythmic and internalized them – she says she could have painted you a picture of the contractions.  I love that perspective!
HIGHLIGHTS
Birth plan
They did their work throughout and after Class 7 when we talk about writing the Birth Plan. 
They got great ideas, and then took it to their care provider and asked her, "Is everything realistic on here?"  She went through it line by line and said it was all in-line with what was possible in a hospital setting. 
Care provider signed off on plan, put it in file, sent it to hospital to give the staff their a heads up on their desires for their birth. 
When it was "go time", they arrived at hospital with several copies of plan and 3 dozen cookies.
Everyone who walked into the room was offered cookies and a birth plan
Changing the Plan
"Going in, we knew there might be a possibility that things were not going to go to plan."
Came to terms with making an adjustment
Once the bag of waters was broken, contractions completely changed and things progressed quickly
Christine reasoned with herself, "This isn't going to be how I planned it, but if I give up one thing, the birth can still happen unmedicated like I want it to"
Christine's Insight:
Q: What did BJ do as a Coach that helped you the most?
A: He kept me from freaking out when it had gone on for so long.  
As she explains, he kept her on track through the exhaustion. BJ kept her calm with reassurance; he also pointed out the progress they had made. 
Loosely paraphrasing: [The hard part] wasn't the pain – it was the exhaustion.  I knew the pain was purposeful because I was getting a baby.  [Contractions] came in bursts and they were not constant - it wasn't miserable pain or constant pain from an injury that hurts all the time. Looking back a year later, [a contraction] was such a short period of time.
BJ's nuggets of wisdom
Education & knowledge quell fear – having notes at my fingertips kept me from getting scatterbrained while I was watching (coaching) my wife through labor.
Postpartum advice for the husbands: Don't be proud – just say yes.  Don't be too proud to accept help – it's a gift.
On the lighter side, you'll hear the inauguration of the term "The Splash Zone" – now that we know our student's perception of watching all the birth videos from the first row of chairs, it's what we call that front line when we show birth videos in class - lol.
QUESTIONS FROM THE CLASS:
Q: Were you both awake the whole [36 hours of progressive labor]?
A: Yes…If I had it to do over again – we would rest throughout labor.  You'll hear it in class that you should rest.  Seriously – REST.  After the baby is born, you are playing catch-up with sleep.
Q: What can you tell us about breastfeeding a newborn?
A: Get your hands on reading material, borrow books, have phone numbers of support people you can call, have a good structure around you to encourage, inspire, and inform you.
Invest in good bras – wear a tank top with shirt underneath at this age (son is about 11 months old in this video), after the infant stage the nursing cover is not staying on!
Did you have a long labor?  What labor management tips would you share with first-time parents?
 Please leave us a comment - it will be moderated and posted. 
Disclaimer:
The material included on this site is for informational purposes only.
It is not intended nor implied to be a substitute for professional medical advice. The reader should always consult her or his healthcare provider to determine the appropriateness of the information for their own situation.  Krystyna and Bruss Bowman and Bowman House, LLC accept no liability for the content of this site, or for the consequences of any actions taken on the basis of the information provided.  This blog contains information about our classes available in Chandler, AZ and Payson, AZ and is not the official website of The Bradley Method®. The views contained on this blog do not necessarily reflect those of The Bradley Method® or the American Academy of Husband-Coached Childbirth®.
Categories: Amniotomy, Bag of Waters, Birth, Birth plans, Birth Story, Bradley® Dads, Bradley® Coaches, Breastfeeding, Breastfeeding in Public, Breastfeeding support, Failure to Progress, FTP, Full term, In Their Own Words, Information Center, Labor Marathon, Labor Support, NAP, Natural Alignment Plateau, Natural birth, natural labor coping mechanisms, Natural labor coping techniques, Nursing, Nursing In Public, Obstetrical Care
/