...celebrating every swee​t pea their birth
| | |
| --- | --- |
| Posted on February 6, 2015 at 9:23 AM | |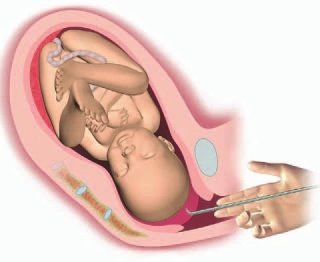 *Definition
Amniotomy, also known as Artificial Rupture of the Membranes (AROM) is the surgical rupture of fetal membranes to induce or expedite labor.
Source: 
*History
Amniotomy is used to start or speed up contractions and, as a result, shorten the length of labour.
Artificial rupture of the amniotic membranes during labour, sometimes called amniotomy or 'breaking of the waters' was introduced in the mid-eighteenth century, first being described in 1756 by an English obstetrician, Thomas Denman (Calder 1999). Whilst he emphasized reliance on the natural process of labour, he acknowledged that rupture of the membranes might be necessary in order to induce or accelerate labour (Dunn 1992). Since then, the popularity of amniotomy as a procedure has varied over time (Busowski1995), more recently becoming common practice in many maternity units throughout the UK and Ireland (Downe 2001; Enkin 2000a ; O'Driscoll 1993) and in parts of the developing world (Camey 1996; Chanrachakul 2001; Rana 2003). The primary aim of amniotomy is to speed up contractions and, therefore, shorten the length of labour.

 


The first recorded use of amniotomy in the United States was in 1810; it was used to induce premature labor. Amniotomy and other mechanical methods remained the methods of labor induction most commonly employed until the 20th century. Amniotomy, or artificial rupture of the amniotic membranes, causes local synthesis and release of prostaglandins, leading to labor within 6 hours in nearly 90% of term patients. Turnbull and Anderson found that amniotomy without additional drug therapy successfully induced labor in approximately 75% of cases within 24 hours.
Sources: 
PROS
Amniotomy was associated with a reduction in labour duration of between 60 and 120 minutes in various trials
There was a statistically significant association of amniotomy with a decrease in the use of oxytocin: OR = 0.79; 95% CI = 0.67-0.92 in several randomized trials
AROM does not involve any type of medication to mom or baby and is considered by some to be the most "natural" means of induction in a hospital setting.
CONS
In several randomized trials there was a marked trend toward an increase in the risk of Cesarean delivery: OR = 1.26; 95% Confidence Interval (CI)=0.96-1. 66.
Trial reviewers suggest that amniotomy should be reserved for women with abnormal labour progress.
In 15 studies containing 5583 women there was no clear statistically significant difference between women in the amniotomy and control groups in length of the first stage of labour
Evidence does not support routinely breaking the waters for women in normally progressing spontaneous labour or where labours have become prolonged.
[Once membranes are broken} most obstetricians want the baby birthed as soon as 6 hours post-onset to reduce the risk of infection from the introduction of bacteria into the vagina due to repeated vaginal exams. Some obstetricians will wait as long as 24 hours but that is less common. In contrast, midwives, who do not routinely perform cervical checks unless specifically indicated or requested, thus limiting the chance of infection, will often allow up to 36-48 hours as long as no indications of an active infection are present.
A large study of 3000 women's opinions of the intervention was conducted by the National Childbirth Trust (1989). Two thirds of the women in this study reported an increase in rate, strength and pain of contractions following membrane rupture; they found these contractions more difficult to cope with, needed more analgesia and felt that the physiology of labour was disturbed.
When there is concern that labour is slowing down, benign measures to intensify contractions such as positional changes and movement may prevent the need for more invasive interventions (Simkin 2010). The Cochrane review of maternal positions and mobility during first stage labour supports the positive impact mobility has in shortening labour (Lawrence et al. 2009).
Smyth et al. 2007 studies showed that amniotomy is not an effective method of shortening spontaneous labour and increases the risk of caesarean section and more fetal heart abnormalities
Sources:
*Link List
 For further exploration on your part

What do you think? Is this an option you would consider, or that you chose for during your birth?
Disclaimer: 
The material included on this site is for informational purposes only.
It is not intended nor implied to be a substitute for professional medical advice. The reader should always consult her or his healthcare provider to determine the appropriateness of the information for their own situation.  Krystyna and Bruss Bowman and Bowman House, LLC accept no liability for the content of this site, or for the consequences of any actions taken on the basis of the information provided.  This blog contains information about our classes available in Chandler, AZ and Payson, AZ and is not the official website of The Bradley Method®. The views contained on this blog do not necessarily reflect those of The Bradley Method® or the American Academy of Husband-Coached Childbirth®.
Categories: Amniotomy, AROM, Artifical Rupture of Membranes, Augmentation, Induction, Induction of Labor, Infections and Pregnancy, Info Sheet, Information Center, Information Sheet, Informed Consent, Labor Augmentation, Labor Induction
/