...celebrating every swee​t pea their birth
| | |
| --- | --- |
| Posted on February 24, 2015 at 1:51 PM | |
Here is the video with the answer to today's question.  Keep scrolling for more of the information we learned in our Bonus Class with Jennifer, and for links to on-line meditation resources!
What is meditation?
The practice of concentrated focus to increase awareness of the present moment, reduce stress, promote relaxation, and enhance personal and spiritual growth.
(Adapted from the definition in the Farlex Medical Dictionary)
Different ways you can meditate:
Focus on:
Sound
Object
Visualization
Breath
Movement
Attention
Why do we want to reduce anxiety in pregnancy?
Anxiety during pregnancy may:
Lead to low birth weight
Increase the complications of labor
Increase the risk for miscarriage
Increase the risk of birth defects
Lead to premature delivery
Increase the use of prescription medications
Make pain worse during labor
Stress family members
What are the benefits of meditation?
There are three main benefits of meditation that you can access whether you are pregnant or even if you are not:
The more a person meditates, the higher their endorphin levels.  Endorphins are the pain-relieving and pleasure-enhancing hormones - we can always use a boost!
Increased levels of DHEA (dehydroepiandosterone) - it is an immune-boosting hormone that defends against disease, improves mood, balances brain chemistry, benefits vision, hearing, muscles, bones, and regulates blood pressure.
Increases levels of melatonin - it is a hormone that improves sleep, assists with a general sense of well-being, and it crosses the placenta! Your baby benefits from that sense of well-being, receiving the assurance that all is well. Good levels of melatonin have been shown to lead to an improvement in relationships with others.
In addition, clinical evidence illustrates that meditation is highly effective in the treatment of panic disorder, generalized anxiety disorder, substance dependence and abuse, ulcers, colitis, chronic pain, psoriasis, and dysthymic disorder.
Three main kinds of meditation that have been scientifically studied:
Mindfulness Meditation
This type of meditation comes out ot the traditional Buddhist meditation practices.  In formal mindfulness practice, the meditator sits with eyes closed, focusing the attention on the sensations and movement of the breath fro approximately 45-60 minutes at a time, at least once a day.  The essence of mindfulness meditation is not what one focuses on, but rather the quality of awareness the meditator brings to each moment.  "The goal of mindfulness is for you to be more aware, more in touch with life and whatever is happening in your own body and mind at the time it is happening - that is, the present moment." (Jon Kabat-Zinn)
Relaxation Response
This is another kind of mental focusing.  Meditators are taught to focus upon the repetition of a word, sound, prayer, phrase or movement activity (including swimming, jogging, yoga, and even knitting) for 10-20 minutes at a time, twice a day.  They are taught no to pay attention to distracting thoughts and to return their focus to the original repetition.  
Transcendental Meditation
This has its origins in the Vedic tradition of India.  The meditator sits with eyes closed and concentrates on a single syllable or word (mantra) for 20 minutes at a time, twice a day.  When thoughts or feelings arise, the attention is brought back to the mantra.  Jennifer mentioned one of her favorite types of focus music are the kirtans by Govind Das & Radha.  
How to work it into your daily routine:
Jennifer mentioned that it takes 14 days to get into the habit of a daily meditation practice.  The really amazing difference it can make is that not only will it improve your pregnancy experience and quite probably enhance your labor and birth, you can also reap the benefits during postpartum, and beyond!  All the hormones that are created (endorphins, DHEA, melatonin) are a HUGE plus for sleepy, tired parents of newborns. 
I hope you are now inspired to find a way to work even a minute of mindfulness and meditation into your daily routine.  Our attending students received a handout that Jennifer shares with all her clients with three simple meditations that can be done in under five minutes; plus they got a nifty magnet with over a dozen affirmations that can be used as focus points.  
These are some online resources for free recordings that you can play if you want some guided meditations to get you started, or if you just need fresh ideas to work into your daily routine if you are already meditating:
www.chopra.com
www.freemindfulness.org
www.relaxationresponse.org
Local resources:
www.meditationlearningcenter.com
www.pathsofgrowth.com
www.moxiemeditation.com
Jennifer is a knowledgeable midwife and hypnotherapist.  If you would like to be in touch with her with one or both aspects of her business, here is her contact information: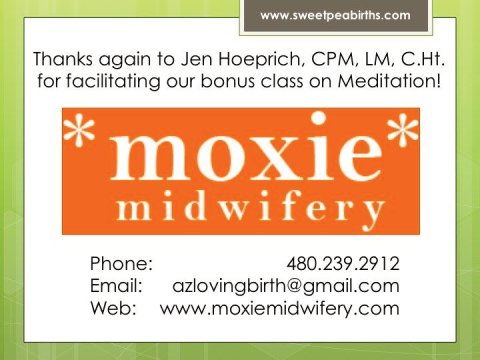 Disclaimer:
The material included on this site is for informational purposes only.
It is not intended nor implied to be a substitute for professional medical advice. The reader should always consult her or his healthcare provider to determine the appropriateness of the information for their own situation.  Krystyna and Bruss Bowman and Bowman House, LLC accept no liability for the content of this site, or for the consequences of any actions taken on the basis of the information provided.  This blog contains information about our classes available in Chandler, AZ and Payson, AZ and is not the official website of The Bradley Method®. The views contained on this blog do not necessarily reflect those of The Bradley Method® or the American Academy of Husband-Coached Childbirth®.
Categories: Affirmation, Bedtime Routine, Birth Mantra, Comfort Measures, Information Center, Mantra, Midwife, natural labor coping mechanisms, Natural labor coping techniques
/