...celebrating every swee​t pea their birth
| | |
| --- | --- |
| Posted on March 17, 2015 at 4:31 AM | |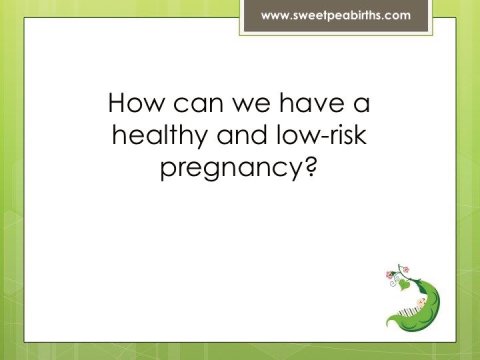 Today's VLOG is all about the things that you *can* control in the very unplannable process of pregnancy, labor, birth and the childbearing year.
LINKS
What can you control?
1. Pay attention to your nutrition
This is just as important for the father as it is for the mother.  A better diet creates higher quality sperm, and a well-nourished mother can feed her growing embryo-fetus-baby as it develops from zygote stage through pregnancy.  A breastfeeding mother is also growing her infant's brain - mindful nutrition is just as important after the Birth-Day.
HERE is the pregnancy nutrition program that we teach in The Bradley Method
®
.
2. Engage in an exercise program
Your ability to give birth does not hinge on whether or not you are an exercise fanatic before you conceive.  A mother who wants to prepare her belly, back and bottom to give birth can follow a pregnancy-specific exercise program. Even doing a few minutes a day of this low-impact, low-stress program can be a game-changer for mamas and their overall strength as they go into their labor.  
What can you influence?
1. Your experience
You have the responsibility to choose the right care provider and the right birth setting for you.  If you have a nagging feeling that persists, or if you see/hear/feel red flags at your prenatal appointments that your provider is not right for you, GO WITH IT.  Believe in yourself and your instinct.  Ask people you respect and who felt supported in their births who they chose and why...and then, maybe take a risk! Go on some interviews to see if maybe you want to make a switch.
2. Relaxation and Pain Coping
We do not know what kind of labor card you are going to draw.  What we do know is that all labors and births can benefit from mindfulness.  Whether you have a natural birth, a cesarean birth, or anything in between, there is a surrender.  There is a point when you will have to dig deep and say YES to the journey that you are on. 
There are many ways to prepare for your journey - HERE is an info sheet that explores the variety of classes available to birthing families.
What is part of the journey?
The rest of your story is entirely up to your baby, your body, and The Fates.  A story is about to unfold - and what a story it will be.  However you birth, that day is one day in the rest of your lives as a family.  Be open to the experience, look for the joys, and also watch for the surprises.  
It is in the unexpected and the trials that growth and transformation happen...a transformation that is necessary as we experience a rite of passage.  Before children, you are you.  After they are in your lives, you are now Mother, Father, or which ever name you choose for yourself.
I wish you a childbearing year that surprises you, grows you, and leads you to discover more about yourself than you knew when you started.
Disclaimer: 
The material included on this site is for informational purposes only.
It is not intended nor implied to be a substitute for professional medical advice. The reader should always consult her or his healthcare provider to determine the appropriateness of the information for their own situation.  Krystyna and Bruss Bowman and Bowman House, LLC accept no liability for the content of this site, or for the consequences of any actions taken on the basis of the information provided.  This blog contains information about our classes available in Chandler, AZ and Payson, AZ and is not the official website of The Bradley Method®. The views contained on this blog do not necessarily reflect those of The Bradley Method® or the American Academy of Husband-Coached Childbirth®.
Categories: Birth, Birth center, Epidural, Failure to Progress, Homebirth, Hospital Birth, Information Center, Managing or coping with natural labor, Oxytocin, Pain, Pain management, Pain management natural labor, Pregnancy
/