...celebrating every swee​t pea their birth
| | |
| --- | --- |
| Posted on July 17, 2015 at 7:42 AM | |
Please note that today's info sheet is about the 1-hour screening procedure, not the 3-hour test used to determine whether or not a patient has gestational diabetes.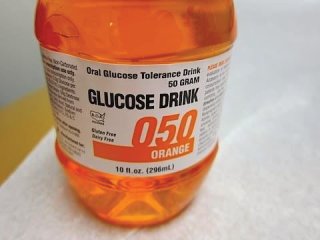 Image Source: http://babybearbulletin.com/2013/01/28/one-hour-glucose-test/
*Definition
"The oral glucose challenge test is performed to screen for gestational diabetes. This test involves quickly (within five minutes) drinking a sweetened liquid (called Glucola), which contains 50 grams of glucose. A blood sample is taken from a vein in your arm about 60 minutes after drinking the solution. The blood test measures how the glucose solution was processed by the body."
Find a list of alternatives to Glucola at the end of today's post
*History
From Diapedia:
"The first documented evidence of the effects of hyperglycaemia in pregnancy in the modern era was in 1824, when Bennewitz recorded a case of severe fetal macrosomia [large baby] and stillbirth in a 22 year old multigravida woman in Berlin. She had symptoms of severe hyperglycaemia, but he was only able to estimate this by boiling the urine to dryness[1]. The symptoms disappeared after the delivery. Until the discovery of insulin in 1923 there was no effective treatment for this condition, and the outcome of pregnancy for both mother and fetus was usually disastrous. These adverse effects have been gradually but not completely alleviated by intensive multidisciplinary care from both diabetologist and obstetrician, but complete normalisation of maternal glucose metabolism has not yet been achieved. By the 1940's it was becoming recognised that lesser degrees of maternal hyperglycaemia were also a risk to pregnancy outcomes, with retrospective studies showing increases perinatal mortality some years before the diagnosis of overt diabetes mellitus. This led to the term 'prediabetes in pregnancy', and to poorly defined concepts of 'temporary' or 'latent' diabetes."
From Evidence-Based Birth:
"In 1964, O'Sullivan and Mahan proposed that pregnancy changes the metabolism of carbohydrate, and that these changes are different than what happens outside of pregnancy. They published a study with 752 women who took a 100-gram 3-hour glucose test in the 2nd or 3rd trimester. In this study, the researchers tried out different cut-offs for GDM." [1]
"Now the most common method of screening for gestational diabetes in the United States is the 50-gram, 1-hour glucola test, also called the glucose challenge test. This test was first introduced in 1973. To take glucola test, you eat a normal diet beforehand. Then you drink 50 grams of a glucose polymer solution. One hour later, your blood is drawn to measure the glucose level (O'Sullivan, Mahan et al. 1973). If your blood glucose is 130-140 mg/dL or higher, then you have screened positive for gestational diabetes, and you qualify for a follow-up 3-hour oral glucose tolerance test (OGTT) to officially diagnose the condition. The 75-gram and 100-gram OGTTs are the gold-standard for diagnosis of gestational diabetes." [2]
Quote from American Family Physician:
"Gestational diabetes (GDM) occurs in 5 to 9 percent of pregnancies in the United States and is growing in prevalence. It is a controversial entity, with conflicting guidelines and treatment protocols. Recent studies show that diagnosis and management of this disorder have beneficial effects on maternal and neonatal outcomes, including reduced rates of shoulder dystocia, fractures, nerve palsies, and neonatal hypoglycemia. Diagnosis is made using a sequential model of universal screening with a 50-g one-hour glucose challenge test, followed by a diagnostic 100-g three-hour oral glucose tolerance test for women with a positive screening test."
Sources:

Evidence Based Birth:
*PROS
Since [2005], 2 large randomized, controlled trials have found that screening and treatment of GDM have decreased the risk of large babies and shoulder dystocia. [1]
Treatment for GDM decreases the risk for gestational hypertension and preeclampsia. [2]
There are many non pharmaceutical options for treatment including: limited carbohydrate diets, regular exercise, blood sugar level monitoring, fetal growth monitoring, and more in depth check ups with your care provider. [1]
Sources: 
*CONS
Potential adverse effects are nausea (30%), vomiting, bloating, diarrhea, dizziness (11%), headache (9%), and fatigue (Lamar, Kuehl et al. 1999). [2]
Un-pleasant nature of the exam and the cost. [2]
Based on the findings of a meta-analysis conducted in 2012, we can conclude that the 50-g glucola test by itself can be used as a screening test, but not as a diagnostic test.  A positive result needs to be followed up with the 3-hour diagnostic test. It's important for you to understand that if your doctor diagnoses you with gestational diabetes based on the 1-hour glucose test, then you should request the 3-hour test to confirm the diagnosis. [2]
In the 2001 gestational diabetes guidelines, ACOG says that if you are low-risk and meet all of these following criteria you may not need to be screened: Age less than 25, not a member of an ethnic group with an increased risk, BMI <= 25, no history of abnormal glucose tolerance or macrosomia, and no known diabetes in a first-degree relative. 
However, if you use these criteria, then only 10% of pregnant women would be exempted from screening. ACOG says that because only 10% would be exempt, "many physicians elect to screen all patients as a practical matter."
Therefore, you are being screened by your physician as a practical matter. It may also be that your physician wants you to have the test just for legal liability reasons. [2]
In the universal 1 hour 50 g oral glucose test a value above 130-140 mg/dL is considered positive, but in a study of 2,226 cases from universal screening of 11,084 pregnant women using a cut off value of 145 mg/dl the False Positive Rate (FPR) is 80.4%. [1]
In the above mentioned study when Glucose Challenge Test (GCT) result was above 200 mg/dL, the probability of women having Gestational Diabetes (GDM) was still only 64.5%. [1]
The frequency of GDM really depends on how it's diagnosed. If you have different cut-points, you will have different numbers of diagnoses. In looking at population data, we rarely know what test or what cut-off people used to diagnose GDM. In some studies, where we know what test people used to diganose GDM, the rates of GDM have remained stable. [3]
Based on test results there could be increased intervention (more prenatal visits, more inductions of labor)
Increased tendency to perform a C-section (Donovan et al. 2012) [3]
Sources: 
*Links for more reading
From Cochrane Review
: Screening for gestational diabetes and subsequent management for improving maternal and infant health
From PubMed: Glucose challenge test for detecting gestational diabetes mellitus: a systematic review.
From the American Diabetes Association: Gestational Diabetes Mellitus
From Aviva Romm: Glucose Tolerance Testing in Pregnancy: What you should know
From Birth Without Fear: Gestational Diabetes - To Test or Not To Test
From Birth Without Fear: The Truth About Gestational Diabetes and Why It's Not Your Fault
From Modern Alternative Mama: Healthy Pregnancy Series: Gestational Diabetes Test

*Alternatives to Glucola, aka The Orange Drink
Women who are striving to avoid harmful substances are starting to seek alternatives to the ingredients in Glucola: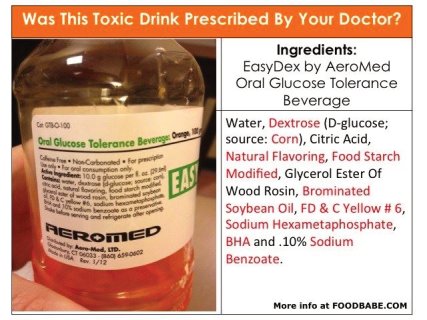 Image Source: www.foodbabe.com
From Pub Med: 
Jelly Beans offered as an alternative to a fifty-gram glucose beverage for gestational diabetes screening.
Note: a mama seeking to avoid harmful substances could opt for jelly beans with natural ingredients and food-based coloring

From Today's Mama ~ Boston
Combine the following foods to make 50 g of glucose:
30g - 6 oz Grape juice
15g - Slice of bread
30g - cup of cereal
20g - banana
12g - cup of milk
30g - two slices of bread
40g - 16 oz orange juice
40g - 8 oz apple juice
From My Green and Natural Pregnancy: 
Alternative beverages
20 oz. of a natural ginger ale
14 oz. of orange juice not from concentrate
10 oz. of cranberry juice
10 oz. of grape juice
Krystyna's Note: 
Maple Syrup
This is one that I have heard talked about in the green living community.  Below is the nutrition information for 1 Tablespoon of maple syrup from
nutritiondata.com
so you can get a general idea.  You would have to talk to your care provider about figuring out how "sugars" translate into "glucose" to determine how much you would need to consume in order to substitute maple syrup for the orange drink.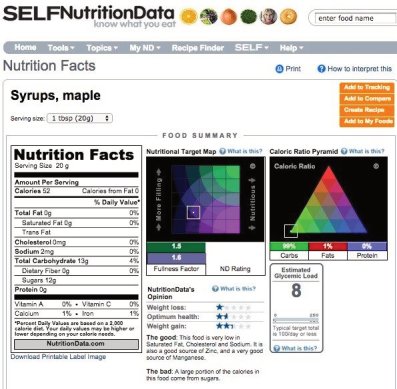 Disclaimer:
The material included in this blog is for informational purposes only. It is not intended nor implied to be a substitute for professional medical advice. The viewer should always consult her or his healthcare provider to determine the appropriateness of the information for their own situation.  Krystyna and Bruss Bowman and Bowman House, LLC accept no liability for the content of this site, or for the consequences of any actions taken on the basis of the information provided.  This blog contains information about our classes available in Chandler, AZ and Payson, AZ and is not the official website of The Bradley Method®. The views contained in this video and on our blog do not necessarily reflect those of The Bradley Method® or the American Academy of Husband-Coached Childbirth®.
Categories: Avoiding harmful substances, Cassandra Okamoto, Gestational Diabetes, Healthy, Low-Risk, Info Sheet, Information Center, Information Sheet
/