...celebrating every swee​t pea their birth
| | |
| --- | --- |
| Posted on July 23, 2015 at 8:11 PM | |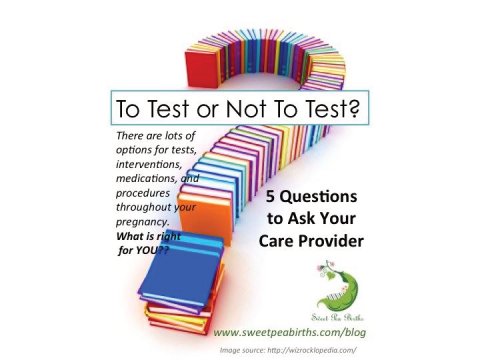 I saw the question come up again in a chat group:
Should I get "X" test? Should I decline "X" medication?
You could also substitute the words 
"procedure" or "intervention" in those phrases.
As childbirth educators, we make every effort to keep our opinion out of the equation whether that question comes up in a live class, or when we see it on message boards and chat groups.  The bottom line is that YOU are the only one that can make decisions about your body and your baby.
As the natural childbirth movement has grown, families are becoming aware that a lot about birth works.  After all, we have survived as a species long before birth became a medical event.  Along with raising awareness of how physiological birth proceeds without any medical intervention in most cases, the birth movement has also encouraged patients to advocate for themselves: question everything. 
To be fair, there are tests for many of the things that used to be devastating to mothers and infants: gestational diabetes, Group B Strep, Rh factor to name a few.  There are newborn screens that can be done so that any genetic diseases can be caught and treated early before they take full effect and harm the child.
The challenge is as it usually is: the blanket treatment, "If it works for one, then it works for all." Which then leads to over-treatment and over-medicalization, and sometimes more complications than if we had left Mother Nature alone to begin with.  As patient advocates, we encourage our students to insist on beineg treated as individuals - we are all unique.
Somehow, somewhere, there is a growing thread that is saying: "Deny Everything".  I find this concerning because despite some negatives, there are some positives to today's birth climate.  So I decided to share the list of questions that I share with our students.  
Ask these questions of your care provider so that you can make an informed decision about personalized care for YOU in your unique situation. 
1.) Why was this test/intervention/medication/procedure ("TIMP") developed in the first place?
2.) Has this TIMP been effective in affectng the problem it was designed to solve?
3.) What is the treatment plan if I say yes to the TIMP?  What is the treatment plan if I say no to the TIMP?
4.) If something happens in spite of saying yes to the TIMP, will the treatment be any different than if I didn't have the TIMP?
5.) How do my personal lifestyle/career choices affect my chances of needing this TIMP? If I want to decline it, is there anything I can do to improve my chances of not needing it?
There are usually several alternative to consider instead of a flat "no".  We have several Pros/Cons/Alternatives listed in our Info Sheets.  You can find a complete listing to them
HERE
, or click on the "Info Sheet" category on the left side of this blog.
I wish you all the best for a safe and healthy pregnancy.  Also remember that these 5 questions can also be applied to options for newborn care, postpartum care, and really any care you or your children may need in the future!
Disclaimer: 
The material included in this blog is for informational purposes only. It is not intended nor implied to be a substitute for professional medical advice. The reader should always consult her or his healthcare provider to determine the appropriateness of the information for their own situation.  Krystyna and Bruss Bowman and Bowman House, LLC accept no liability for the content of this site, or for the consequences of any actions taken on the basis of the information provided.  This blog contains information about our classes available in Chandler, AZ and Payson, AZ and is not the official website of The Bradley Method®. The views contained in this video and on our blog do not necessarily reflect those of The Bradley Method® or the American Academy of Husband-Coached Childbirth®.
Categories: Avoiding harmful substances, Failure to Progress, Healthy, Low-Risk, Info Sheet, Information Center, Information Sheet, Pregnancy
/