...celebrating every swee​t pea their birth
| | |
| --- | --- |
| Posted on July 27, 2015 at 10:11 PM | |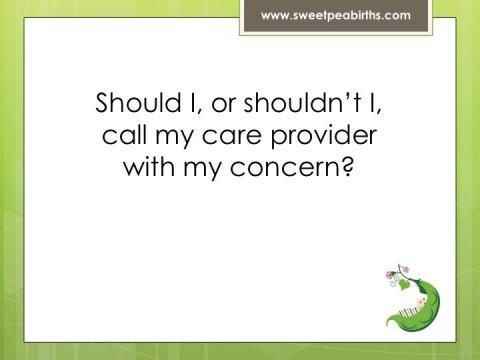 This is another question I see come up pretty often on social media groups, or a text in the middle of the night from a student.  Really, if people are looking for validation, the best thing to do is call! However, our society tells is that we shouldn't be too needy....so moms end up seeking help from non-medical peers.
When I get this question, the first question I ask is, "How is the baby moving?"
The second is, "What is your gut/instinct telling you when you sit still with this question?"
Depending on what is concerning them, there are other things to evaluate:
Are you having any contractions? Have you noticed a pattern?




Is there any discharge? If so, is there any color or odor?

Did you do anything differently today, or something that might have been stressful on your body?
If you have any of the following signs, we will always recommend that they follow their instinct, even if they feel they might be over-reacting.  When it comes to any questions throughout the childbearing year, our philosophy is "better safe than sorry."
Warning Signs in Pregnancy
1.) Bleeding in any quantity, especially if the blood is bright red.

2.) Discharge or fluid from the vagina

3.) Severe pain

4.) Persistent spots

5.) Swelling*

6.) Fever over 

7.) Pain when urinating

8.) Naseau or vomiting
*in the video, I talk about how swelling *is* a sign of blood-pressure changing.  I should have said "probably", because I am not a medical professional. Swelling is *probably* a sign that your blood pressure is changing.
Getting phone calls in the middle of the night is part of the job description when you work with birthing families and parents of newborns.  Choose a care provider who will be happy to take your call and ease your concerns, or who will be willing to meet you at the hospitalor your birth place if need be.
Disclaimer: 
The material included on this site and in the VLOG is for informational purposes only.  It is not intended nor implied to be a substitute for professional medical advice. The reader/viewer should always consult her or his healthcare provider to determine the appropriateness of the information for their own situation.  Krystyna and Bruss Bowman and Bowman House, LLC accept no liability for the content of this site, or for the consequences of any actions taken on the basis of the information provided.  This blog contains information about our classes available in Chandler, AZ and Payson, AZ and is not the official website of The Bradley Method®. The views contained on this blog do not necessarily reflect those of The Bradley Method® or the American Academy of Husband-Coached Childbirth®.
Categories: Healthy, Low-Risk, Infections and Pregnancy, Pregnancy, Q&A with SPB
/