...celebrating every swee​t pea their birth
| | |
| --- | --- |
| Posted on August 19, 2015 at 8:57 AM | |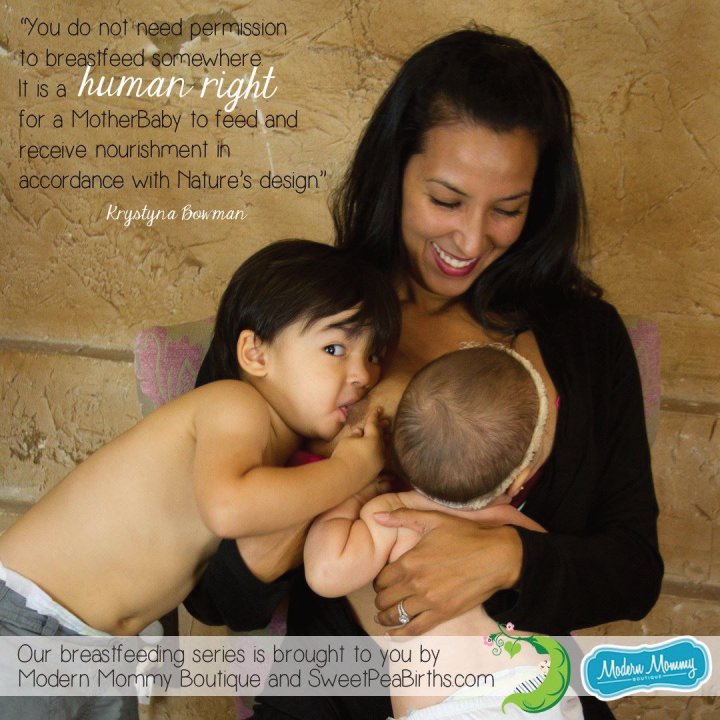 My foray into tandem nursing turned into an adventure with extended breastfeeding.  It doesn't go that way for everyone...if you are interested in reading about our journey, see the links below the post.
What do you do if you are interested in tandem nursing, or at least, trying to nurse into your next pregnancy? One of my favorite on-line resources is KellyMom.com.  She offers a great resource list
HERE
What about tandem nuring in public? As with other "NIP" experiences, try it out amongst supportive friends and peers first.  Do you know other moms who are tandem nursing? Meet up with them in a breastfeeding-friendly place.  See what happens...sometimes it's a "monkey see, monkey do" scenario, other times kiddos will just observe and think about what they will do next time.  Either way, if your children decide to tandem nurse, you will not be alone in that choice.
Let the fact that the law is on your side in almost every state in the union lend you some confidence as well.  In the last year, two more states have added protections for nursing mothers into the books.  For now, the only state left without any kind of safeguard for mothers breastfeeding in public is Idaho. If you are traveling, or you are curious what your own state says about NIP, check state laws
HERE
.  None of the laws quantify how many children you may nurse at a time, so you and your Sweet Peas are safe to meet needs as they need to be met.
As your confidence grows, you will be able to nurse in public with much more ease.  You may even serve to inspire another mom to tandem nurse her children...one of the greatest gifts of all.  If it hadn't been for a couple of moms in my circle who did that for me, I would have missed out on some of the most rewarding years of breastfeeding our Sweet Peas.
Do you have tips to share with other moms who want to tandem nurse?
Please leave us a comment - it will be moderated and posted. 
Disclaimer: 
The material included on this site is for informational purposes only.
It is not intended nor implied to be a substitute for professional medical advice. The reader should always consult her or his healthcare provider to determine the appropriateness of the information for their own situation.  Krystyna and Bruss Bowman and Bowman House, LLC accept no liability for the content of this site, or for the consequences of any actions taken on the basis of the information provided.  This blog contains information about our classes available in Chandler, AZ and Payson, AZ and is not the official website of The Bradley Method®. The views contained on this blog do not necessarily reflect those of The Bradley Method® or the American Academy of Husband-Coached Childbirth®.
Categories: Breastfeeding, Breastfeeding Awareness Month, Breastfeeding in Public, Breastfeeding support, Next pregnancy, NIP, Nursing In Public, World Breastfeeding Week
/