...celebrating every swee​t pea their birth
| | |
| --- | --- |
| Posted on October 13, 2015 at 9:08 AM | |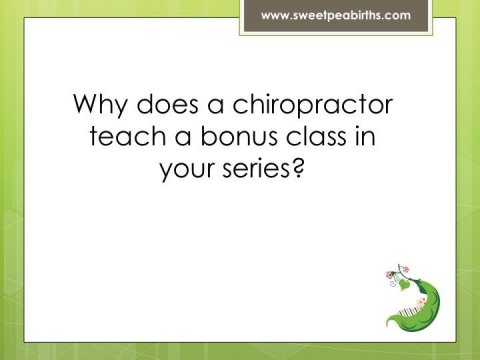 We invite Dr. Ross to speak to our students every series. We started out by having him come to a portion of a class to share the benefits of chiropractic in pregnancy and for breastfeeding, and to explain
The Webster Protocol
, a technique used for mothers carrying breech babies.
I imagined he would speak for about 30 minutes, leaving us two hours to spend on that week's topic with our students. After two sessions when the reverse was true, it became apparent that he needed his own class.  Ever since then, our Bradley™ series is actually 13 sessions: 12 classes with us, and 1 with Dr. Ross.
Our belief in the benefits of chiropractic stem from the results we see in our own family's health.  I write about those
HERE
.  Among other things, we have been positively impacted in pregnancy and with breastfeeding, and those are the topics that are relevant to our students.
He speaks on several topics:
Explains what chiropractic care IS and ISN'T: it's not about cracking backs!
The importance of whole food: offers insights on what does the body good and what to consider reducing (hint: gluten and milk!)
The physical, chemical and emotional stressors that affect our lives: offers suggestions on how to reduce or eliminate those
Chiropractic care benefits in pregnancy: eliminate waddling, and helps with SPD among other things!
Chiropractic care benefits for breastfeeding: babies shouldn't "like" one side and not the other
Coaching Back Labor: offers the coaches in our classes 3 different ways to help a mom who is experiencing back labor
Now supposedly, women under chiropractic care have shorter and easier labors.  We found that they were easier…not necessarily shorter for us!  We wish that benefit for all our readers and student, though! I have listed several local chiropractors at the end of this post.  If you are not local to Phoenix, please check www.icpa4kids.com to find a chiropractor in your area.  If you are a skeptic like I was, consider scheduling a consult just to talk before you make a decision about initiating care.
Our story of coming around to chiropractic care:
http://goo.gl/sDTdMS
Get your own "Eat Locally" tee-shirt at Rescued Rumps:
http://goo.gl/BXf11J
DR ROSS VIDEOS
Whole Foods
https://youtu.be/YIlMvB3KA7o
Harmful Substances
https://youtu.be/pKt2PGHqYTU
Chiropractic Care Pregnancy
https://youtu.be/qgd_eqZ01FU
Webster Protocol
https://youtu.be/A3762xOCMcs
Sacrum
https://youtu.be/NheKWhvDqZE
Posterior Baby
https://youtu.be/Tean65Uhw-Q
Chiropractic Care for Infants
https://youtu.be/Aol0l_wBhLo
Cranial Care & KST for babies
https://youtu.be/CpAiwXJApZE
BREECH Information
Five Point Plant to Turn Breech Baby
http://goo.gl/2WYf4n
Find a chiropractor in your area:
http://icpa4kids.com/index.php
AHWATUKEE: Dr. Stephanie
http://livinginline.com/
MESA: Dr. Jenny
http://www.expressionsoflifechiro.com/
PHOENIX: Dr. Becky
http://www.kidsrising.com/
SCOTTSDALE: Dr. Dara
http://optimumwellnesschiropractic.com/
TEMPE Dr. Ross
http://rechargeyourlife.com
Disclaimer: 
The material included in this blog and video is for informational purposes only. It is not intended nor implied to be a substitute for professional medical advice. The viewer should always consult her or his healthcare provider to determine the appropriateness of the information for their own situation.  Krystyna and Bruss Bowman and Bowman House, LLC accept no liability for the content of this site, or for the consequences of any actions taken on the basis of the information provided.  This blog and video contain information about our classes available in Chandler, AZ and Payson, AZ and is not the official website of The Bradley Method®. The views contained in this video and on our blog do not necessarily reflect those of The Bradley Method® or the American Academy of Husband-Coached Childbirth®.
Categories: Breastfeeding, Chiropractic Care, Pregnancy
/