...celebrating every swee​t pea their birth
| | |
| --- | --- |
| Posted on November 20, 2015 at 7:40 AM | |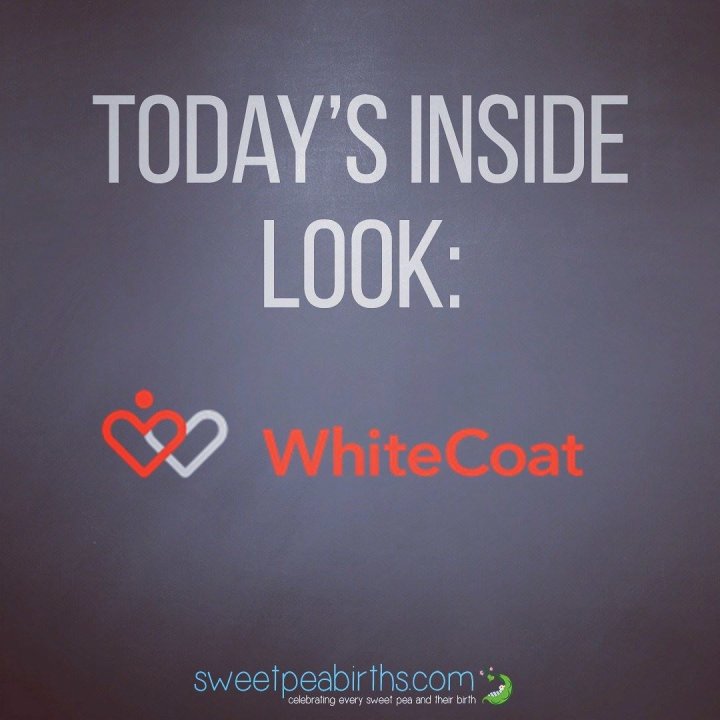 Puma and I had the pleasure of attending a Club MomMe Family Fest earlier this month. One of the vendors we met runs a health care home-visit service.  The co-founder, Angella Nguyen, is committed to bringing back the "house call" - read more about it in today's Inside Look.
SPB: Tell me about the White Coat service.
AN: WhiteCoat is an on-demand house call service where we provide quality healthcare in the comfort of the patient's home, office, or hotel (let's say, if traveling).  We operate daily, from 8am-midnight (yes, even on weekends).  We truly are a patient-centric healthcare company: your turf, on your time.
Our patients find value in our after-hour and weekend access, affordability ($75 flat fee, with or without insurance), HIPAA-compliant messaging system, electronic prescriptions, and that they don't have to wait to get an appointment!  A provider can be at your door in 2 hours or if you'd like to schedule something in advance, that is an option as well.  No need to call out of work/find a sitter, drive in traffic, pay to park—a doctor's appointment has gone from an all day affair to a mere half hour visit in your home.  
We are starting to get credentialed with insurance providers now and will be accepting insurance soon.  If you have PPO, we are recognized as an out-of-network provider.
SPB: Who are the White Coat care providers?
AN: WhiteCoat providers are qualified and credentialed Nurse Practitioners (NPs), who can diagnose, treat, and prescribe. Additionally, we have a team of medical directors to provide oversight.  Studies have shown that   outcomes of NP treated patients vs. MD treated patients are equal.  In addition, NPs but have been shown to have a better bedside manner.  
Educating the population about NPs is going to be part of the learning curve- more often times than not, you are being seen by an NP at clinic/hospital, you just didn't know it ☺  We dedicate space on our page to provide information about NPs and their important role in buffering the primary care shortage.
Excerpt about NPs from our Executive Summary:
NPs are licensed healthcare providers whose practice privileges include prescribing medications, and diagnosing, treating, and managing acute, non-complex medical conditions. With the projected shortage of primary care physicians, a team of NPs form a lean, comprehensive healthcare provider team, that is cost-efficient, and that can help meet the demand for primary care services.
SPB: What patient population does White Coat serve? 
AN: WhiteCoat can serve the entire family: from baby to grandma. ☺  We have a full stack of FNPs (Family/General practice) as well as PNPs (Pediatric NPs) and AGNPs (Adult Geriatric NPs).
Working professionals, busy moms, and senior care (whether ordering a house call for themselves, or having their children order on their behalf) all have specific pain points with the current state of healthcare that we aim to relieve.
We provide healthcare to school systems that may not have an on-site health center, to moms who are sick and don't want to bring their children into the clinic appointment where they may be exposed to germs, to sick kids who aren't able to go back to school without a provider note and scheduling a doctor's visit is near impossible, to working professionals who simply can't take the time off, to immobile patients who have difficulty making it in to their visit.  Think of the pain points you've faced while sick- we hope we have an answers to them. ☺
SPB: What range of ailments does this service care for? Is there anything you do not provide for?
AN: Our NPs handle non-complex acute conditions such as flu check ups, physical examinations, allergy care, infections, stitches, post-surgery follow up appointments (let's say the patient is immobile or has a difficult time coming in for a follow up)—for any urgent or primary care needs, we are here to help.  
We also have a health and wellness component and offer B-12 shots, and IV Hydration Therapy.  Everyone is on the go-go-go and it is easy to get drained or dehydrated.  Taking care of your health before it becomes an issue is truly the best medicine.
We are also starting to incorporate physical therapy in the pipeline, as we have gotten requests.  We think of WhiteCoat as a learning and growing organism- we listen to our patient's feedback and adjust accordingly.
We are not an emergency care group and will always urge you to call 911 if it is a medical emergency.  
SPB: About how long can you expect a house call to last?
AN: We allot an hour for the NP to spend with a patient but have seen that a typical house call visit lasts from 20-30 minutes.  Our patients' time is precious and they love that we can be in and out without disrupting the flow of their day.  However, we will never rush the visit and our NPs enjoy giving our patients the face time that they need.  
SPB: How can you make an appointment?
AN: 
You can request an appointment by going on our site
www.whitecoat.healthcare
, or by calling 1-888-223-1207.  The request process is extremely easy.  After filling out the request, WhiteCoat will call to confirm whether or not this is a medical emergency, schedule your appointment, note your symptoms, and the ETA.
Our app is in its final stages of development and will be released in late December or early January.  We will be available for both iPhones and Android phones.
SPB: What makes White Coat unique?
AN: Healthcare is moving into alternate forms of care, no doubt about that.  Whether its telemedicine, house calls, or prescription delivery, the space is ripe for disruption, and quite honestly, it's about time.  The landscape is changing and we are excited to help pioneer that process.  We are not trying to replace the "bad guy" with another bad guy.  
Our focus is 2 pronged:  patient and provider side.
Patient-side, we can see in our value proposition.  
Provider-side:  we are able to pay NPs higher than their normal rate with our model.  They are happier and want to work with us.  We are endorsed by 2 governing bodies for NPs: AANP (American Association for Nurse Practitioners) and CANP (California Association for Nurse Practitioners), where our advisory board has the Immediate President of the AANP (he was the current Pres. when we first started last year) and two Past Presidents of the CANP.
Patients are happy, and providers are happy. ☺
SPB: What motivated you to start White Coat?
AN: While getting my MBA at USC Marshall School of Business, I enrolled in a class called Tech Feasibility, where "simulating" a startup is the crux of the course.  Involving multiple disciplines, I joined Mike Kwon, medical background, and Emilianos Ellinas, legal and operations background, to co-found WhiteCoat.  We went through problem discovery and compared our pain points of something as simple as going to the doctor.
(
HERE
is an article that describes the inception of WhiteCoat from Mike Kwon's perspective, our CEO)  
Honestly, it was a "project" that outgrew the walls of the classroom.  I was at Tesla Motors prior (I was a Marketing Strategy Consultant for their Lifestyle Products and Apparel line and yes, working for Tesla was awesome ☺), with intentions of going back.  However, we started to gain momentum, winning pitches and competitions, and we decided as a team to create a company and to pursue WhiteCoat full time.  
SPB: Is there anything else our readers should know about this service or the company?
AN: We didn't wake up one day to start a healthcare company, a medical group, a tech company or however you want to spin it, because it was easy or a "natural" step in our careers.  I actually think that our diverse backgrounds give a stagnant industry the fresh lens it needs.  We are passionate about bringing a level care to the masses and it shows from top down and bottom up.  Our providers are hand selected by us, not an agency, and go through a stringent process to get background checked and credentialed.  But that's only half the battle—we ask ourselves, "Would I trust this person to treat my mom?  My child? Would I want this person to come into my grandmother's home?"  It has to be an overwhelming "YES" every time.  
SPB: What inspires you?
AN: As an individual, my parents inspire me.  My dad is literally my hero.  I come from a family of entrepreneurs, grew up in Silicon Valley, the works—so I was well-versed in "start-up" culture from a young age.  
Strong women in business also inspire me-- I make it a point to play in the "boys club," but also to collaborate with other women in business.  
Staying ahead of the curve inspires me- I actively put myself in uncomfortable situations to grow and learn.
As a cofounder of a healthcare company:  affecting change inspires me.  To be part of the conversation of something as big as changing the landscape of a behemoth industry is truly inspiring.  People deserve better access to care and we won't win that fight alone.  With our "competitors" and other like-minded companies in the space, that's the kind of prowess that it takes to get somewhere.  
Krystyna's note: As of today's post, White Coat is serving the Los Angeles and Orange County areas in California. They project that they will continue to expand their coverage to Nevada, Arizona, and along the west coast. Angella says, "We would love to be nationwide but baby steps first!" The concept of in-home concierge care may well be the wave of the future! Stay tuned for updates as we follow White Coat's growth as a health care provider.
Please leave us a comment - it will be moderated and posted. 
Disclaimer: 
The material included on this site is for informational purposes only.
It is not intended nor implied to be a substitute for professional medical advice. The reader should always consult her or his healthcare provider to determine the appropriateness of the information for their own situation.  Krystyna and Bruss Bowman and Bowman House, LLC accept no liability for the content of this site, or for the consequences of any actions taken on the basis of the information provided.  This blog contains information about our classes available in Chandler, AZ and Payson, AZ and is not the official website of The Bradley Method®. The views contained on this blog do not necessarily reflect those of The Bradley Method® or the American Academy of Husband-Coached Childbirth®.
Categories: Childcare, Family Fest, Healthy, Low-Risk, Inside Look
/