...celebrating every swee​t pea their birth
| | |
| --- | --- |
| Posted on February 23, 2016 at 5:19 AM | |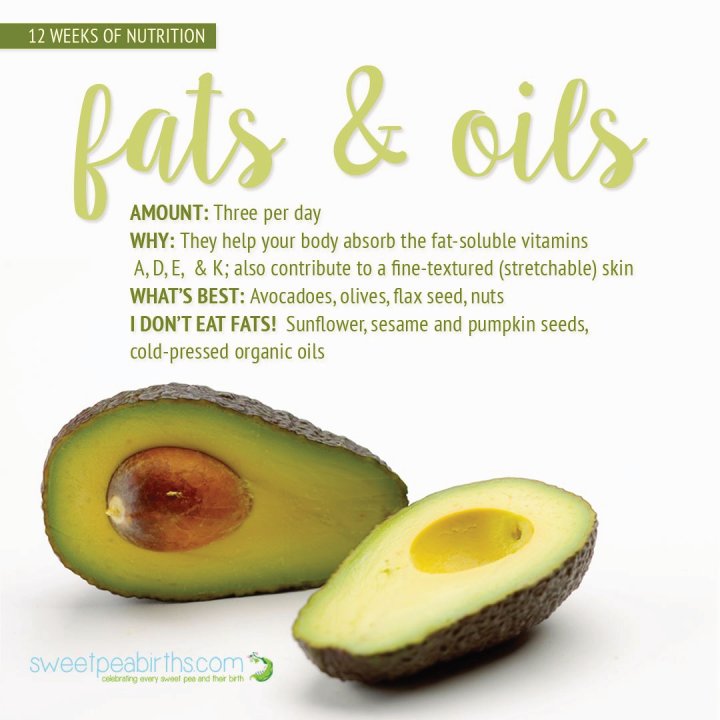 Okay – so what's the skinny on fats?
Fats and oils are needed in your diet to help your body absorb the fat-soluble vitamins A, D, E, and K. Fats and oils also contribute to a fine-textured (stretchable) skin. They are concentrated sources of calories. The food energy or calorie need is increased in pregnancy to a minimum of 2500-3000 calories per day.  Here is an important benefit of healthy fats & oils in the childbearing year: omega-3 fatty acids can prevent or reduce the symptoms of depression, ADHD, and bipolar disorder.
We now know that it is the type of fat you eat that really matters. Bad fats increase cholesterol and your risk of certain diseases, while good fats protect your heart and support overall health.
What's the deal with "trans fats"?
Did you know that small amounts of naturally-occurring trans fats can be found in meat and dairy products.  The real concern is the artificial trans fats - these are the ones that are considered dangerous. Trans fats are normal fat molecules that are modified to make them shelf-stable. Why? Because fats can turn rancid - have you ever opened a bag of chips or crackers and smelled the nasty "fat" smell, or done a taste test and gotten a mouthful of gross?? It is likely that those foods were not made with trans fats.
During the process to make fats shelf-stable, liquid vegetable oil is heated and combined with hydrogen gas. This practice is very good for food manufacturers—and really bad for you.  Trans fats increase your risk of heart disease, stroke, and diabetes. No amount of trans fats has been deemed "healthy".
According to
THIS
article, best sources of healthy fats are fish, nuts, seeds, and cold-pressed vegetable oils.
If you do not like these options, go for nut butters!!  They are available from traditional peanut butter, to butters in almost every conceivable variety: almond, cashew, hazelnut, and even sunflower seed butter if you are allergic to nuts.
Disclaimer: 
The material included in this blog and video is for informational purposes only. It is not intended nor implied to be a substitute for professional medical advice. The viewer should always consult her or his healthcare provider to determine the appropriateness of the information for their own situation.  Krystyna and Bruss Bowman and Bowman House, LLC accept no liability for the content of this site, or for the consequences of any actions taken on the basis of the information provided.  This blog and video contain information about our classes available in Chandler, AZ and Payson, AZ and is not the official website of The Bradley Method®. The views contained in this video and on our blog do not necessarily reflect those of The Bradley Method® or the American Academy of Husband-Coached Childbirth®.

Categories: Nutrition, Q&A with SPB
/