...celebrating every swee​t pea their birth
| | |
| --- | --- |
| Posted on March 4, 2016 at 2:01 PM | |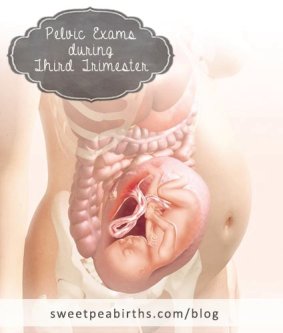 Pelvic or Vaginal Exam during Pregnancy (3rd Trimester)
According to Mayo Clinic, "as your due date approaches, your prenatal visits might  include pelvic exams. These exams help your health care provider check the baby's position and detect cervical changes."
*History
Pelvic examination during pregnancy is used to detect a number of clinical conditions such as anatomical abnormalities and sexually transmitted infections, to evaluate the size of a woman's pelvis (pelvimetry) and to assess the uterine cervix so as to be able to detect signs of cervical incompetence (associated with recurrent mid-trimester miscarriages) or to predict preterm labour (see Section 11.3).
In an RCT that assessed the relationship between antenatal pelvic examinations and preterm rupture of the membranes (PROM), 175 women were assigned to no examinations and 174 women were assigned to routine digital pelvic examinations commencing at 37 weeks and continuing until delivery.233 In the group of women who had no pelvic examination, ten women developed PROM (6%) compared with 32 women (18%) from the group of women who were examined weekly. This three-fold increase in the occurrence of PROM among women who had pelvic examinations was significant. 
Based on the above study the NCBI concluded, "Routine antenatal pelvic examination does not accurately assess gestational age, nor does it accurately predict preterm birth or cephalopelvic disproportion. It is not recommended." 
Another study completed by the NCBI concluded, "In patients with a US-documented viable pregnancy, the pelvic examination did not contribute to the patient's immediate obstetric treatment. Occult cervical pathogens may be present in these patients." 
Sources:
*PROS
Vaginal Exams can possibly measure:
Cervical Dilation
 Cervical Ripeness
Cervical Effacement
 Station of baby (position in relation to pelvis -5 to +5)
Position of the baby (anterior vs. posterior)
Position of the cervix
May find cervical anomalies, like early dilation and effacement, so that appropriate changes can be made to the woman's care, including bedrest, hospitalization, tocolytics, etc.
May stimulate the cervix so that a medical induction does not become "necessary"
*CONS
Increased risks of infection, even when done carefully and with sterile gloves
Increased risk of rupturing the membranes
May stimulate the cervix prematurely
Information collected does not accurately predict when labor will begin and may excite or disappoint women unnecessarily 
Sources:
*Links to explore
Pelvic Exams Near Term: Benefit or Risk? Talking to Mothers About Informed Consent and Refusal




Premature rupture of membranes at term. Retrospective study of 88 cases




Chorioamnionitis in the delivery room




Bacterial vaginosis and intraamniotic infection




Premature rupture of the membranes and ascending infection
Did you have vaginal exams in your third trimester before your labor started? Thoughts?
Please leave us a comment - it will be moderated and posted. 
Disclaimer: 
The material included on this site is for informational purposes only.
It is not intended nor implied to be a substitute for professional medical advice. The reader should always consult her or his healthcare provider to determine the appropriateness of the information for their own situation.  Krystyna and Bruss Bowman and Bowman House, LLC accept no liability for the content of this site, or for the consequences of any actions taken on the basis of the information provided.  This blog contains information about our classes available in Chandler, AZ and Payson, AZ and is not the official website of The Bradley Method®. The views contained on this blog do not necessarily reflect those of The Bradley Method® or the American Academy of Husband-Coached Childbirth®.


Categories: AROM, Cassandra Okamoto, Epidural, Induction, Induction of Labor, Infections and Pregnancy, Info Sheet, Information Center, Information Sheet, Informed Consent, Membranes, Obstetrical Care, Pregnancy, Third Trimester
/