...celebrating every swee​t pea their birth
| | |
| --- | --- |
| Posted on March 8, 2016 at 9:22 PM | |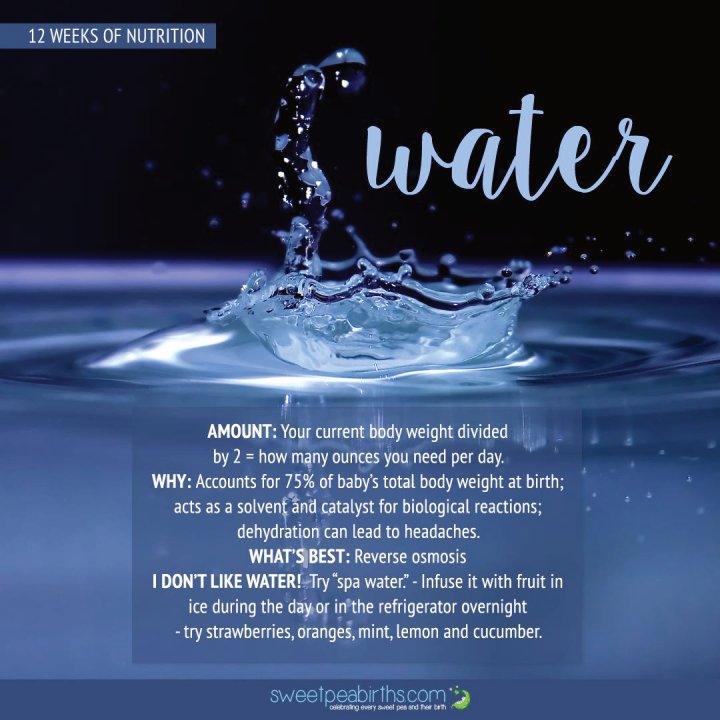 Water is essential for good health. Pure water (nothing mixed in) is best for re-hydration of the body. Bottled or filtered water may be necessary, depending on your water source at your home or workplace. In the mother, water acts as a solvent and catalyst for biological reactions.  In the baby, water accounts for 75% of your baby's total body weight at birth.
Lack of water leads to dehydration, which can lead to over a 20% reduction of energy output (can you see why this could be a problem in pregnancy and/or labor?). Dehydration may also contribute to the headaches some women experience as a discomfort of pregnancy. Some of the complications a water deficiency can lead to are declined circulation (low blood flow which then affects what is *not* getting to the placenta), hypovolemia (low blood volume), and oligohydramnios (low amniotic fluid volume), which can trigger premature labor.
Note: water without adequate salt intake leads to an imbalance, making it hard for your body to absorb and retain fluids.
Be careful about your source of water – how much chlorine is in your municipal water? You can request a report from your town or city if they don't send you an annual quality report.
Be careful of some bottled water. Read the labels. Some of them have additives such as magnesium sulfate (MgSO4), which is a laxative, muscle relaxant, and is used to stop labors. This common name for this additive is Epsom Salts.
Your water needs depend on your weight, your climate, and your energy output.
Formula: weight/2 = how many ounces of water you need
If you want to find out how many glasses of water that is, divide it by 8 ounces in a cup
Climate: is it humid or dry where you live? How much water are you perspiring?
Energy: again, perspiration also how much is being used by your body in the activities in which you participate?
Did you know that the color of your urine could be a hydration test?  If your urine is clear, pale or straw-colored, *and* you feel well overall, there is a good probability that you are adequately hydrated. If your urine is dark yellow or even orange, it's time to start drinking up some good, clean water. Strive for even more fluids if you have an active lifestyle, if it's hot outside or both.
Note on oligohydramnios: if you are being told that your fluid levels are low, it might be a real thing.  Know that your amniotic fluid is not a closed system – your body is constantly making more and replenishing amniotic fluid.  I've read anywhere from 1 hour to every 3-4 hours for that process.  So, if you drink more water, you could potentially increase the amount of fluid in the uterus. However, if you have been drinking a lot of water and your fluid levels are still low, then definitely have an honest conversation with your care provider about your options.
Disclaimer: 
The material included in this blog and video is for informational purposes only. It is not intended nor implied to be a substitute for professional medical advice. The viewer should always consult her or his healthcare provider to determine the appropriateness of the information for their own situation.  Krystyna and Bruss Bowman and Bowman House, LLC accept no liability for the content of this site, or for the consequences of any actions taken on the basis of the information provided.  This blog and video contain information about our classes available in Chandler, AZ and Payson, AZ and is not the official website of The Bradley Method®. The views contained in this video and on our blog do not necessarily reflect those of The Bradley Method® or the American Academy of Husband-Coached Childbirth®.

Categories: AROM, Artifical Rupture of Membranes, Nutrition, Obstetrical Care, Premature Ruptture of Membranes, PROM, Q&A with SPB, ROM
/