...celebrating every swee​t pea their birth
| | |
| --- | --- |
| Posted on July 29, 2016 at 1:23 AM | |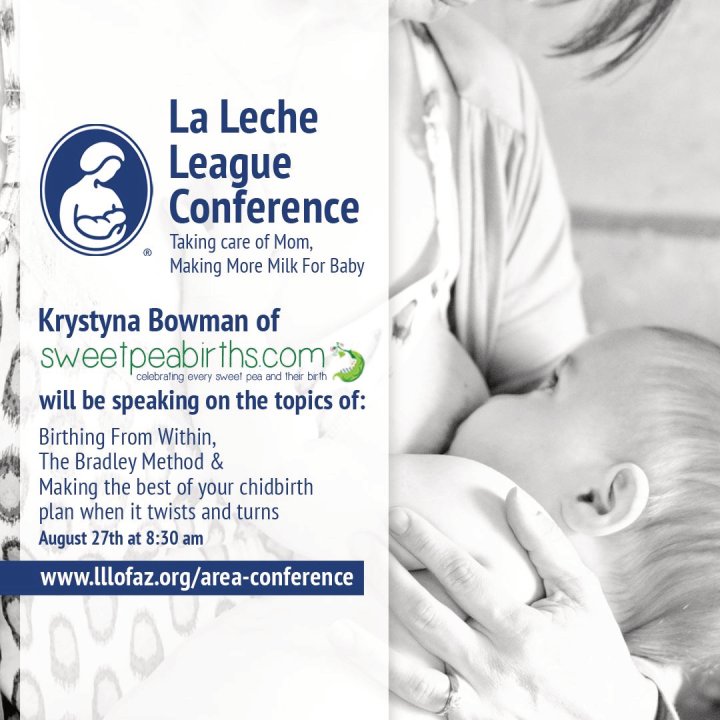 August is shaping up to be an amazing month for a celebration of breastfeeding in Arizona…culminating with the La Leche League of Arizona's Area Conference from August 26-28, 2016.
I am honored that I was invited to submit an abstract, and then selected, as conference presenter.  My talk will be on Saturday, August 27 at 8:30 am.  It may be early…but it will be worth it!! Of course, I can't "teach" without offering a snack, so besides coming for the tea and the yummy breakfast snacks, come chat with me about three topics near and dear to my heart.
My morning session is from 8:30 am – 10:00 am.  Here is how we are going to spend our time together.  
For each childbirth preparation class, I will share a little about the core principles of the series, and I will also offer you an opportunity to experience a portion of what you would learn in a full series.
8:30 – 9:00 
Exploring the Birthing From Within approach to the childbirth journey
› "Our mission is to inspire and teach parents and those who support them, by honoring the power of birth as a Rite of Passage."
9:00 – 9:30 
Exploring The Bradley Method®
› "It is our belief that most women can be taught to give birth naturally with proper education, preparation, and the help of a loving and supportive coach. The Bradley Method encourages mothers to trust their bodies using natural breathing, relaxation, nutrition, exercise, and education."
9:30 – 10:00 
Taking Care of Mom and Making Milk for Baby even if the plan changes
Thanks to the support of my amazing family, I get out and spread the word about childbirth education several times a year.  I can't tell you how many times I have heard, "I wanted a natural birth, but…" Or, "I tried for a natural birth, but…"
Newsflash: however it happened, YOU GREW AND BIRTHED A HUMAN BEING!!!
That in and of itself is incredible.
During our last half-hour together, we'll take a look at some of the things to consider if your birth plan twists and turns to help you preserve the breastfeeding relationship, and what you can take away from every birth experience, even if you think that you "failed".  We will leave some time to talk about this perception of "succeeding" or "failing" at birth.  You might be surprised at what you might discover about the birth journey that prepared you to be the mother that you are today.
I hope to see you at the conference for the whole weekend, and of course I would be honored if you choose to spend some time with me on Saturday morning!
If you can RSVP and help me get a better idea of a head count, I would be very grateful.  As a thank you for your help, I will bring you a special gift…so call or text me today and let me know if I should save a seat for you!
Conference Registration:
RSVP for my presentation on Saturday, August 27 at 8:30 am
602.684.6567 CELL or TEXT
ALSO...our upcoming classes
Other events for Breastfeeding Awareness Month: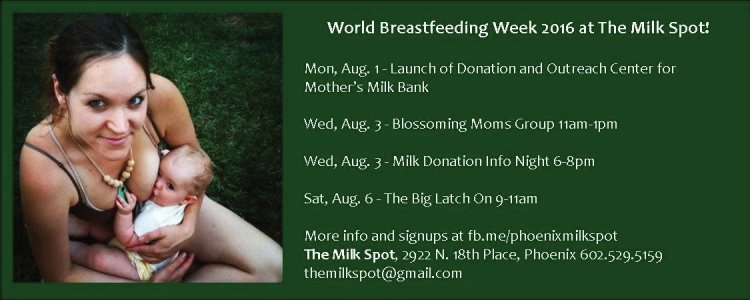 Disclaimer: 
The material included in this blog post is for informational purposes only. It is not intended nor implied to be a substitute for professional medical advice. The reader should always consult her or his healthcare provider to determine the appropriateness of the information for their own situation.  Krystyna and Bruss Bowman and Bowman House, LLC accept no liability for the content of this site, or for the consequences of any actions taken on the basis of the information provided.  This blog and video contain information about our classes available in Chandler, AZ and Payson, AZ and is not the official website of The Bradley Method® or Birthing From Within. The views contained in this video and on our blog do not necessarily reflect those of The Bradley Method®, the American Academy of Husband-Coached Childbirth®, or Birthing From Within.
Categories: Birthing From Within, Bradley Method®, Breastfeeding, Breastfeeding Challenges, Breastfeeding support, La Leche League
/