...celebrating every swee​t pea their birth
| | |
| --- | --- |
| Posted on August 22, 2016 at 12:15 PM | |
"In Their Own Words" is a blog series we share to bring you "real life" experiences from other mothers and their families.  Would you like to share your story? Please email me at [email protected] to get started.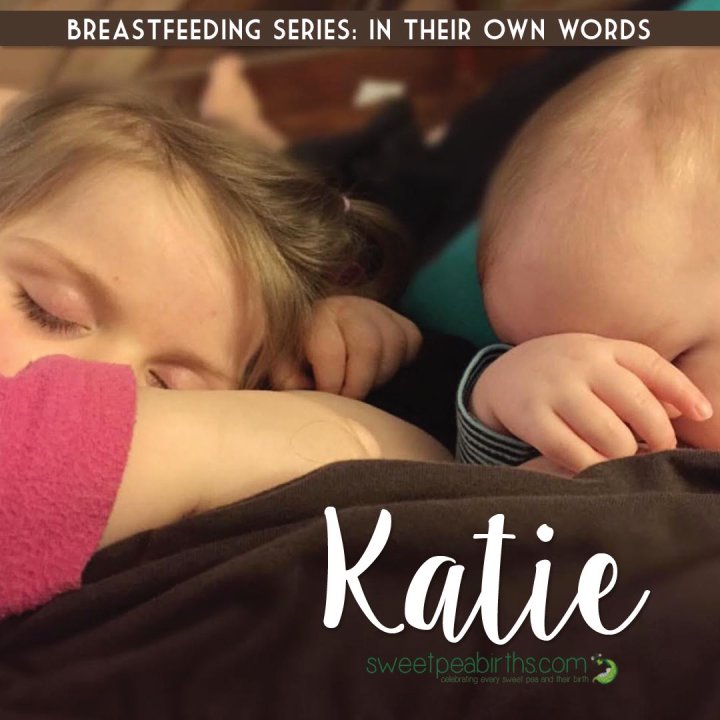 Click HERE to read Katie's submission for our ITOW series in 2012, written when her older nursling was 19 weeks old.
If you've read my earlier breastfeeding stories, you know how much I've dreamed of tandem breastfeeding. My dream came true July 2015. I've been tandem breastfeeding for over 13 months now, with my older nursling - my third child - being 4.5 years old (and I haven't had a decent night's sleep in about 4.5 years). If you've read my earlier stories, you will also notice this one is shorter. I think it's because we've just hit our groove. Anyway, you're probably here to learn about tandem breastfeeding.
I cannot say how amazing tandem breastfeeding can be. Obviously it can be convenient when both nurslings need comfort, especially at bedtime when everyone is cranky. 
Beyond the convenience, is the amazing: I'm talking about snuggling two children close to me while they look into my eyes or drift off to sleep. I'm talking about intense bonding hormones washing over me like a tidal wave. I'm talking about looking down to see my two children holding hands as they do their favorite thing together. I'm even talking about the laugh I get when they fight while they're breastfeeding, just like they did when she breastfed while he was still in utero. I'm definitely also talking about the laugh I get when the baby trolls the preschooler, like slowing moving his hand closer and closer to "her" boob or tousling her hair and brushing it into her face. (Seriously...as bad as I feel for her, it is hilarious.)
On the other hand, tandem breastfeeding is taxing. My body works that much harder to make milk. I get that much less sleep. Sometimes I'm touched out, and I just have to say no to the preschooler, and she has a meltdown. And I feel horrible, because I've just denied her something she believes is essential, and something that is an integral part of her relationship with me.
Many people tell me to wean my older nursling, or at least night wean, especially since my sleep is so poor. If that is a mother's choice, more power to her. I do not have the desire to make my child wean. I feel bad enough when I wave her off - sometimes pry her off - during the day and occasionally at night. 
I love to breastfeed my children. I love the connection. I love the security. I love the superpower-like feeling of nourishing and comforting a child with my body's natural abilities. I'm of the mindset that I absolutely will not make one of my children wean without absolute necessity. I will also be devastated when they wean. I love breastfeeding, even though it's hard.
There are always a few technical questions when it comes to tandem breastfeeding. How did I know the baby got enough? Did I make the older nursling wait her turn? How do I physically nurse them both, like am I an expert Tetris player? What about sharing illnesses? And the list goes on. 
First of all, there are a lot of resources available to assuage a mother's concerns, like La Leche League (LLL) meetings, and a book put out by LLL called Adventures in Tandem Nursing: Breastfeeding During Pregnancy and Beyond by Hilary Flower. 
Here are some of my responses:
As for making sure the baby is fed, many will say, "feed the baby first," but I say follow the advice for any breastfeeding mother regarding making sure her baby is fed. I don't make the older child wait unless I'm feeling overwhelmed. That has nothing to do with tandem breastfeeding and everything to do with hormones, and if she weren't 4.5 (like if she were just a toddler), I'd probably be more inclined to not make her wait.
I do typically make her jump on second, though, for logistical purposes. It's usually easier to get the baby into position and let her figure out how she's going to nurse around him. This has gotten trickier as he's gotten bigger (we definitely cannot tandem in a chair anymore; I usually choose the couch). When he was small, I could cradle them both, with him laying in her lap. Now I can barely cradle her at all because she's grown so much, so he gets my lap, and she gets the "football hold," if she's laying down. If somehow she got on first and he decides he just has to nurse NOW, which is a theme these days, he gets the football hold. She won't tolerate him on her anymore. In bed, she usually climbs on top of me while he lays next to me.
Finally, as far as illness, we haven't had to deal with thrush, but I'd probably do assigned breasts for that, and all the other stuff--well, we all have the same germs because we live together! Their new thing is to jump on the other side as soon as the other child is done, anyway.
So, is tandem breastfeeding easy? No, except when I can take down two cranks at the same time...then it's easier than the alternative.
Is tandem breastfeeding for everyone? Nope. Aside from determination and patience, it takes a true desire to do it.
Is tandem breastfeeding worth it? When it's good, it's great. And for me, the good far outweighs everything else.
Thank you to Katie for sharing her update on their breastfeeding journey today <3 I hope it has touched you and inspired you in some way, and that you will take heart and courage in your own breastfeeding (and maybe tandem nursing!) journey.
Katie Newton is an alumni mom from our Fall 2011 and Spring 2015 Classes.  She and her husband have four children.  See more of Katie's "random thoughts and mutterings" by visiting her blog,
UPCOMING EVENTS
Phoenix La Leche League: Live, Latch, Love
As part of the LLL area conference
August 26th, 5-7 PM
Embassy Suites Biltmore
La Leche League Conference
August 26-28, 2016
Embassy Suites Biltmore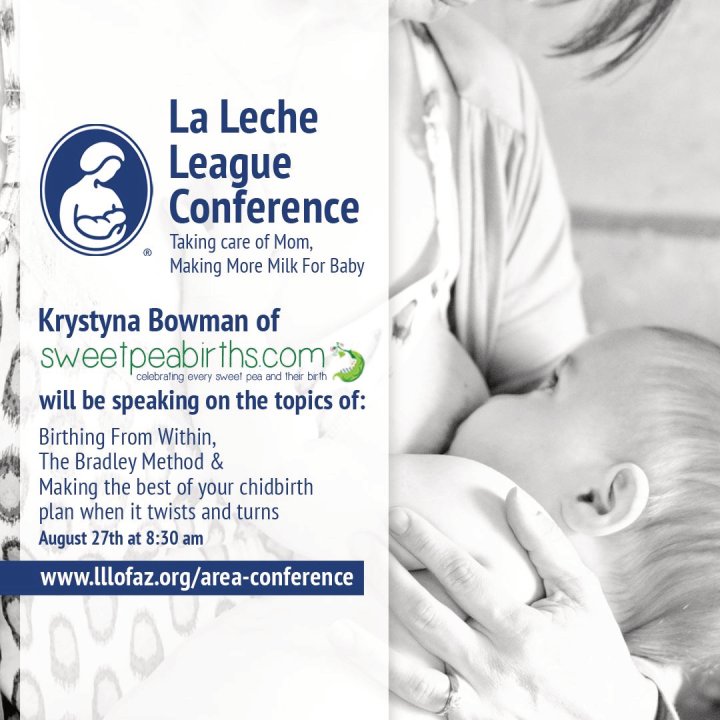 Disclaimer: 
The material included in this blog is for informational purposes only. It is not intended nor implied to be a substitute for professional medical advice. The reader should always consult her or his healthcare provider to determine the appropriateness of the information for their own situation.  Krystyna and Bruss Bowman and Bowman House, LLC accept no liability for the content of this site, or for the consequences of any actions taken on the basis of the information provided.  This blog and related videos contain information about our classes available in Chandler, AZ and Payson, AZ and is not the official website of Birthing From Within or The Bradley Method®. The views contained in this video and on our blog do not necessarily reflect those of Birthing From Within, The Bradley Method® or the American Academy of Husband-Coached Childbirth®.
Birthing From Within and Bradley Method® natural childbirth classes offered in Arizona: convenient to Chandler, Tempe, Ahwatukee, Gilbert, Mesa, Scottsdale, Payson
Categories: Breastfeeding, Breastfeeding Awareness Month, Breastfeeding Challenges, Breastfeeding support, In Their Own Words, Tandem Nursing, World Breastfeeding Week
/