...celebrating every swee​t pea their birth
| | |
| --- | --- |
| Posted on August 25, 2016 at 9:57 AM | |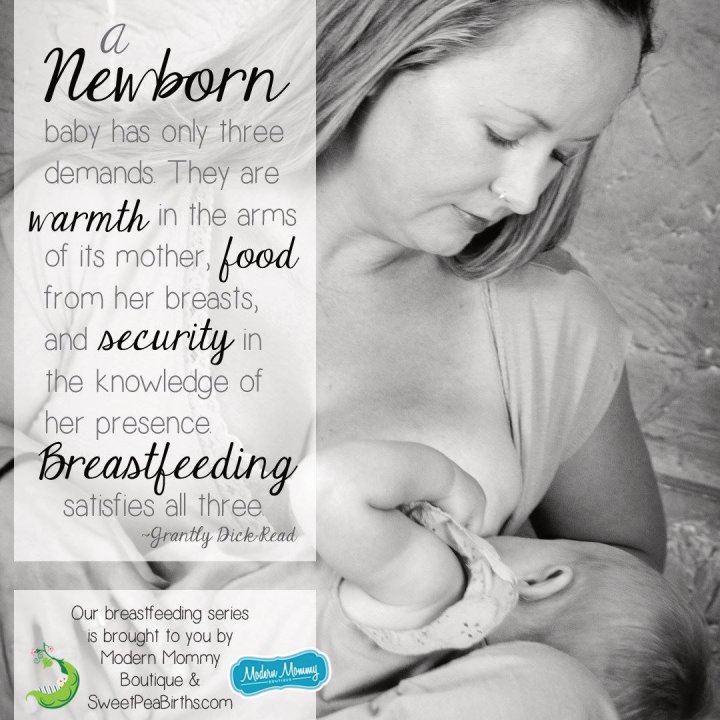 Breastfeeding is biologically designed to keep us wired to our newborns so that they stay warm, safe, and alive.
All those glossy, shiny pictures that show ethereal mothers and sleeping babies - they are nice. Realistic? Not so much.
The immediate postpartum period is hazy. We are coming out of the birth journey through labor land, our hormones are adjusting to being not pregnant, we are minus the placenta that has been a hormone factory since it formed in utero to support the pregnancy; oh, and we have a tiny little human to look at in wonder and keep alive every day.  Add in all the leaking from our eyes, our breasts, and our vagina...and the possibility that everyone wants to come over and see the baby so now you have the pressure of cleaning a house and being presentable yourself...it's a chaos and adjustment period like no other.
Like today's quote says, breastfeeding meets all of our newborn's needs: safety, security, and nourishment.  I have said this before and I will say it again...the only thing you *have* to do in the immediate postpartum is rest and get to know your baby.  Dim the lights, stay in bed, do lots of skin-to-skin with your newborn; get up only to use the restroom or shower.
Let everyone else take care of you: all meals in bed, and limit visitors to the ones that are comfortable seeing you naked and/or breastfeeding (and that you are comfortable if they see you naked and/or breastfeeding!). The only thing you need to do in the days after your baby is born is recover from the birth journey and feed your baby. I ask my students to at least consider a minimum "lying-in" period of 3-7 days. 
It is important for everyone to get sunshine. Along with lying in, we also did about 30-60 minutes outside during indirect sunlight hours to go for a walk and get some fresh air while keeping baby skin-to-skin.
Once you have gotten lots of sleep to recover from the birth journey and have breastfeeding established, start adding more to your routine. If you have older children, it is definitely okay to ask for help with them so at the very minimum mom and the new baby can bond and get organized with living, breathing, and breastfeeding together. This is a great time for the partner to step up and do bonding time with the older siblings so that they feel attended to and seen even though there is a new person in the house.  
You can also switch roles! We would have a nap time when Bruss would do skin-to-skin with the new baby while I stayed out of the bedroom. I would use that time to connect with the older sweet peas in the house. Maybe we would go outside together, read a book, play games, do a craft; something to let them know that they were still seen and loved by me although I had the new sweet pea to nourish, too.
In this age of information, it is easy to read too much and get overwhelmed with all the do's and don'ts that are available on the internet and on-line forums, including this post you are reading right now!!  My best advice: read your baby.  The baby books are general information.  YOU KNOW YOUR BABY BEST. Never, ever doubt your mother's intuition.
You know what your baby needs, your baby knows what (s)he needs, just do that. You cannot spoil a baby by holding them too much.  You cannot overfeed a breastfed baby, even if it was just 20 minutes since the last time they ate: you are giving them a LIVE fluid that is easily digested and used efficiently by the body...yes, they might *really* be hungry again.
The last idea I want to leave you with is the two magic words: FOR NOW.  This phase you and your baby (and the family) are going through is FOR NOW. It is not forever, it is not for a lifetime...it is FOR NOW. The baby is eating around the clock FOR NOW. The baby is not sleeping FOR NOW. You are feeding around the clock FOR NOW. You are cluster feeding FOR NOW. You are leaking everywhere FOR NOW.
The phases will pass and you will be onto the next FOR NOW before you realize it. By the time your sweet pea is 6 months old, you will have a good handle on this keeping them safe and alive thing that is also called parenting.  Ask for help when you need it from the people who will do what needs to be done without passing judgement on your choices for your family. Seek out and become involved in support groups (they are available online and IRL) that align with your parenting philosophy and breastfeeding goals.
Best wishes as you make your way in the world with your sweet pea - you've got this.  You are the parent that your baby needs.
UPCOMING EVENTS:
Phoenix La Leche League: Live, Latch, Love
As part of the LLL area conference
August 26th, 5-7 PM
Embassy Suites Biltmore
La Leche League Conference
August 26-28, 2016
Embassy Suites Biltmore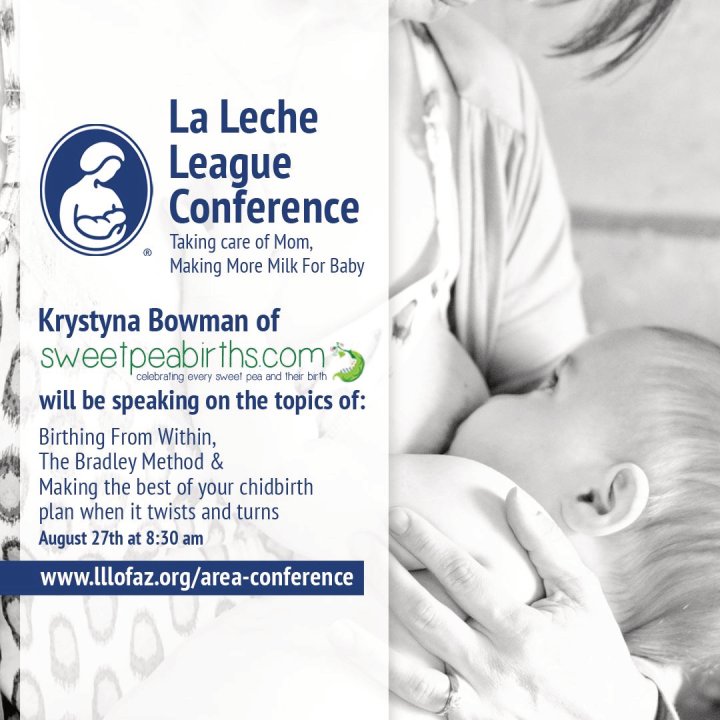 Disclaimer: 
The material included in this blog is for informational purposes only. It is not intended nor implied to be a substitute for professional medical advice. The reader should always consult her or his healthcare provider to determine the appropriateness of the information for their own situation.  Krystyna and Bruss Bowman and Bowman House, LLC accept no liability for the content of this site, or for the consequences of any actions taken on the basis of the information provided.  This blog and related videos contain information about our classes available in Chandler, AZ and Payson, AZ and is not the official website of Birthing From Within or The Bradley Method®. The views contained in this video and on our blog do not necessarily reflect those of Birthing From Within, The Bradley Method® or the American Academy of Husband-Coached Childbirth®.
Categories: Baby, Baby blues, Breastfeeding, Breastfeeding Awareness Month, Breastfeeding Challenges, Breastfeeding support, Newborn, Newborn Care, Postpartum, Postpartum Depression, Postpartum Doula, Postpartum Plan, World Breastfeeding Week
/