...celebrating every swee​t pea their birth
| | |
| --- | --- |
| Posted on August 30, 2016 at 10:01 AM | |
Today's question on Q&A with SPB: 
We are joined by Jennie Bever, PhD, IBCLC at the Arizona Breastfeeding Center to answer that question:
Recap:
You are not alone! This is a common question/worry that many moms have during pregnancy and postpartum.
There are many myths, tips and tricks that people share that may work for some moms, but really don't get to the core of the issue: how much milk is moving through the breast? The fact about milk production is that the more milk that is demanded, the more milk will be made.
So a lot of the time it's not really a supply issue, as much as it is a removal issue. In order to make milk, the body needs the signal that more milk is needed.
Some things to consider:
Is the baby breastfeeding well, e.g., does the baby have a good latch?
If the baby is working on latching, then get busy moving the milk! It's may be time to start pumping.
Maybe it's time to call an IBCLC to find out what is needed for your situation.
Krystyna's little side note about pumps to consider:
Do I have the right pump for the job I need it to do?
Are all the parts working and do I have the right size flange?
An IBCLC can help you with both evaluating how you and baby are moving milk, and also answer any questions you have about pumping.
The bottom line:
While some of the galactagogues out there may help, you don't want to create more milk that still can't be moved...that may cause another hurdle (i.e., pugged ducts, mastitis). So before you spend lots of money on the "magic" herbs, teas, and foods that help some moms make more milk, check in with a lactation counselor to make sure that you and your baby are doing your best to remove the milk that is already being made.

Thank you again to Jenny for taking the time out of her busy day to answer today's Q&A with SPB!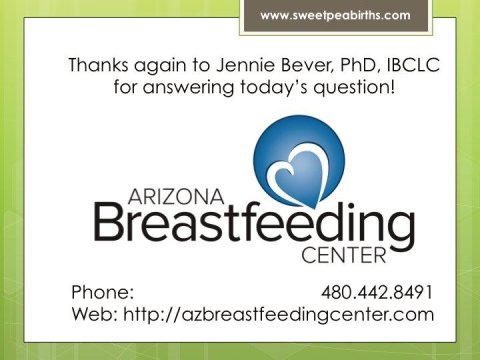 Disclaimer: 
The material included in this blog is for informational purposes only. It is not intended nor implied to be a substitute for professional medical advice. The reader should always consult her or his healthcare provider to determine the appropriateness of the information for their own situation.  Krystyna and Bruss Bowman and Bowman House, LLC accept no liability for the content of this site, or for the consequences of any actions taken on the basis of the information provided.  This blog and related videos contain information about our classes available in Chandler, AZ and Payson, AZ and is not the official website of Birthing From Within or The Bradley Method®. The views contained in this video and on our blog do not necessarily reflect those of Birthing From Within, The Bradley Method® or the American Academy of Husband-Coached Childbirth®.   
Birthing From Within and Bradley Method® natural childbirth classes offered in Arizona: convenient to Chandler, Tempe, Ahwatukee, Gilbert, Mesa, Scottsdale, Payson
Categories: Breast Pumps, Breastfeeding, Breastfeeding Awareness Month, Breastfeeding Challenges, Breastfeeding support, Information Center, Q&A with SPB, World Breastfeeding Week
/