...celebrating every swee​t pea their birth
| | |
| --- | --- |
| Posted on September 8, 2016 at 9:52 PM | |
 Puma and I got to see the Amorini Silver Nipple Soothers™ vendor table when we visited a Club MomMe event in California last year.  At the time, we didn't get to connect with the rep since the table was unattended the couple of times we stopped by.  We get this, though!! I have been a solo rep at events before and I know how hard it is to be at your booth 100% of the time.
Imagine my delight when we got to meet the founder of Amorini at our local Arizona La Leche League conference in August!! D'Ana Marcin is an absolutely lovely person with an equally lovely product to help breastfeeding mothers…read all about her product and what inspires her in today's "Inside Look".
Tell me about Amorini Silver Nipple Soothers™.
Amorini is a set of two "soothers" made of Silver 925 and designed to help prevent, protect and heal sore, cracked and bleeding nipples for breastfeeding mothers. 
Who would benefit from using Amorini? 
All expecting and new mothers that intend to breastfeed and/or pump breastmilk. 
Although Amorini Silver Nipple Soothers™ are most often used to protect and promote healing of sore nipples, they are also an effective preventative measure. 
When would mothers want to use Amorini Silver Nipple Soothers? About how long can they expect to use them?
 Ideally mothers would start using the Amorini Silver Nipple Soothers™ before the birth of their child as a preventative measure and they will continue using them for as long as the pain persists. 
Mothers whose child/children have difficulty latching or have a shallow latch are more prone to severe nipple pain and cracks. It is highly recommended the use of Amorini as the family is working with a Certified Lactation Consultant to correct the latch. 
Mothers whose child has been (or not!) diagnosed with tongue-tie are also susceptible to severe nipple pain. We recommend the use of Amorini Silver Nipple Soothers™ while working with a specialist to treat the tongue-tie. 
Amorini are typically used for the first 3 to 4 weeks of breastfeeding or until any underlying issues have been corrected. Some babies may try and gently bite the nipple when they start teething or when teeth start cutting through the gums. That can irritate the nipple and provoke another wave of painful breast-feeding session for the mother. Amorini can help in these cases as well.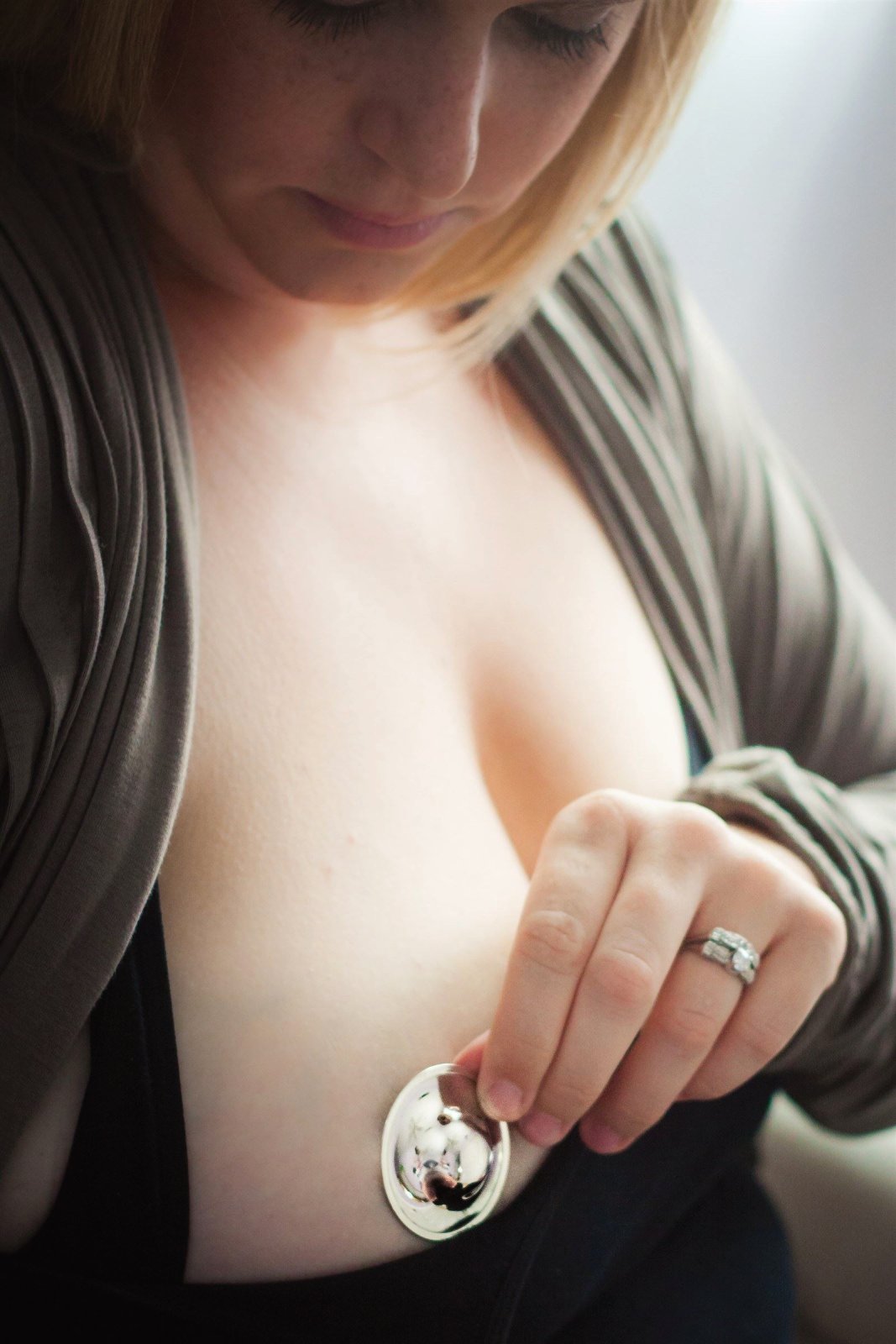 What makes Amorini unique?
Amorini harnesses the antibacterial and healing properties of Silver to help prevent, protect and promote healing for sore, cracked and bleeding nipples in a natural and safe way. 
Silver Nipple Soothers are the most popular product for nipple care in Italy and have been proven to be highly effective among new mothers. Amorini is the only American brand of Silver Nipple protectors, founded by an Italian mother who has recently relocated to California. They are designed and crafted in Italy and are made of medical grade Silver. 
What motivated you to start Amorini Silver Nipple Soothers™?
In September 2013 I gave birth to my beautiful daughter. I had taken breastfeeding classes and I was gifted a tube of lanolin cream at my baby shower. I thought I had everything I needed to be able to breastfeed. Baby girl started breast-feeding like a champion less than an hour after birth but before I knew it my nipples became raw and the pain was almost unbearable. The latch seemed normal according to my lactation consultant and there was plenty of colostrum for my baby to suckle on, but the pain was only getting worse. 
I am very sensitive in the nipple area and that seemed to be the only explanation for my pain. 
Three days later, my longtime friend and NICU nurse from Italy sent me these "miraculous silver nipple cups" and they were everything she had told me they would be! Within 24 hours I started feeling significant relief and by the third day of using them I was almost pain free and all the cracks were healed. 
I wanted to gift them to all my pregnant friends but I wasn't able to find them in the United States. For months my family mailed me countless Silver Nipple protectors sets so I could share with all my friends. 
Until one day I decided I needed to bring these to the US and make them available to all mothers and expecting mothers! And so it all began! :) 
Is there anything else our readers should know about Amorini?
Amorini Silver Nipple Soothers™ are Nickel free therefore are considered hypoallergenic.  
Please refer to our Q&A page on our website or contact Amorini with any questions or concerns.  
What inspires you?
My beautiful, joyful, fearless daughter is my biggest inspiration! 
Helping mothers achieve their breastfeeding goals is my purpose and my motivation.
Do you want to see something amazing? Watch D'Ana share her hobby and her business in this fun YouTube video!!
video: 
https://youtu.be/AdDT5v94xzM
For more reading on how silver can help treat sore nipples check out these links:
From Fact Based Health:
From California Healthy Living Magazine:
Disclaimer: 
The material included in this blog is for informational purposes only. It is not intended nor implied to be a substitute for professional medical advice. The viewer should always consult her or his healthcare provider to determine the appropriateness of the information for their own situation.  Krystyna and Bruss Bowman and Bowman House, LLC accept no liability for the content of this site, or for the consequences of any actions taken on the basis of the information provided.  This blog and related videos contain information about our classes available in Chandler, AZ and Payson, AZ and is not the official website of The Bradley Method®. The views contained in this video and on our blog do not necessarily reflect those of The Bradley Method® or the American Academy of Husband-Coached Childbirth®.
Bradley Method® natural childbirth classes offered in Arizona: convenient to Chandler, Tempe, Ahwatukee, Gilbert, Mesa, Scottsdale, Payson
Categories: Breastfeeding, Breastfeeding Awareness Month, Breastfeeding Challenges, Breastfeeding support, Next pregnancy, Nursing, Postpartum, Postpartum Plan, World Breastfeeding Week
/