...celebrating every swee​t pea their birth
| | |
| --- | --- |
| Posted on September 21, 2016 at 7:47 PM | |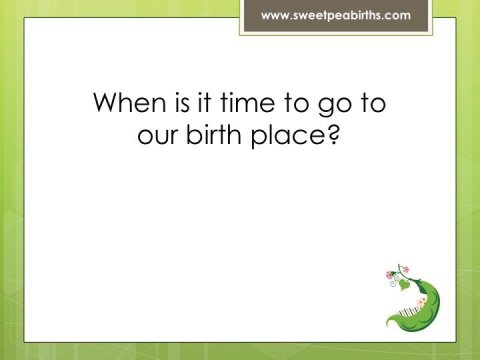 We get this question a lot, and it came up again when we taught class on Friday evening.  The most common answer uses the acronym "5-1-1".
When you have this pattern established:
5 ~ Contractions are five minutes apart

1 ~ Contractions are lasting one minute

1 ~ This pattern has been established for one hour
...then it is probable that a change in activity is not going to slow down your labor.
There are other variations of this...some providers will say 4-1-! (four minutes apart, lasting a minute and in this pattern for an hour), and I have even known some hospital-based midwives say 3-1-1 (three minutes apart, lasting a minute, and in this pattern for an hour).
However:
Consider how far you are going to travel to your birth place: if you are going to be driving 45 minutes or more, you many consider getting a hotel or bunking down with a friend who lives withing a few minutes of your birth place so that you can head there when you think you are in labor.
Consider what time of day you might be driving: have a couple of alternate routes in mind.
TRUST YOUR INSTINCT: If for any reason, anything feels off or like it needs more attention, never hesitate to head to your birth place for more information, not matter what kind of labor pattern you happen to be experiencing.  Just go get more information and ensure you and your baby are well and ready for labor.
So hopefully that gives you a little better idea of what to plan for when it's time for your Sweet Pea's Birth-Day!!
Here is another video from our archives that you might like...it offers some suggestions to make that transition from home to birth place as smooth as possible in order to continue the good work you have started at home.
How to make a smooth transition during labor:
Do you have any "going to the hospital" tips to share? Please leave us a comment below!
Disclaimer: 
The material included in this video is for informational purposes only. It is not intended nor implied to be a substitute for professional medical advice. The viewer should always consult her or his healthcare provider to determine the appropriateness of the information for their own situation.  Krystyna and Bruss Bowman and Bowman House, LLC accept no liability for the content of this site, or for the consequences of any actions taken on the basis of the information provided.  This blog and video contain information about our classes available in Chandler, AZ and Payson, AZ and is not the official website of The Bradley Method®. The views contained in this video and on our blog do not necessarily reflect those of The Bradley Method® or the American Academy of Husband-Coached Childbirth®.
Birthing From Within and Bradley Method® natural childbirth classes offered in Arizona: convenient to Chandler, Tempe, Ahwatukee, Gilbert, Mesa, Scottsdale, Payson
Categories: Birth, Birth center, Birth Centers Phoenix AZ area, Birth place options, Coach's Corner, Coaching, Labor Marathon, Labor Sprint, Labor Support, Q&A with SPB
/