...celebrating every swee​t pea their birth
| | |
| --- | --- |
| Posted on October 4, 2016 at 5:14 PM | |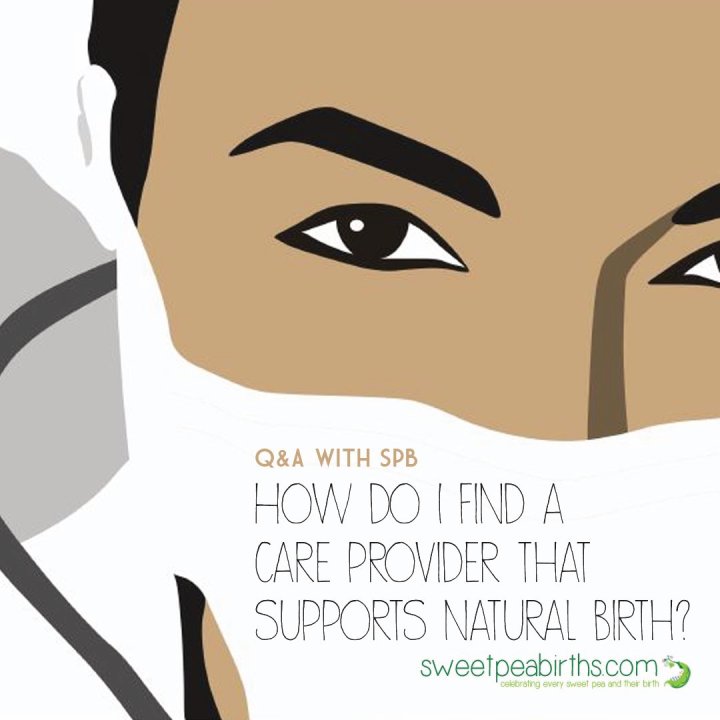 A question that came up in our Friday night class was, "How do we know if our doctor supports natural birth?"

Here are some questions to ask to find out:
Here are the questions with a little more detail:
1) How do you feel about natural birth?
If you ask, "Do you support natural birth?" you will probably get a "yes" answer because they want your business and/or they want to make you happy.
Asking "how do you feel about" gets them to talk more about their beliefs and basic understanding of how a natural birth works in a hospital setting.
2) What has been your experience with couples who want a natural birth?
If you hear rave reviews, yeah! I offer a follow up question, "How many of your couples who prepare for a natural birth end up with what they wanted?"  A vaginal birth rate of around 85% is typical for a provider that supports hands-off birthing...how many of those are unmedicated versus medicated depends on the practice.
Some providers may be "natural birth tolerant", so while they don't practice a "hands off" approach, they also don't interfere when a couple is following a natural birth plan.  They may have a more middle-of-the road, "we'll see how it goes" attitude when you ask this question.
If the care provider is skeptical or outright dismissive, that is your sign that you may need to "break up" with your care provider.  Even if it is the doctor your family has been going to for years.  Check-in and ask what their vaginal and cesarean birth rates are for a follow-up question.  If the cesarean birth rate is higher than 30%, your chances are much higher of receiving interventions than if your provider takes a "Wait and see" approach to the birth journey.
3) What do you recommend for natural birth preparation?
 If they have had patients have natural births before and/or if they are in touch with the birth community (childbirth educators, doulas), they may have an idea about what their patients in the past have used to prepare.
If they give you a blank stare...red flag!! They really don't know what the options are...which may lead back to the question, "How many of your patients have had intentional natural births?"
Speaking of red flags, here are the two red flag statements I teach to all our students:
We'll let you
We'll allow you
Those phrases indicate that your provider has rules about how you are going to birth.  If you fall out of their range of normal, which may or may not be evidence-based, you are going to be forced to birth their way.
I encourage you to find out more about what "their way" means.  If they are going to set time limits or set expectations, do your own research to see if their parameters are evidence-based or practice-based, i.e., "How did you determine that rule for your patients?"  And you can also check the links below for some reliable research sources for evidence-based information about birth.
Ideally, your provider will not set time limits or rules AS LONG AS mom is okay and baby is okay.  As long as both appear to be doing well via monitoring and observation, then birth is probably progressing as it meant to be *for them*.  Each birth is unique.
If, God forbid, your birth has an unexpected variation or complication, you want to be sure that you trust your care provider explicitly.  If they are in a situation where they need to make a life-saving choice for you and/or your baby, you want to know that you are hiring a person that works in alignment with your beliefs and your wishes.
In closing, don't be afraid to trust your instinct.  Find the care provider that makes sense for your family - there are no "do-overs" in birth.  As you prepare to meet your Sweet Pea on their Birth-Day, choose a care provider choice that you trust and that trusts you back.
Links for more reading:
Taking charge of your maternity care 
Cochrane Pregnancy and Childbirth
Consumer Reports: What to REJECT when you are expecting
Consumer Reports: Your biggest [cesarean birth] risk may be your hospital
Disclaimer: 
The material included in this video is for informational purposes only. It is not intended nor implied to be a substitute for professional medical advice. The viewer should always consult her or his healthcare provider to determine the appropriateness of the information for their own situation.  Krystyna and Bruss Bowman and Bowman House, LLC accept no liability for the content of this site, or for the consequences of any actions taken on the basis of the information provided.  This blog and video contain information about our classes available in Chandler, AZ and Payson, AZ and is not the official website of The Bradley Method®. The views contained in this video and on our blog do not necessarily reflect those of The Bradley Method® or the American Academy of Husband-Coached Childbirth®.
Birthing From Within and Bradley Method® natural childbirth classes offered in Arizona: convenient to Chandler, Tempe, Ahwatukee, Gilbert, Mesa, Scottsdale, Payson
Categories: Birth, Birth place options, Birth plans, Birth Story
/