...celebrating every swee​t pea their birth
| | |
| --- | --- |
| Posted on November 8, 2016 at 10:50 AM | |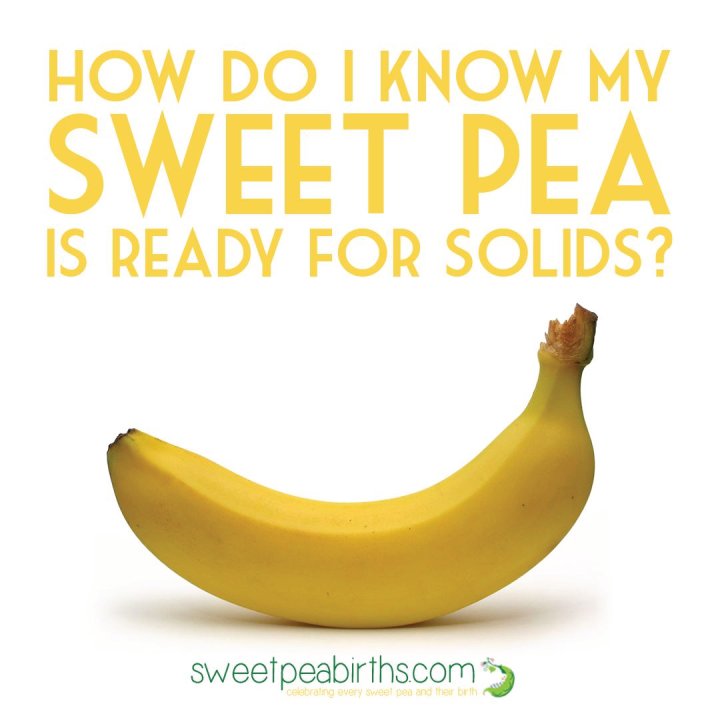 Q: How do I know if my Sweet Pea is ready for solids?
A: There are four things to look for!!


First of all, you want to be sure that your baby is interested...they WANT to eat.  You will know by their behaviors... they are interested, tracking food with their eyes when you eat, and/or  they reaching for the food around them!! It has nothing to do with what your family or friends have to say about it or what the people in your meet-up groups are doing with their Sweet Peas who are in a similar age bracket.  You and your baby know best!!  If you are concerned about your baby's development, then please reach out to your trusted care provider and see what they have to say on the matter.
After you decide that your baby is ready, look for these next three signals of food readiness.  We learned these points over the years of attending La Leche League meetings, Our family waited for these to be true before we started offering our sweet peas "table food":
Sweet Pea can get themselves into a seated position and hold themselves there without being propped up by pillows, chairs, other people, etc.
Sweet Pea has developed their pincer grip...in other words my breasts and the back of my arms were black+blue from being pinched. What it also means is that our Sweet Pea was now able to hold food on their own by grasping it between their thumb and their pointer finger.
Sweet Pea has lost their tongue-thrust reflex and could move food to the back of their mouth without choking on it.  The tongue-thrust reflex is great for exclusive breastfeeding.  Until the Sweet Pea can differentiate between using it to breastfeed and not using it when they are going to have solids, then all you are going to get is solid food everywhere except inside your Sweet Pea.
Personally, I am not a fan of commercial baby cereals that are full of ingredients that I cannot pronounce without breaking down every syllable.  Rest assured, choosing the alternatives are not as time-consuming as you would imagine...
Here are some sites that have helpful information about introducing solids:
Baby-Led Weaning website teaches parents how to feed solids without making purees or buying jar food - simply whole food from you to your baby
Annabel Karmel - books available at Modern Mommy Boutique in Chandler if you are local to Phoenix
I hope this helps answer the question of about knowing if your Sweet Pea is ready for solids.  
Ready to read more?
You can read our food chronicle with Otter 
HERE
.
Q&A with SPB: What do I feed my Sweet Pea after breastfeeding?
HERE
Disclaimer: 
The material included in this video is for informational purposes only. It is not intended nor implied to be a substitute for professional medical advice. The viewer should always consult her or his healthcare provider to determine the appropriateness of the information for their own situation.  Krystyna and Bruss Bowman and Bowman House, LLC accept no liability for the content of this site, or for the consequences of any actions taken on the basis of the information provided.  This blog and video contain information about our classes available in Chandler, AZ and Payson, AZ and is not the official website of The Bradley Method®. The views contained in this video and on our blog do not necessarily reflect those of The Bradley Method® or the American Academy of Husband-Coached Childbirth®.
Birthing From Within and Bradley Method® natural childbirth classes offered in Arizona: convenient to Chandler, Tempe, Ahwatukee, Gilbert, Mesa, Scottsdale, 
Categories: Baby, Baby-led weaning, Breastfeeding, Nutrition, Starting Solids
/