...celebrating every swee​t pea their birth
| | |
| --- | --- |
| Posted on February 21, 2017 at 9:55 AM | |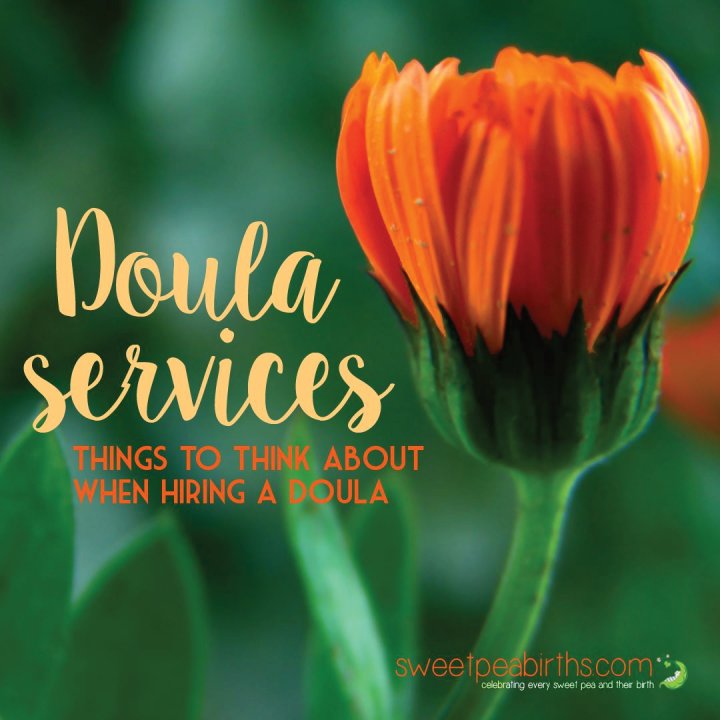 More and more people are thinking about using doulas or making space in their birth budget for doula care. Doulas are a great resource and can be a huge asset when it comes to preparing for the birth journey. My favorite analogy is that they are tour guides - they have been on the birth journey before and can point out the major landmarks and the subtle nuances. It's up to you to decide how to use that information to have your best possible birth given the circumstances.
Here are some things we share with our students when they are thinking about hiring a doula:
ONE SIZE DOES NOT FIT ALL
Doulas comes in a huge variety - there is no one right way to be a good doula.  Be sure to interview at least 2-3 so you can get a feel for their personality.  Most are happy to do a preliminary phone interview. If that goes well, schedule an in-person meet and greet. We ask our students to consider if they can see themselves naked in front of the person they hire...because it may just happen and if it does, you don't want to have to think about it - you just want to be able to do whatever you need to do to birth your sweet pea.
BASIC SERVICES
Standard doula care typically includes 2-3 prenatal visits, assistance through your birth, and 1-2 postpartum visits.
Prenatal visits last anywhere from 1-2 hours, give or take. They are intended to help you and your doula get on the same page about your birth wishes, offer some time for childbirth preparation, and also have time to talk through what your wishes are if things start to move away from your plan.
Birth support typically includes being on call for you 24/7 from 2 weeks before to two weeks after your due date. Doulas will not typically take on clients if they have a vacation planned within that window - they want to be there for you and that four-week window is a commitment they make to be available when you need them.  You will decide during your pre-natal visits when you will be calling them.  Some families want support while they labor at home, others only want labor support at the birth place. If you are having a home birth, then you will want to talk to your doula about their communication with the rest of the birth team. Again, there is no right or wrong way to use a doula - you hire them to support you in the way that you want to be supported.
A doula will be with you when you are ready for labor support and will stay with you until your baby is born. Typically they stay for 2-3 hours after the birth to make sure you are settled in your recovery space at home or at the hospital, to make sure you eat something and that breastfeeding is off to a good start. Doulas are not necessarily lactation consultants; most do have basic training to help a MotherBaby get a good latch for the first feeding.
Postpartum visits typically happen within a day or two of your sweet pea's birth, and then maybe one more at a week or two weeks postpartum to review your birth story and answer any questions you may have about your birth. While birth doulas have a different scope of practice than postpartum doulas, some may offer to prepare food or do a load of laundry or clean a bathroom, etc., while they are there.
ADD-ON SERVICES
In this day and age, many doulas offer more than birth preparation and support.  Here are some of the different services doulas may also offer:
Prenatal massage
Reiki
Maternity photography
Birth Photography
Newborn Photography
Placenta Encapsulation
Belly Binding
Postpartum Care Packages
Herbal Teas + Tinctures
IBCLC Lactation Services
PRICING
Doulas have a lot to consider when they set the fee for their service.  They have spent hours and money on training. Some continue to take classes every year to stay sharp and hone their skills. If they have children, they have to arrange and sometimes pay for childcare. Some carry liability insurance and have fees associated with maintaining a personal website. If they also offer childbirth education there are yearly dues with their certifying organization. If they are an accredited doula, they also have their yearly dues with their doula organization.  In other words, it isn't free to be a doula!
Doula services start around $400 and in some areas of the country range up to $2000 for their basic packages (prenatal visits, birth support, postpartum visits).  Fees may vary based on their experience and added services that can be factored into their fee for a "one-stop shop" experience.
Even if you don't think you can afford a doula, think about what you can offer. They can work for trade, barter, or exchange of other services. Some do offer a sliding scale or scholarship when they can - it never hurts to ask.
Those of us who love birth work and believe in supporting families so that all mothers and babies have the opportunity to birth peacefully will work with you. Do not ask a doula to work for free - as I outlined above, doulas really can't if they are working to support their family.  Even if a doula is new and "training" she has already invested in her skills in order to better support you.
THOUGHTS TO CONSIDER
Hiring a doula is a personal decision. The person that your sister or best friend loved may be a lovely person. However, that does not necessarily make them the best person to help you along on your birth journey.
Take a minute to think about what you think your ideal labor support person is going to be: hands-on, hands-off? In charge? More of a guide? Involve the husband as a partner? 
Keep in mind that although The Bradley Method® places the wife and husband as equal partners in the birth process, not all birth partners want that mantle of responsibility. If your birth partner is saying they are not sure or they absolutely do not want to be in the middle of the action, explore how that works for you.  
Your doula will help you create a space that welcomes your sweet pea. Trust your instinct about what is right for your family and make the best of the birth journey that you and your baby need.
What do you look for in a doula?
Disclaimer: 
The material included in this blog is for informational purposes only. It is not intended nor implied to be a substitute for professional medical advice. The viewer should always consult her or his healthcare provider to determine the appropriateness of the information for their own situation.  Krystyna and Bruss Bowman and Bowman House, LLC accept no liability for the content of this site, or for the consequences of any actions taken on the basis of the information provided.  This blog and related videos contain information about our classes available in Chandler, AZ and Mesa,AZ and is not the official website of The Bradley Method®. The views contained in this video and on our blog do not necessarily reflect those of The Bradley Method® or the American Academy of Husband-Coached Childbirth®.
Birthing From Within and Bradley Method® natural childbirth classes offered in Arizona: convenient to Chandler, Tempe, Ahwatukee, Gilbert, Mesa, Scottsdale
Categories: Birth place options, Birth Story, Bradley Method®, Coaches, Doulas
/