...celebrating every swee​t pea their birth
| | |
| --- | --- |
| Posted on August 25, 2017 at 11:54 AM | |
PART 1: My Breastfeeding Journey: The Greatest Gift of My Birth Experience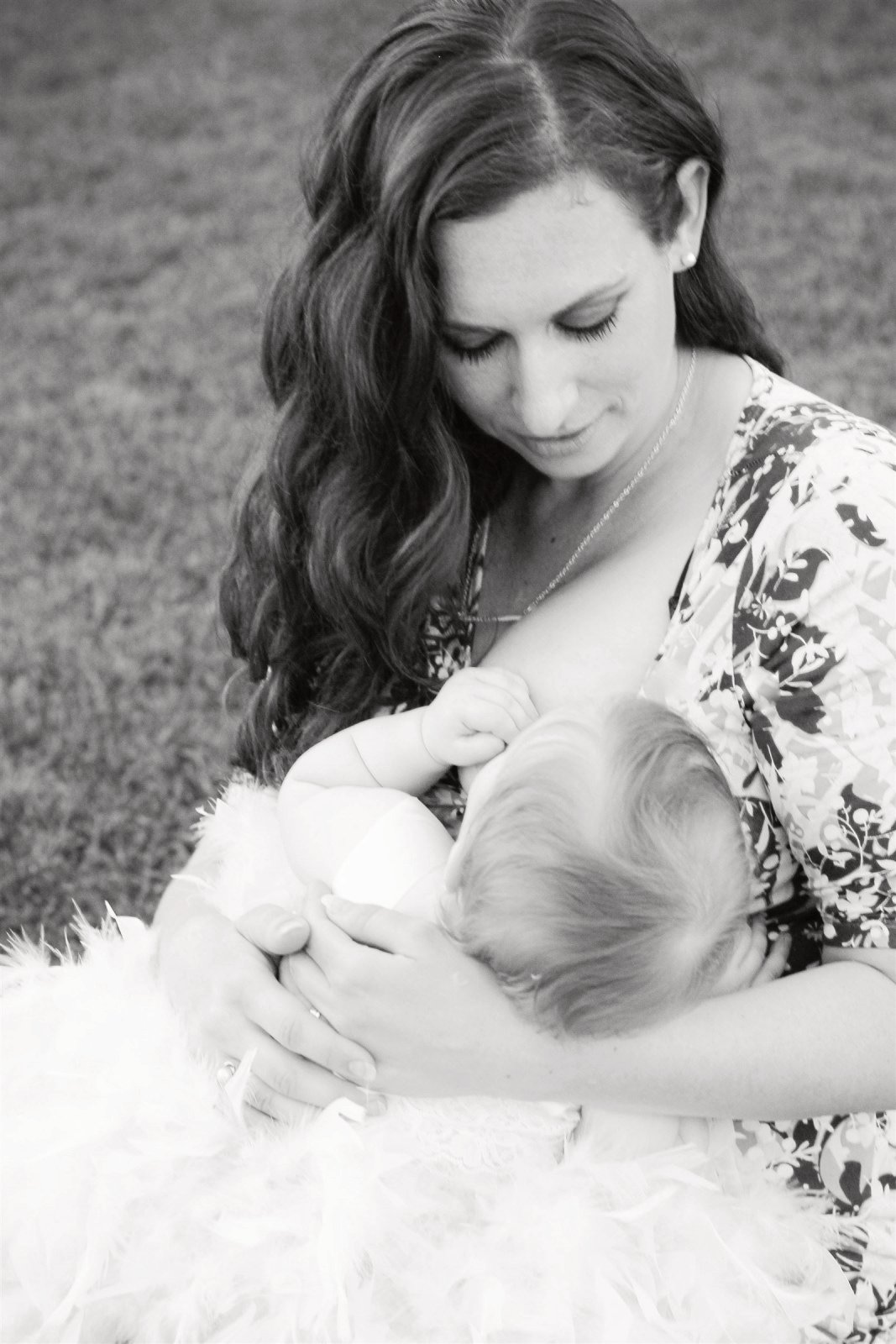 I've been breastfeeding my daughter, Scarlett, for a little over a year now, and it continues to be a very important part of our lives. I know many women in the United States choose to discontinue breastfeeding at a year, or sooner, for a variety of reasons. I have no judgment towards them. I can say I know that I won't be one of them. I'm not sure how long we will continue to nurse, but I don't see us stopping any time soon. 
I didn't go into motherhood thinking I would be an "extended breastfeeder." For those of you who have seen the HBO show Game of Thrones and saw the scene of Robin Arryn nursing well into childhood… that's kind of what I thought of as "extended breastfeeding."  I initially figured I'd give it a year and see how and where it went. Now that we've made it to 13 months and it's going so well, it seems silly to even consider stopping. It is still a large part of her nourishment, an effective way to soothe and comfort her, and our special bonding time, among many other benefits. Also, there is this huge emotional component for me: I think of our breastfeeding relationship as the greatest gift of my birth experience.
I had a traumatic birth in July 2016. I planned a homebirth and ended up transferring to a hospital for an excruciating 52-hour induction that ended in a Cesarean birth. My daughter was 10 days past her anticipated due date and didn't move enough on an ultrasound, which is what caused us to need the induction. After 2 more days of every horrible step of the induction process, and trying to hold out for an un-medicated birth, I became a statistic in the chain of interventions and one of the 1 in 3 American women whose babies are surgically delivered.  To make matters worse, Scarlett aspirated meconium at some point in our labor, and was whisked away to the NICU as soon as she was out. I didn't get to hold her for 18 hours. I didn't get to attempt to breastfeed until her third day of life.
After having everything on my birth plan derail to the horrific experience I endured, I was determined to feed my child the way that I had planned to; determined not to have breastfeeding taken from me as well. I couldn't see her during those first 18 hours, but I pumped every 2 hours like a fiend. I was told not to try to get her to latch initially because of her difficulties breathing, but I brought her all of my colostrum, requested donor milk instead of formula until my milk came in, and continued to pump and pump and pump. Finally, on the third day of her life, I made milk, and her breathing improved, and I got to learn how to nurse my baby.
We needed help at first. We met with a lactation consultant, we used a nipple shield, and we used the football hold… I drank my weight in water and ate everything in sight for a while. On day 3 when I finally got to start nursing, the hospital had rules for me: I could only nurse her for 15 minutes, then I had to go and pump and she was given a bottle of expressed milk to finish her feed so they could determine exactly how much she ate. They had their reasons I'm sure, but the effect to me was oversupply. I was nursing a hungry baby, and then pumping directly after. When we were finally released on day 5, I was sent home with about 7 bottles of extra milk I had made. I didn't know then that wasn't typical.
When we got home, my husband soon grew tired of hearing, "Babe, I need my water bottle!" However, he and Scarlett were troopers. He kept me fed and hydrated, propped up, etc. She had a good latch and was always hungry. Within a few days we stopped using the nipple shield. Within a few weeks I could move a little better after the surgery and stopped doing the football hold. Things were going more smoothly, until I began to put together the effects my oversupply was having on Scarlett. My milk came spraying out with such force that she would sometimes gag and sputter. She would occasionally throw up all over us during or directly after eating. It was frustrating to feed her when she seemed overwhelmed by my milk. It was not fun to get vomited on. Repeatedly. And feel like I was smothering my baby with my giant, milk-tastic boobs.
I asked the doctor about it. He said spit up is normal. I said it's a lot more than spit up… he said all kids throw up and not to worry about it. He was useless. I asked my Bradley teacher and La Leche League ladies and they gave me actual things to try: laid-back nursing, let gravity work for you, put baby on top of you, side-lying nursing, block nursing, burp her more frequently, stop pumping so much… all of which helped immensely. 
After a few months we finally got the hang of it. I'm glad I was able to make some adaptations to help us, and had the willpower and resources not to give up when it was hard. I honestly think my awful birth was instrumental in my steadfastness when it came to breastfeeding.
Click HERE for PART II of Erica and Scarlett's story: Making It Work
Disclaimer: 
The material included in this video is for informational purposes only. It is not intended nor implied to be a substitute for professional medical advice. The reader should always consult her or his healthcare provider to determine the appropriateness of the information for their own situation.  Krystyna and Bruss Bowman and Bowman House, LLC accept no liability for the content of this site, or for the consequences of any actions taken on the basis of the information provided.  This blog and related videos contain information about our classes available in Chandler, AZ and Payson, AZ and is not the official website of The Bradley Method®. The views contained on our blog and videos do not necessarily reflect those of The Bradley Method® or the American Academy of Husband-Coached Childbirth®.
Birthing From Within and Bradley Method® natural childbirth classes offered in Arizona: convenient to Chandler, Tempe, Ahwatukee, Gilbert, Mesa, Scottsdale
Categories: Bradley Method®, Breastfeeding, Breastfeeding Awareness Month, Breastfeeding Challenges, Breastfeeding support, In Their Own Words, World Breastfeeding Week
/