...celebrating every swee​t pea their birth
| | |
| --- | --- |
| Posted on August 31, 2017 at 9:53 PM | |
For Part I of Erica and Scarlett's breastfeeding journey, click HERE
PART II: Making Breastfeeding Work at Work, and Beyond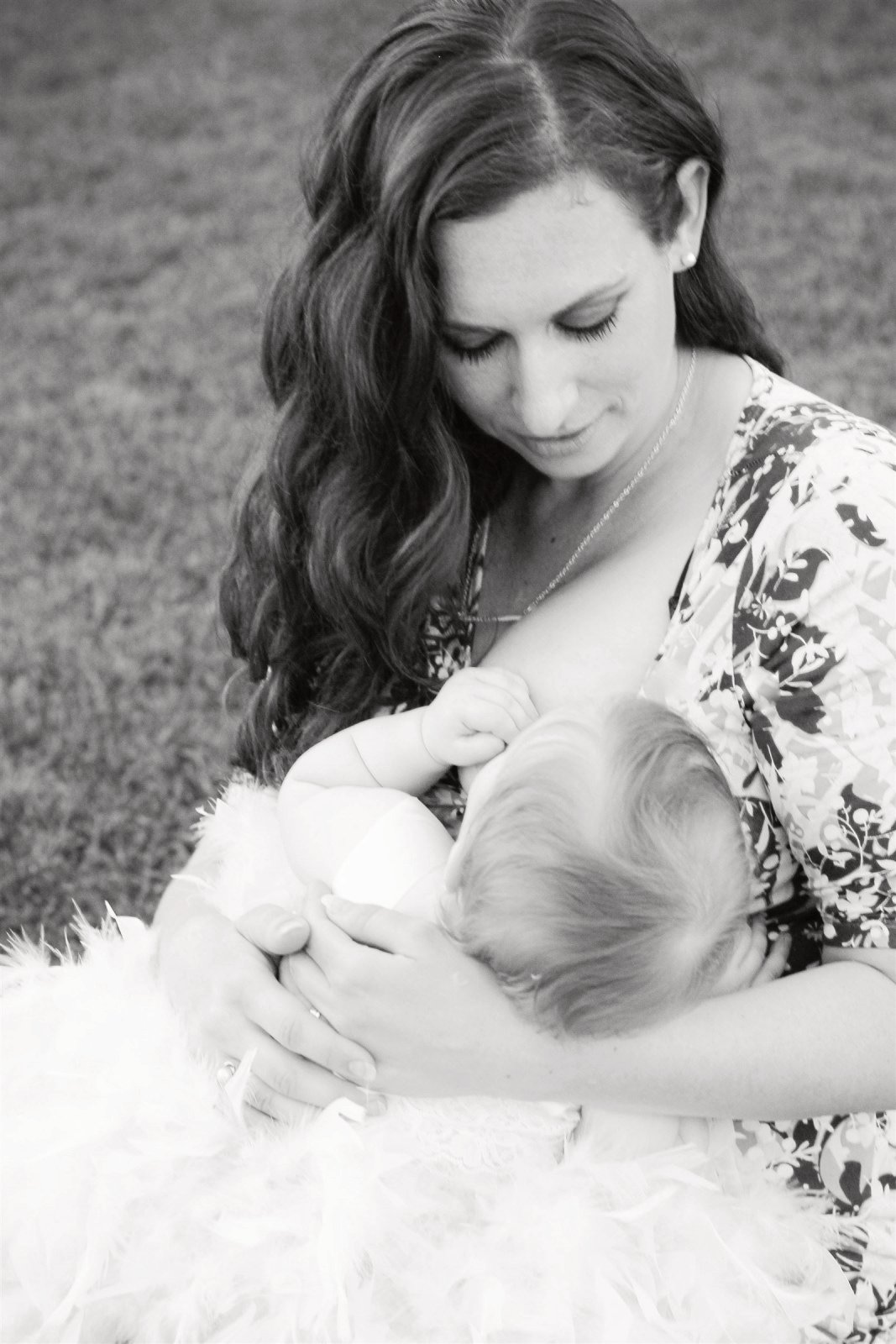 I went back to work when Scarlett was 4 months old. I was a teacher, and needed to pump twice a day, every day. That meant during my prep period, I pumped, and during lunch, I pumped. It was hard, but I wasn't about to be gone from my baby AND take away her food. She started reverse cycling to where she would barely eat at daycare, and wanted to nurse as soon as I came home, and all night long, to make up for lost time. 
We had opted to co-sleep/bed-share from the beginning for a variety of reasons (I couldn't stand the thought of her crying and needing me, I didn't want to- and couldn't at the beginning- get out of bed and walk down the hall to her room, I had spent her first 5 days without her there and I would never do that again…). Co-sleeping kept us close, and gave her the freedom to nurse when she needed to. However, the regular pumping and all-night nursing were causing me to produce a ton of milk, and she wasn't using it all at daycare. I couldn't miss a single pumping session at school because I was so engorged. But I was also paranoid of cutting back my pumping, losing my supply and not being able to do the one thing that I 'got' after my birth.
After a couple of months of that, I was losing my mind. Not from breastfeeding; it was a compilation of everything else. I could barely function from exhaustion, postpartum depression and anxiety, birth trauma resurfacing, not having enough prep time at work (because of pumping) and feeling like I couldn't do my job well enough. The only times I felt calm and happy were when I would pick her up from daycare and go home and sit on the couch and nurse. Nursing my baby kept my sanity, and allowed us to check-in with each other. It helped bring me the clarity to realize I needed to make a career transition so I could be the mom I wanted to be. I found a job where I could work from home, got a long-term sub, and didn't go back to work after spring break. It was the best decision I ever made.
While I was dealing with the career transition, Scarlett turned 6 months old, that "magic" starting-solids age, per many different "experts". I dipped my toes in those waters, but I didn't want to. I was scared it would affect our breastfeeding relationship and it seemed like we'd just gotten good at it. I didn't want it to change. So, I didn't really take "solids" seriously until she was a little over 7 months old. By then I had an end-date with my job and I knew I would be home soon. Also, she started giving me all the signs of being ready. She could sit, she reached for my food, she didn't do that tongue-sticking-out thing, she could grab with her fingers (including other kids' food at daycare). By the time I was home and she was 8 months, she was eating a little food whenever we did put some in front of her. It turned out I was worried for nothing. She loved food, but still loved to nurse as well. Also, she didn't nurse 3 times a night anymore; it was only 2—yay for more sleep!
Being home with her allowed me to go back to nursing on demand, which felt so much more natural! It also gave me the opportunity to donate the thousands of ounces of milk that I had stockpiled in my deep freezer. I had always wanted to donate since she had received donor milk in the NICU, but I was apprehensive about letting any go before then because of the anxiety about losing my supply and her needing it. Scarlett wasn't using my frozen milk nearly as fast as I had been producing it, so we could help three other babies around that time, and we continue to regularly donate to her friend who is a few months younger than her.
Now that she's eating more at each meal, we have started nursing a little less. We nurse when we wake up, after breakfast/before morning nap, after lunch/before afternoon nap, at bedtime, and whenever else she may need a pick-me-up. Occasionally she will still wake up once (or more) during the night if she needs me, and I'm there for her when she does. I don't pump regularly anymore, which is a great relief! I still have quite a stockpile that we are donating and it feels nice to be able to help others.
A few people have asked me if I'm going to keep nursing Scarlett now that she's 1 (that "magic" number again). I tell them that I'll nurse her until she doesn't need it. I also tell them that I won't have any more kids, in large part because of how everything happened last year. So, since she is my only baby and nursing is our special thing that we got after we missed out on so much and endured so much trauma, we will ride it out until it doesn't feel right. Maybe another year? Maybe another 2 years? I'm very okay with not knowing when the journey will end. This has been the greatest gift of our birth experience, and I'm happy seeing and feeling the continued joy it brings us. For others who want to breastfeed longer than is typical, I say to go for it! You will never regret being the one who can be your baby's everything.
For Part I of Erica and Scarlett's breastfeeding journey, click HERE
Disclaimer: 
The material included in this video is for informational purposes only. It is not intended nor implied to be a substitute for professional medical advice. The reader should always consult her or his healthcare provider to determine the appropriateness of the information for their own situation.  Krystyna and Bruss Bowman and Bowman House, LLC accept no liability for the content of this site, or for the consequences of any actions taken on the basis of the information provided.  This blog and related videos contain information about our classes available in Chandler, AZ and Payson, AZ and is not the official website of The Bradley Method®. The views contained on our blog and videos do not necessarily reflect those of The Bradley Method® or the American Academy of Husband-Coached Childbirth®.
Birthing From Within and Bradley Method® natural childbirth classes offered in Arizona: convenient to Chandler, Tempe, Ahwatukee, Gilbert, Mesa, Scottsdale
Categories: Breastfeeding, Breastfeeding Awareness Month, Breastfeeding Challenges, In Their Own Words, World Breastfeeding Week
/