...celebrating every swee​t pea their birth
| | |
| --- | --- |
| Posted on November 5, 2017 at 9:17 PM | |
Postpartum Wellness Series
Welcome to our Postpartum Wellness Series.  Each week we will look at one area you can influence to help the days and weeks after you bring your baby home be just a little bit smoother. 
These early days with your sweet pea are the most precious – they will never be this small again. It is a good and worthy endeavor to make these first memories as well as they can be made for your family. My goal with this 8-week series is to offer some practical tips that you can employ without any extra purchases outside of your normal postpartum needs. Hopefully all that these tips will require is a little attention and a slight shift in perspective. It is my intention that you can find at least one small thing each week that will improve your postpartum experience.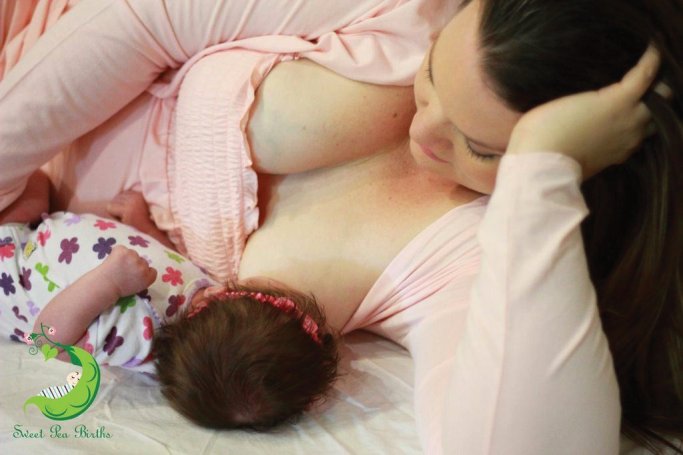 Week 1: Sleep
The ever-elusive sleep.  The "good" baby that sleeps. What if we shift that focus? How about this:  Good healthy babies wake up several times throughout the day and night to ensure their big people know they are there.  Good healthy babies demand attention to ensure they stay alive when they are the most vulnerable.  Waking is protective and desirable, so if your baby is not sleeping, then they are a GOOD baby!!
The favorite resource we share with our students is a series by Psychology Today that share the evidence about infants and what "normal" is for infants. 
HERE
(https://goo.gl/kzl64G) is a summary in case you don't want to click on the link:
"Infants whose primary source of energy is breastmilk will often wake frequently to nurse, something that is essential for the breastfeeding relationship to continue (Ball, 2009). However, regardless of feeding status, many infants wake regularly during the night (Weinraub, Bender, Friedman, Susman, Knoke, Bradley, et al., 2012).  Waking through the night is normal and biologically adaptive.  In fact, though it is often reported that sleep patterns consolidate in the second year, the pattern differs in breastfed children.  

 


Breastfeeding moms may wake more often, but report greater total sleep.  For example, in a study following breastfed children for 2 years, it was found that these children continued to wake frequently throughout the second year of life, a pattern more in line with cultures in which co-sleeping and full-term (aka "extended") breastfeeding are more common (Elias, Nicolson, Bora, & Johnston, 1986). "




Normal, Human Infant Sleep: Feeding Method and Development, Psychology Today, Feb 2013

 

Speaking of breastfed babies, their sleep patterns differ from formula-fed babies. If your friends are formula-feeding, you will be having different sleep experiences.
What are some practical tips to help you sleep when your baby is sleeping?
Here are some ideas for you to consider...
Set clear boundaries
Ideally, the MotherBaby should spend the first 1000 minutes together so that they can get to know each other and get breastfeeding established. Yes, really! Click
HERE
(http://ninobirth.org/nino-overview/) for the evidence.  Have you done the math yet? That's 16 hours and 40 minutes.  What do we do in our culture? As soon as the baby is born, people feel like it's time to come over and hold the baby.  Just say WAIT. It's not NO forever, it's just wait for now.
That continues to the time you have at home.  Visitors should be kept to a minimum. The more the mother is apart from her baby, the harder it is for both to get organized and do the work of adjusting to postpartum. If people come over, they come over with a purpose – to bring food or other supplies that you need, and then go home so that everyone with the new baby can rest and recover and find the new normal.
Wear a bathrobe
…Or go topless the first few days. The point is, you are recovering from birth.  This is not the time to learn how to entertain with a newborn.  If the people in your life haven't gotten the hint when you asked nicely for them to wait to visit, then the bathrobe (or your bare chest) sends a clear visual message that you are all about resting right now.
Avoid caffeine
This is a no-brainer…if you want to sleep, avoid stimulants. So where are the hidden places you might be getting caffeine without realizing it?  Not all teas are caffeine-free – be sure to read the labels.
HERE
(https://goo.gl/mCki2N) are some other foods to consider: decaf coffee, chocolate, ice cream and yogurt that have coffee or chocolate in them, protein bars, non-soda colas, candy bars and so called "fancy water".
Turn off the screens
Turn off your screens at least one hour before bed, and even two hours before you are planning to go to bed. Did you know that the light from the screens changes your brain chemistry and actually makes it harder to sleep?
"The consensus is that the blue light that LED screens give off can slow or halt the production of melatonin, the hormone that signals our brain that it's time for bed."




CNET, March 2016
Turn down the lights
Electricity is one of the worst things that happened to our sleep patterns. Change that by trying to mimic the light of sun rising and setting. Open your shades and curtains in the morning when the sun comes up, and start turning off lights around the house when the sun sets. This will help teach your baby their circadian rhythm.
Establish routines
The evidence shows that babies who are "sleep-trained" and babies whose parents do nothing in the sleep department are all sleeping the same way at six months.

The Wait-It-Out (WIO) Method
› WIO means not implementing any sleep training. At 6-month follow up, there were no significant differences in babies' sleep improvement between CIO group and WIO group. (Durham University Parent-Infant Sleep Lab)
So instead of fretting over a baby who is or isn't sleeping, think about what will work for your family in the long run.  What is something that you can do with this child, and with future children to let them know it's time for bed? 
Common elements of a bedtime routine are things story time, a rhyme like Teddy Bear (
https://goo.gl/EMh1uR)
, bath time, infant massage, bedtime songs. You can add in lavender at any point along the way…lavender soap for the bath, lavender massage oil or lotion after the bath, a lavender pillow or toy for bedtime, or lavender essential oil in a diffuser if you use one in your home.
Ask for help
Identify the people in your life who can respect your boundaries, and know how to make a good quick visit.  Some things that you might want to ask for help with in the immediate postpartum: housework, homemade meals, adult conversation when your partner goes back to work, someone to hold the baby so you can sleep for an hour, help with driving and/or running errands. Now with many grocery chains offering order pick-up, you can make your list, order and pay, and then arrange for someone to pick it up for you. 
If you have older children at home, maybe arrange for someone to run any errands with them so they get some special big kid attention, and maybe also someone who will keep them on their "regular" schedule so that their routine isn't thrown off. Also think about people who can respect your space and your needs and who would be happy to visit and entertain the older children so that you and baby can get special bonding time and your older children get to feel like the center of attention. Or maybe switch roles – someone to come hold the baby so that you can be the one giving the big kids dedicated time and attention.
We are in an era where many families are spread apart and a grandparent or aunt or uncle isn't available to help with any of this list.  Consider asking your friends.  Or is there someone in your faith community who is also in their childbearing years who you can connect with? When you identify that person or two who you would be comfortable inviting into your postpartum space, ask to trade help. They would help you during your postpartum, and you will return the help when they welcome their next Sweet Pea.
Baskets for the win
This tip is especially helpful if you have a two-story house – we had an upstairs basket and a downstairs basket that we reloaded every morning before Coach Bruss went to work.  Gather the most-used items that you need when you sit down to feed your baby so that you don't have to get up and find them, or have someone bring them to you.  This is what I kept in my basket: water, one-hand snacks that do not need to be refrigerated (bars, nut packs, fruit leather, etc.), diapers, wipes, change of clothes for the baby, burp cloths, bottom cream and nipple cream. 
I hope that out of these 8 tips, there is at least one that you can embrace whole-heartedly.  I invite you to jot down or type yourself a note of one small thing you can do to make that tip happen for you this postpartum. Try to start one journal page or virtual note that you can add to as we progress through this 8-week series for a better postpartum experience.
Coming up next week:
Nutrition
And check back for the rest of the series:
Exercise
Physical recovery
Social Support
Practical Support
Emotional Support
Medical Intervention
Disclaimer: 
The material included on this site is for informational purposes only.
It is not intended nor implied to be a substitute for professional medical advice. The reader should always consult her or his healthcare provider to determine the appropriateness of the information for their own situation.  Krystyna and Bruss Bowman and Bowman House, LLC accept no liability for the content of this site, or for the consequences of any actions taken on the basis of the information provided.  This blog contains information about our classes available in Chandler, AZ and Payson, AZ and is not the official website of The Bradley Method®. The views contained on this blog do not necessarily reflect those of The Bradley Method® or the American Academy of Husband-Coached Childbirth®.

Bradley Method® natural childbirth classes offered in Arizona: Chandler, Tempe, Ahwatukee, Gilbert, Mesa, Scottsdale
Categories: Baby, CIO, Co Sleeping, Postpartum, Postpartum Depression
/