...celebrating every swee​t pea their birth
| | |
| --- | --- |
| Posted on November 16, 2017 at 10:23 AM | |
Postpartum Wellness Series – Nutrition
Welcome to our Postpartum Wellness Series.  Each week we will look at one area you can influence to help the days and weeks after you bring your baby home be just a little bit smoother. 
These early days with your sweet pea are the most precious – they will never be this small again. It is a good and worthy endeavor to make these first memories as well as they can be made for your family. My goal with this 8-week series is to offer some practical tips that you can employ without any extra purchases outside of your normal postpartum needs. Hopefully all that these tips will require is a little attention and a slight shift in perspective. It is my intention that you can find at least one small thing each week that will improve your postpartum experience.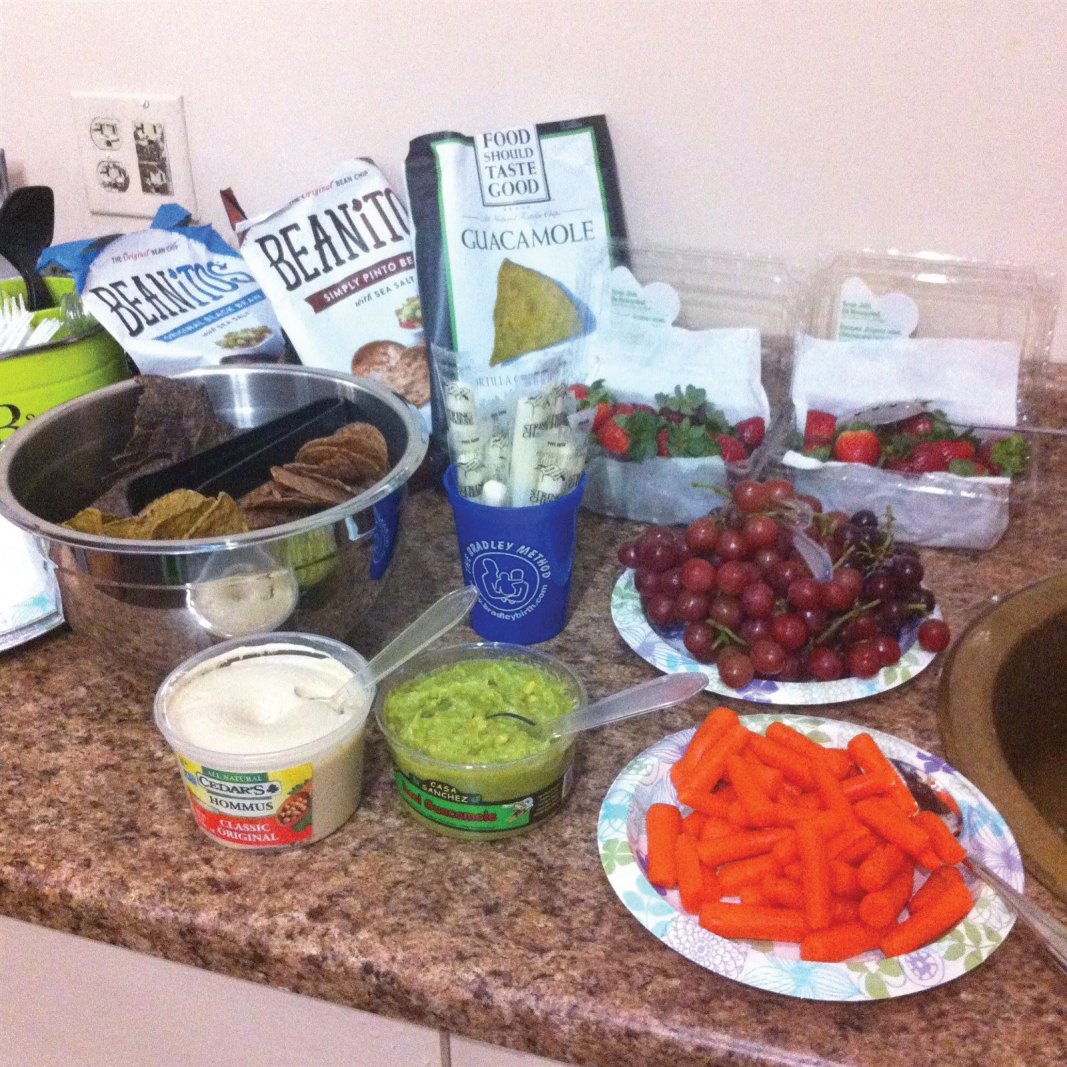 Postpartum nutrition is just as important as prenatal nutrition. We encourage our students to continue following "The Brewer Diet". This "diet" was designed by Dr. Tom Brewer to teach his patients to eat healthy, whole food long before it was the "it" thing to do.  You can find a link to The Brewer Diet website
HERE
. 
The holistic approach to postpartum invites the woman and her family to treat this time as a recovery period from pregnancy and childbirth.  The following five ideas will help you treat your body gently and ease back into the non-pregnant state.
Avoid Sugars and Caffeine
Take heart, mamas...not forever...just "for now"!  I am raising my hand over here – I do enjoy the occasional caramel and mocha coffee. 
The issue with sugars and caffeine in the immediate postpartum is the way they affect normal body functioning.  Sugar can contribute to mood swings at a time when you are already adjusting to a new normal after pregnancy. Caffeine is a well-known stimulant that keeps you awake, the opposite of what needs to happen in the immediate postpartum.  Your body does a lot of work to repair itself while you are sleeping, so find a non-caffeinated beverage to enjoy for at least six weeks after your sweet pea arrives.
THIS
article outlines some of the amazing things that happen within your body when you are not awake.
Avoiding sugars and caffeine keeps you on a fair playing field as you adjust to life with a newborn. And if it makes it easier, circle a date six weeks out from the birth-day on the calendar when you can go get your favorite sugary and caffeine-rich treat!!  
Eat Real Food
Circling back to The Brewer Diet…the foundation of postpartum nutrition is a diet rich in protein, fluids, fruits and vegetables. You can also continue taking your prenatal vitamin. Believe it or not, if you are going to breastfeed, you need 500+ calories a day than you needed when you were pregnant.
Protein: for cell growth and repair…all the organs that have been squished in the last months of pregnancy, the uterus that has to heal, the vagina and/or cesarean birth scar that have to heal from their part in the birth journey…all these body parts need protein so that your cells can do their work to rebuild all that has been bruised and stretched through the course of pregnancy and birth.
Fluids: it never ceases to amaze me that the human body is about 60% water! So keep that water bottle handy and refill it often. In addition, breastmilk is a live fluid that is created out of your bloodstream for your sweet pea. Breastmilk is 88% water (
https://kellymom.com/nutrition/starting-solids/baby-water/
), so this is another reason why you may feel thirsty all the time if you are not paying attention to your water intake. Ample hydration is one of the ways to ensure you are making enough milk for your sweet pea – give your body what it needs to make that breastmilk.
Fruits and Vegetables: these are the most bioavailable vitamins, minerals and anti-oxidants designed by Mother Nature just for you. Not everyone can afford to eat all organic all the time, so we offer the "
Dirty Dozen
" and "
Clean Fifteen
" lists from the Environmental Working Group as a resource. It may help you decide how to spend your grocery budget - spend a little more to eat organic and save where you can buying conventional growth foods. They now have easy smart phone apps that you can download and access as you shop.
Keep One-handed Snacks Handy
However you feed your baby – hands are going to be occupied. In the early days, both hands. As you get more comfortable, you will find yourself becoming an expert at one-handed eating (and finding things on menus that can be eaten with one hand!).
My postpartum shopping list included of apples, carrots, celery, crackers, nut butter, hummus, and hard cheese (sharp cheddar is my favorite!).
Here is a quick list of snacks you can stock or have someone prepare for you with these seven ingredients:
Sliced apples spread with nut butter
Sliced apples stacked with sliced hard cheese
Sliced or "baby" carrots spread with hummus
Crackers with nut butter
Crackers with hummus
Crackers with sliced cheese
Celery spread with nut butter
Celery spread with hummus
I specifically avoided ranch dressing and soft cheeses. Some newborns are sensitive to the large milk protein found in cows' milk.  The hard cheeses are easier to digest since the protein is broken-down differently in the preparation process. And some newborns will not tolerate any dairy…unfortunately, the only way to find out is through trial and error.
We also had lots of yogurt and flax seed, plus sandwich fixings in the refrigerator. Yogurt is an easy snack to sprinkle with ground flax seed for a protein and good-fat boost between feedings. Someone can also make-ahead sandwiches or tortilla wraps for the times you are ravenous and don't have time to make a full meal.  My favorite sandwich was hummus and avocado with lettuce between two slices of whole grain bread. That combination worked equally well as a wrap. Yum!!
My last suggestion is to try out all the "Just A Handful" snack bags that can be purchased at Trader Joe's. They have several different varieties that include dried fruits and nuts in a snack pouch. Not so great for the environment…so after postpartum you can buy the bigger bag and serve yourself. In the short term, please do the little things that make life easier and buy these handy packs!!
Funny side note: I always kept several snack size pouches in my diaper bag or my purse…our older kids always knew where to go to find snacks when we were out and about. They bemoaned the day when I was no longer breastfeeding around the clock and stopped stocking them, "You never have good snacks anymore!"
Probiotics and fish oils
We are learning about the benefits of probiotics and fish oil as more research is done into postpartum mood and anxiety disorders. Here is some information from
THIS
study from the University of Auckland:
Probiotics are live microorganisms that when consumed in adequate amounts provide health benefits to the host. They are typically found in some yoghurts and other fermented foods.
"Depression and anxiety in pregnancy and after birth affects 10-15 per cent of women, although many are not recognised or treated," Professor Mitchell says.

"There is mounting evidence from animal studies that the microbiome-gut-brain axis - the biochemical signalling that takes place between the gastrointestinal tract and the central nervous system - may be important for mental health."
Taking probiotics may reduce postnatal depression

www.auckland.ac.nz
A small study that was presented in 2011 found that:
"Eating fatty fish or other foods rich in healthy omega-3 fatty acids during pregnancy may help lower your risk of developing symptoms commonly seen in postpartum depression…"
WebMD, "Omega-3s May Cut Risk of Postpartum Depression"
So while you are no longer pregnant in the postpartum period, the benefit of the omega-3s found in walnuts, flax seed, fatty fish, and fish oils can still be an advantage.
"Essential fatty acids including those found in fish may help some women who are at-risk for postpartum depression by bolstering the vesicles that carry mood chemicals such as serotonin in the brain," 
WebMD, "Omega-3s May Cut Risk of Postpartum Depression"
THIS
article makes sense of the alphabet soup and may help you decide what you want to eat or how to supplement going forward.
Placenta encapsulation
I included placenta encapsulation in the nutrition portion of this series because however you may consume it, the placenta is being processed by the digestive tract. Observation of other mammals indicates that placenta consumption is common and "natural" in the animal kingdom. 
Your baby's placenta...in capsule form, is believed to:

contain your own natural hormones

be perfectly made for you

balance your system

replenish depleted iron (my note: see UNLV study)

give you more energy

lessen bleeding postnatally

been shown to increase milk production

help you have a happier postpartum period

hasten return of uterus to pre-pregnancy state
Placenta Benefits Info/Articles
HERE
and
HERE
are some blog posts I have done on placenta encapsulation if you want to learn more about our experience and the different methods of preparing the placenta for consumption.
That Basket Again…
As I mentioned in the first post, the "breastfeeding basket" was a time and sanity saver in the postpartum period. I would keep some "just a handful" treats from Trader Joe's in it at all times. 
If you missed the sleep installment, here is "the basket": Gather the most-used items that you need when you sit down to feed your baby so that you don't have to get up and find them, or have someone bring them to you.  This is what I kept in my basket: water, one-hand snacks that do not need to be refrigerated (bars, nut packs, fruit leather, etc.), diapers, wipes, change of clothes for the baby, burp cloths, bottom cream and nipple cream. 
I hope that out of these 5+1 tips, there is at least one that you can embrace whole-heartedly.  I invite you to jot down or type yourself a note of one small thing you can do to make that tip happen for you this postpartum. Try to start one journal page or virtual note that you can add to as we progress through this 8-week series for a better postpartum experience.
Previous Installments:
Coming up next week:
Exercise
And check back for the rest of the series:
Physical recovery
Social Support
Practical Support
Emotional Support
Medical Intervention
Please leave us a comment - it will be moderated and posted. 
References:
Probiotics and Postpartum Depression Study from The University of Auckland New Zealand
https://goo.gl/dYQKgo
Time Health: "Study: Fish Oil May Prevent Symptoms of Postpartum Depression"
http://healthland.time.com/2011/04/12/study-fish-oil-may-prevent-symptoms-of-postpartum-depression/
WebMD: "Omega-3s May Cut Risk of Postpartum Depression"
https://www.webmd.com/baby/news/20110412/omega-3s-may-cut-risk-of-postpartum-depression#1
Dietary omega-3 fatty acids aid in the modulation of inflammation and metabolic health
https://www.ncbi.nlm.nih.gov/pmc/articles/PMC4030645/
Placenta Benefits Info:
http://placentabenefits.info/articles/
Steamed, Dehydrated or Raw: Placentas May Help Moms' Post-Partum Health
https://www.unlv.edu/news/article/steamed-dehydrated-or-raw-placentas-may-help-moms%E2%80%99-post-partum-health
UNLV Study Finds No Iron Benefit from Eating Placenta
https://www.unlv.edu/news/article/unlv-study-finds-no-iron-benefit-eating-placenta

It is not intended nor implied to be a substitute for professional medical advice. The reader should always consult her or his healthcare provider to determine the appropriateness of the information for their own situation.  Krystyna and Bruss Bowman and Bowman House, LLC accept no liability for the content of this site, or for the consequences of any actions taken on the basis of the information provided.  This blog contains information about our classes available in Chandler, AZ and Payson, AZ and is not the official website of The Bradley Method®. The views contained on this blog do not necessarily reflect those of The Bradley Method® or the American Academy of Husband-Coached Childbirth®.

Bradley Method® natural childbirth classes offered in Arizona: Chandler, Tempe, Ahwatukee, Gilbert, Mesa, Scottsdale
Categories: Nutrition, Placenta, Placenta Encapsulation, Planning for Baby, Postpartum, Postpartum Depression
/