...celebrating every swee​t pea their birth
| | |
| --- | --- |
| Posted on October 21, 2011 at 1:52 PM | |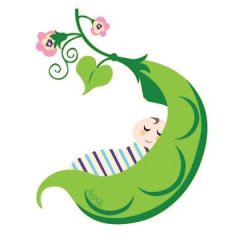 We are officially on our babymoon.  This article was written by the marketing department at Zoloft Lawsuit.  We have not received and will not receive compensation for posting this.  I am sharing it today in the interest of informing our students and readers about potentially harmful substances to avoid during pregnancy.  They were kind enough to add some natural approaches to cope with depression in pregnancy to address our audience.
The popular antidepressant medication Zoloft has been associated with serious birth defects according to a study published in the British Medical Journal.
The study found that the risk of developing birth defects such as septal defects of the heart may be doubled in infants whose mothers took Zoloft while pregnant. Septal defects create holes in the upper or lower chambers of the heart and affect the way that blood pumps from chamber to chamber.
The risk of septal defects in babies was found to increase from 0.5 percent to 0.9 percent in pregnant women if Zoloft was taken during the first three months of pregnancy.
Due to these serious side effects, many women have filed a
Zoloft lawsuit
against the drug manufacturer. Although Zoloft does carry safety warnings, the medication has not yet been recalled and is still available on the market.
Zoloft is an antidepressant medication used to treat a variety of mental disorders such as obsessive compulsive disorder and posttraumatic stress disorder. The drug balances chemicals in the brain that are out of balance in patients diagnosed with anxiety or depression.
Serious
Zoloft side effects
include muscle stiffness, confusion, irritability, hot or dry skin, coma and involuntary muscle movements. Zoloft also carries warnings concerning the increased risk of neonatal persistent pulmonary hypertension, serotonin syndrome and suicidal behavior.
According to the Merck Medical Library, it is estimated that more than 90 percent of all pregnant women will take prescription or over-the-counter medications at some point during their pregnancy. While certain antidepressant medications have been proven to harm a fetus, living with depression during pregnancy can also negatively affect a developing baby.
To combat depression during pregnancy in a more natural way, the following lifestyle changes may be recommended to cope with feelings of depression:
     ·  Stress reduction
     ·  Balanced diet
     ·  Proper hydration
     ·  Consistent sleep patterns
     ·  Mild to moderate exercise (such as brisk walking)
For additional information about Zoloft side effects and birth defect risks, please call (800) 409-0193.
Disclaimer:
The material included on this site is for informational purposes only.
It is not intended nor implied to be a substitute for professional medical advice. The reader should always consult her or his healthcare provider to determine the appropriateness of the information for their own situation. This blog contains information about our classes available in Chandler, AZ and Payson, AZ and is not the official website of The Bradley Method®. The views contained on this blog do not necessarily reflect those of The Bradley Method® or the American Academy of Husband-Coached Childbirth®.
Categories: Avoiding harmful substances, Depression, Exercise, Information Center, Toxins, pesticides, chemicals and pregnancy
/